Day 3: Olympia to Crater Lake
After a beautiful, warm — and dry — morning hike during which we spot lots of deer, we arrive at Abreu camp for lunch.
Another sock-drying technique: tie to backpack during hike.
One of the many white-tailed and mule deer we encounter on the trek.
The Tooth of Time looks over us.
Kendall and Trevor check out the Abreu campsite map, hunting for the staff headquarters, a.k.a. Goat HQ.
Abreu includes an old-timey homestead, complete with staff dressed in historic clothing and barnyard animals. We are practically attacked by the resident goats, nudging us for something good to eat.
Trevor, Charlie and Kendall get friendly with the Abreu residents.
Abreu homesteaders.
Besides the pushy goats, Abreu has two other surprises for us: altitude sickness and hail. At this high altitude, it's more important than ever to keep hydrated. Trick is, the cool temps and wet weather in the mountains can make you forget about drinking.
During lunch, Blake starts to feel nauseated and admits that he "hasn't been drinking enough today." It's altitude sickness.
While he sits on the porch where we've been eating our lunch, the goats all gather around him. I don't know if it's because they sense he's feeling bad or that he's an easier victim to steal food from. With the goats preoccupied, the rest of us are left to finish our lunch in peace. That is, peace until the hail starts.
TODAY'S TRAIL TALK: Discussions of favorite restaurants have already started up, although nobody is sick of the trail food — yet. Pizza places top the list.
Storm clouds have snuck up on us and suddenly the porch roof is pinging with pea-size hail. Anybody who wasn't already on the porch makes a beeline for it yelling, "Ow! Ow! Ow!"
We're able to wait out the hail on the porch. We'd like to stay put until it stops raining completely, but the Abreu staff tells us we better get a move on if we want to get to Crater Lake — our next campsite — before dark.
So we head out and do a little "whitewater hiking," as I like to call it. You know, it's when it's raining so hard, trails turn into little rushing rivers.
The good news about hiking in the storm today is that it's perfect for more ranger training. With lightning striking all around us, we get prime opportunities to practice safety procedures. Dylan teaches us how to throw down our backpacks and trekking poles, spread 30 feet apart from each other and crouch on the balls of our feet (man, that burns the calves after a while!).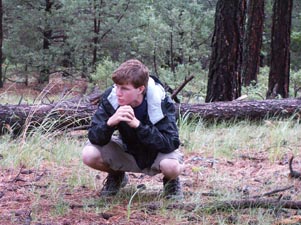 Travis burns his calves in the lightning safety position.
Of course, not everything the ranger teaches you on the trail is a matter of life and death. Dylan also points out cool things, like how Ponderosa pines, sniffed up close, often smell either like butterscotch or vanilla. Weird.
It's getting dark and still raining a little when we get to Crater Lake. In a word (or two): Crater Lake is a mud hole.
Our abysmal campsite. Note the small rivers running through it.
Our dining fly and camp stove are set up on a mud slick. Our tents are pitched on a sloping mud slick.
Before bedtime, we stand on a mud slick to do our "Thorns, Roses and Buds." This is a nightly talk in which each crew member tells about the worst thing (Thorn) and best thing (Rose) from their day, and their personal goal for the rest of the trek (Bud).
Most everybody's Thorns have to do with the weather, such as Trevor's: "Ripping a hole in my rain pants." But then there's Blake's Rose: "The goats comforting me through my bout of altitude sickness."
Kendall slips while getting ready to go in her tent and is now covered with mud all down one leg. That definitely would've been my thorn for the day.
A brighter scene: Crater Lake the next morning. The lake itself is actually pretty nice.
Inspire Leadership, Foster Values: Donate to Scouting
When you give to Scouting, you are making it possible for young people to have extraordinary opportunities that will allow them to embrace their true potential and become the remarkable individuals they are destined to be.
Donate Today