Venturing Farther And Faster Into The Wild On A Snowmobile
By Aaron Derr
Photographs by Tim Matsui
Just as there are different kinds of hiking, there are different kinds of snowmobiling.
Some sledheads are in it for the steep climbs. Others have the need for speed. And still others just like to use their snowmobiles to get away from it all, exploring areas that would be too difficult to access any other way.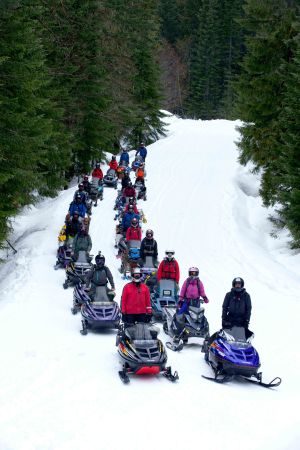 That's Venturing Crew 115. In the warm-weather months, they travel from their homes near Snoqualmie, Washington, to paddle down their region's rivers and lakes in kayaks.
In winter, they go snowmobiling.
"You can go a lot farther and deeper and faster than you can go on foot," says 18-year-old Venturer Ben Beavers. "I like how you can travel across huge amounts of snow so easily, and how you can bring so much gear with you."
Each winter, they return to the same spot — near snow-covered Swan Lake Campground — for an event they call Snowcamp. With its thick, high brush, that spot would be terrible for camping during the summer.
During winter, with around 12 feet of snow, it's practically paradise.
FALL PREPARATION
Snowcamp is in the middle of February. But prep work starts months earlier.
In November and December, the crew hosts its most effective fundraiser: Christmas-tree sales. Proceeds help pay for the maintenance of their fleet of 24 snowmobiles.
After the holidays, the Venturers get to work on their sleds. Those snowmobiles aren't going to take care of themselves, after all. They call them work parties, and they have them three times a week.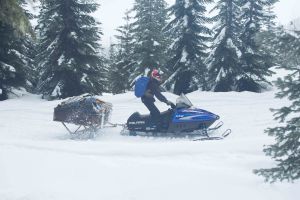 "We have a long checklist to make sure they're in safe and working order," 16-year-old crew president Sierra Hendricks says. "We check the oil and gas. We make sure everything is working.
"That was all new to me, but it was easy to learn, because we have so many snowmobiles and we did it every week. It was like learning by repetition."
By late January or early February, the snowmobiles and crew are ready to go. The crew conducts training exercises on a snow-covered airfield. It's nice and flat and wide open — perfect for beginners and those who need to brush up their skills.
"It took a little bit of learning," says 16-year-old Giovanni Olivas. "As you ride them more and more, you get a better idea of how it feels and how it responds to what you want to do."
WINTER CAMPING
Once the Venturers are comfortable on the equipment, they're ready for Snowcamp. They start by hauling the snowmobiles and camping gear as far as they can into the wilderness until the road ends.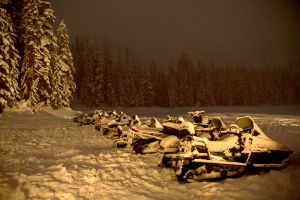 From there, they board their machines with tow-behind equipment sleds and drive several miles farther. During their trek, they keep in touch with each other using two-way radios built into their helmets. When they get to their spot — about 5,000 feet above sea level — they begin setting up camp.
First, they mark the spot where they will have their fire. Then they mark a 40-foot diameter around that spot. Then they lay down a firewood platform and set firewood on top of that. As the fire burns, the platform drops deeper and deeper into the snow, at the rate of about 1 foot per hour.
In the meantime, the Scouts build a wall of ice blocks around the circle. (Imagine a 40-foot-wide igloo without a roof.) As the fire drops, the Venturers carve rows of stairs and benches into the snow.
After 12 or so hours, the fire has sunk down — surrounded by walls that are now more than 8 feet high and an icy bowl 12 feet deep. It's like a miniature coliseum, and it's the perfect winter shelter — protected from the wind and warmed by the fire.
"It's a lot of hard work to set up our campsite," says 15-year-old Jaden DiFilippo. "But it's really fun, and it looks really cool when we finish building it."
SAFETY IN THE SNOW
After spending the night in four-season tents and igloos, the Venturers spend the next day exploring the area on their snowmobiles. They often ride up to a radio tower that offers sparkling views of the surrounding countryside.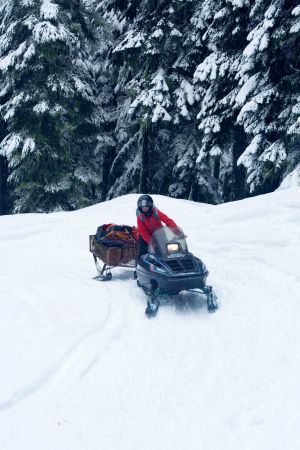 "It was a breathtaking view at the top," Giovanni says. "We're above the clouds watching all of the clouds flow over all of the mountaintops."
Two major obstacles the crew has to look out for during the entire trip: getting too cold and having problems with their machines.
To stay warm, they dress in layers and wear noncotton clothing. If you don't like to wear wool, you don't get to go snowmobiling. The crew spends several weeks taking classes on proper winter clothing and how to stay warm in the cold environment.
To keep track of their machines, they use a crew of young adult leaders called FART: the Fix and Repair Team. The FART sled carries all the tools needed to fi x a snowmobile in the backcountry. And they even have extra snowmobiles just in case.
After three nights in the woods, the crew returns home. They are usually able to get back to the same spot the very next weekend for another three nights. If weather permits, they might have one more snowmobile trip in the spring.
Then they store the snowmobiles for the summer and look forward to the next year's Snowcamp.
"It's really beautiful because a lot of the snow up there has never been touched," Sierra says. "Everything is just so quiet. It seems very natural."
---
Know Before You Go
WHERE: Swan Lake Campground, near Snoqualmie Pass, Washington
WHEN: Snowmobiling: January to March Everything else: Every other month
WHAT: The state of Washington has a very good snowmobile trail maintenance program. But to get to their traditional camping spot, Crew 115 must venture a couple miles off the trail. Don't try this at home without proper training and preparation.
---
Snowmobiling and the BSA
The adult leaders of Venturing Crew 115 are Washington state-certified snowmobile safety instructors.
The operation of snowmobiles is approved for Venturing crews only.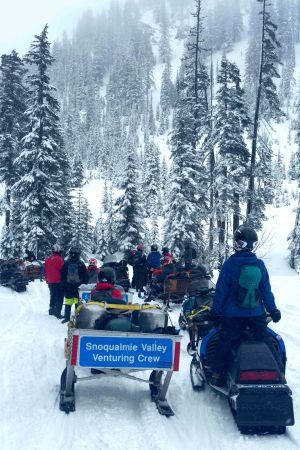 Snowmobiling has little impact on the environment and leaves no trace. It is a power sport that rarely requires participants to touch the earth. Snow conditions, hazardous terrain, special clothing needs and emergency survival are important issues for any safe and successful winter outing. This is especially true for backcountry activities like cross-country skiing, snowshoeing and snowmobiling.
Appropriate personal protective equipment is required, including full-face helmets. It is essential all equipment fits and functions properly. As with all Scouting activities, don't wait until you are in the middle of nowhere to find out something doesn't work. Test, check and retest everything far in advance.
And before you head out, make sure you're familiar with state laws regarding the use of snowmobiles and the certification of operators.
---
There are lots of good resources on the web to learn about snowmobiling. Here are two of our favorites:
1. The Essentials of Snowmobiling Safety, which covers everything from pre-ride prep to equipment and surviving emergencies.
2. Tips for Responsible Snowmobiling, which promotes smart and sustainable snowmobiling.