Inside the August 2016 issue
Here's what you'll find inside the August 2016 issue of Boys' Life magazine. Remember, many articles are only available to subscribers and are not available online.
To subscribe to the print or digital editions of Boys' Life magazine, please visit http://scoutlife.org/subscribe.
ON THE AUGUST 2016 COVER
Park It
Check out America's least-visited national parks.
• How many national parks have you visited?
---
THIS MONTH'S OTHER FEATURES
Top 10 Olympic Moments
Team USA has many reasons to be proud. Here are some of its greatest moments.
• Videos of Team USA's 10 greatest Olympic moments
Think Before You Drink
Gear Guy brings you nine water filtration options to quench your thirst while keeping you safe and healthy.
• Water treatment buying guide
Fiction: Robot on the Loose
A Boys' Life exclusive featuring Hank Zipzer from the best-selling book series!
BL Workshop: Build a Chuck Box
Make camp cooking easier with this portable kitchen box.
---
ONLY IN OUR BOY SCOUT EDITION
Scouting Around
Respecting the Great Outdoors: We must work to protect all living things for future generations.
• Visit the Scouting Around blog
Rise of the Bots
Get some robot-building tips from a BattleBots pro.
Learning the Ropes
Get familiar with the basics of sailing — from bow to stern — in just a few days at Sea Scout Base Galveston.
---
ONLY IN OUR CUB SCOUT EDITION
Let's Look at Summer Olympics
Read it! Color it! Get it all in this special Cub Scout section.
Water Boys
Cub Scouts learn to stay safe and have fun in the water at a cool aquatics "classroom."
---
AND MORE!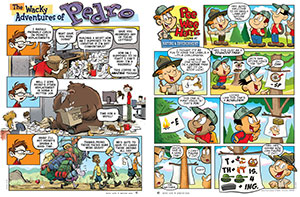 Look for the regular score of comics, jokes, games, Scouts in Action, Tradin' Post and more! Only in the August 2016 issue of Boys' Life!
• The Wacky Adventures of Pedro
• Pee Wee Harris
• Scouts in Action
• More S.I.A.
---
Inspire Leadership, Foster Values: Donate to Scouting
When you give to Scouting, you are making it possible for young people to have extraordinary opportunities that will allow them to embrace their true potential and become the remarkable individuals they are destined to be.
Donate Today