Inside the January 2017 issue
Here's what you'll find inside the January 2017 issue of Boys' Life magazine. Remember, many articles are only available to subscribers and are not available online.
Please visit Boyslife.org/subscribe to subscribe to the print or digital editions of Boys' Life magazine.
ON THE JANUARY 2017 COVER
Snow Machines
Venture farther and faster into the wild on a snowmobile.
---
THIS MONTH'S OTHER FEATURES
To the Extreme
This month's Winter X Games features some of the wildest events in professional sports.
• Watch some of the action you'll see at the Winter X Games
Hard Work and Big Hearts
Scouts help Louisiana flood victims.
Strength in Numbers
Try this workout guide to get fit with your pals.
• Visit the BL Gym to help you get (and stay!) in shape
BL Workshop: Build a Balance Board
This easy-to-build training gear will prepare you for rough and rocky trails.
---
ONLY IN OUR BOY SCOUT EDITION
Scouting Around
The Seven R's: Seven principles of sustainability allow you to meet your own needs without hurting future generations.
• Visit the Scouting Around blog
Doc Hawk: Kangaroos
The friendly mob Down Under.
---
ONLY IN OUR CUB SCOUT EDITION
Let's Look at Kangaroos
Read it! Color it! Get it all in this special Cub Scout section.
---
AND MORE!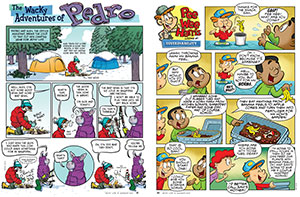 Look for the regular score of comics, jokes, games, Scouts in Action, Tradin' Post and more! Only in the January 2017 issue of Boys' Life!
• The Wacky Adventures of Pedro
• Pee Wee Harris
• Scouts in Action
• More S.I.A.
---