What's a good beginner pocketknife for an 8-year-old?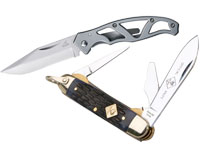 Q. I want to buy a pocketknife for my 8-year-old nephew. He has just started a pocketknife collection and has about 8 knives. Can you recommend a good knife for a boy that age?
— Aunt Debra, Houston, Texas
A. You must be a cool aunt to be buying your nephew a knife! Will you be my auntie too? OK, seriously, good knives for an 8-year-old? Here are two that I think he'd be sure to dig:
• BSA Official Cub Scouts Pocket Knife ($19.99; www.scoutstuff.org) You just can't go wrong with the official Cub Scouts pocketknife! It's got a stainless steel 2¼"-long blade with a flat head screwdriver, cap lifter and punch blade folded inside.
• Gerber Mini Paraframe ($16.26; www.gerbergear.com) This folding knife has an open stainless steel handle, which makes it both lightweight (just 1.4 ounces) and cool-looking! The 2.22"-long locking blade is high carbon stainless steel with a fine edge and it comes with a handy pocket clip too.
---
Ask the Gear Guy
Not sure which gear to buy? Need tips for maintaining your equipment?
Click here to send in your questions for the Gear Guy
. Selected questions will be answered here and in the printed magazine.
---
Inspire Leadership, Foster Values: Donate to Scouting
When you give to Scouting, you are making it possible for young people to have extraordinary opportunities that will allow them to embrace their true potential and become the remarkable individuals they are destined to be.
Donate Today