Sea Scout Base Galveston: An aquatics class for Cub Scouts
By Aaron Derr
Photographs by W. Garth Dowling
When you are a Boy Scout, you will get to do all kinds of amazing things on the water.
Things like sailing, kayaking and rafting on fast-moving water, as well as sailboarding and scuba diving.
But every Boy Scout has to start somewhere, and as a Cub Scout, the time is now to learn about water safety. Sea Scout Base Galveston in Galveston, Texas, is like the best Cub Scout aquatics classroom ever. In addition to doing lots of swimming, visitors learn about water safety and how to rescue a swimmer who is having trouble staying above the surface.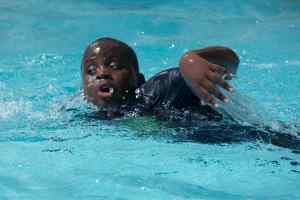 And they get to use a machine that shows what it is really like to go sailing.
"It really feels like you're actually on the water," says Gavin Thompson, an 8-year- old Cub Scout from Pack 628 in Santa Fe, Texas.
In the swimming pool, Cub Scouts get to try out the Boy Scout swim test. It's not easy, which is why their parents and lifeguards are always nearby. And don't worry: If you don't pass, you'll have plenty of chances to try it again as you get older.
"I passed," Gavin says. "We swam on our backs … we swam underwater … we did backstrokes."
The Cub Scouts also learned how water can become polluted, and what they can do to help save water around their homes.
"We took many steps to be safe in the sun, including wearing sunscreen and wearing a hat," says 8-year-old Nate Fox from Pack 240 in Texas City, Texas. "We were taught lifesaving skills, and we were shown by lifeguards different ways to help people who need help in a pool."
---
Click here to read about the Boy Scout and Venturing programs at Sea Scout Base Galveston.
---
For more information on Sea Scout Base Galveston, go to go.scoutlife.org/ssbgalveston
Inspire Leadership, Foster Values: Donate to Scouting
When you give to Scouting, you are making it possible for young people to have extraordinary opportunities that will allow them to embrace their true potential and become the remarkable individuals they are destined to be.
Donate Today