Troop Finds Adventure in the Three Sisters Wilderness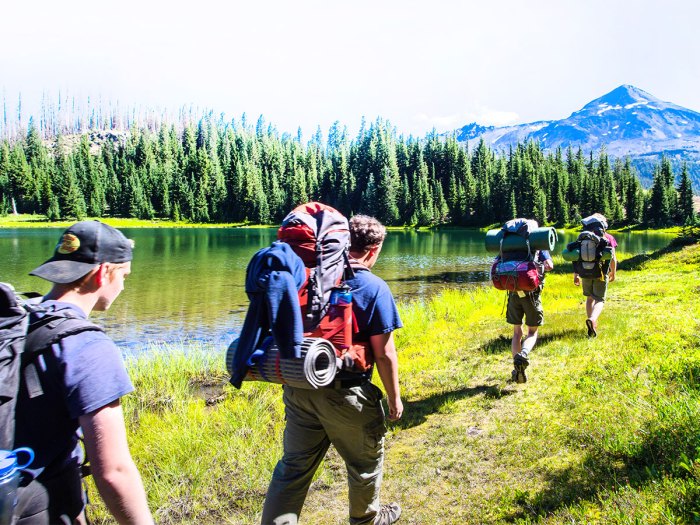 With two 48-ounce Nalgenes and a couple of 32-ounce water bottles, Andrew Hruby thought he had enough for each day of his troop's 40-mile backpacking trek.
But the first day on the trail required trudging uphill — a 2,100-foot gain in elevation — under a hot sun with little shade. The 15-year-old First Class Scout drank all his water, and he still had a mile until he would get to the campsite.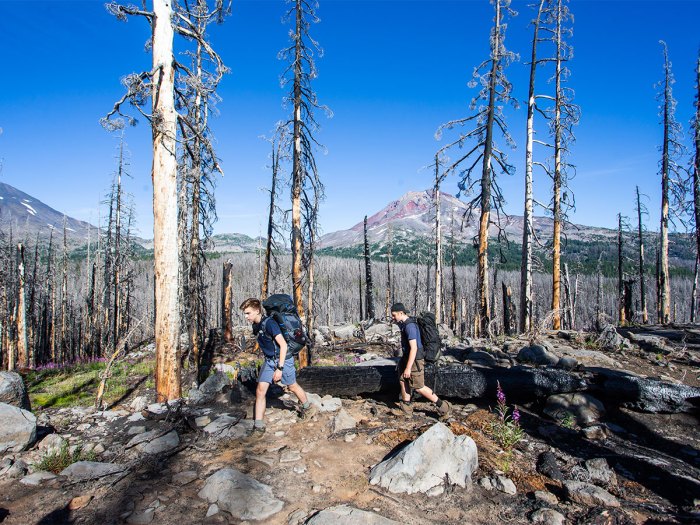 "We all knew how high we were going to go," says Josh Hebert, 14, a Life Scout. "We wanted to end each day at a lake so we could have a steady water source and go swimming."
That's good planning. Good teamwork called for some of the faster hikers to run ahead, filter water from the lake and bring it back to their thirsty friends. The additional hydration helped all the Scouts finish the 8-mile hike to Husband Lake.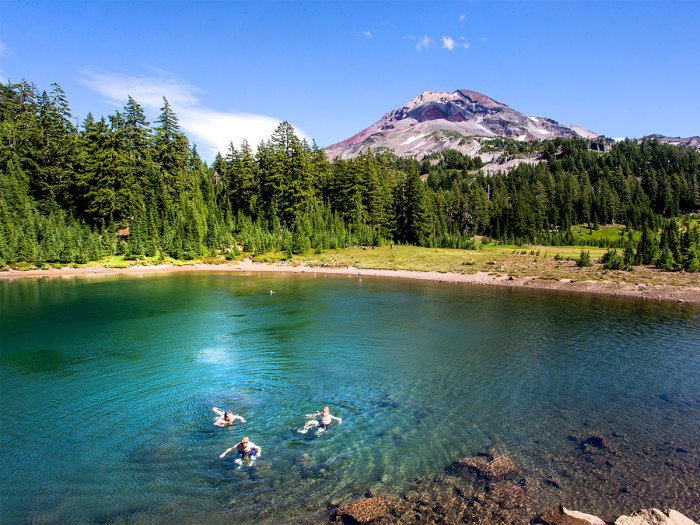 "When you got in, it was refreshing," Andrew says. "The water was pretty; there was nice shade."
Swimming in the lakes wasn't the only daily reward Troop 282 of Eugene, Oregon, received while hiking through the Three Sisters Wilderness.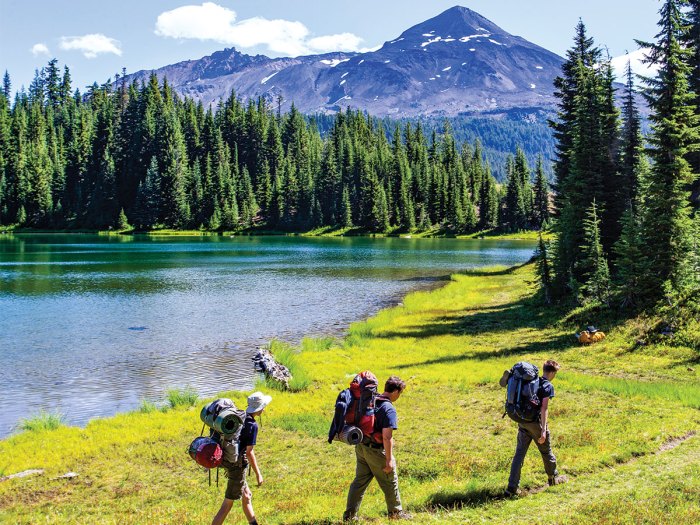 BACK TO NATURE
The COVID-19 pandemic foiled the troop's exciting out-of-state plans last summer, as it did for many Scouts all over the country. However, the Scouts found adventure closer to home. The Three Sisters Wilderness in western Oregon is a 281,000-acre area named after three 10,000-foot-tall volcanoes. The wilderness also includes about 260 miles of trails, including parts of the Pacific Crest National Scenic Trail, a favorite among backpackers.
"It's not always about backpacking. Seeing the scenery and getting outdoors is great," says Jack Olson, a 15-year-old Star Scout. "You get to see the stars at night and get away from everything."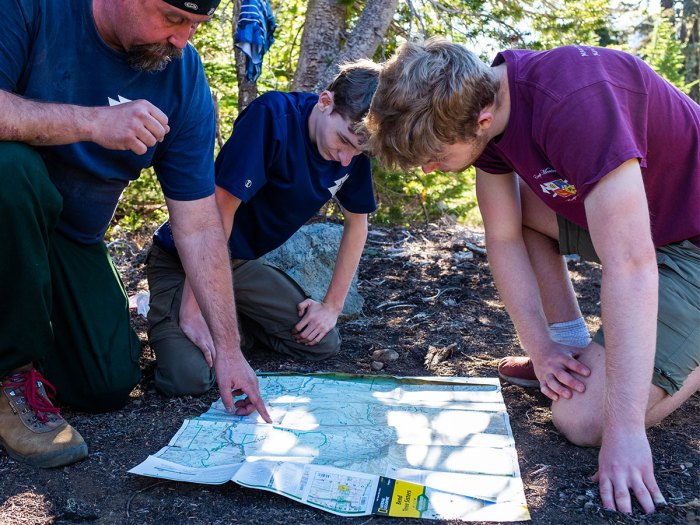 The Scouts planned a five-day trek through forests and across streams, often with a view of the volcanoes. Some wanted to work on the Backpacking merit badge, while others went for fun.
"I wanted to go because of the adventure of it all," says Eagle Scout Derek Saxman, 17. "It's a whole different kind of experience."
To fully enjoy an outing, you should consider every detail. Hot weather in the forecast? End each day at a lake to cool off. Want some entertainment if you don't plan on swimming? Pack a deck of playing cards. Is everyone carrying their own meals? Go light by buying dehydrated food and a small backpacking stove.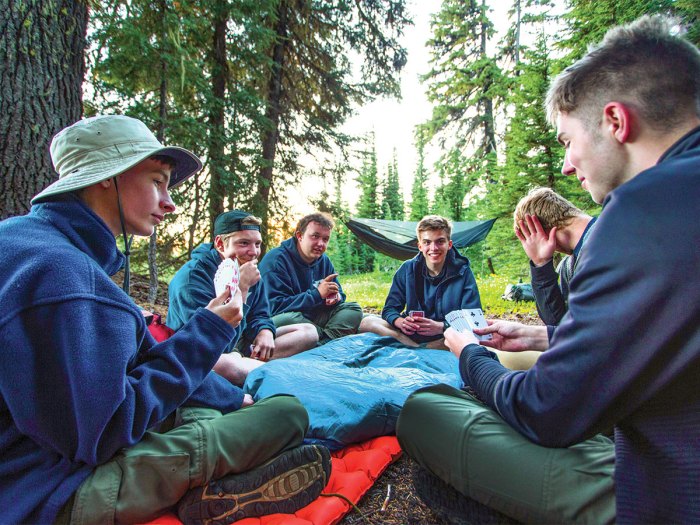 "You want to bring the best gear you can buy on your budget," Derek says. "A lightweight backpack is really helpful."
Derek found his pack on sale for $80. With all his gear, it weighed 34 pounds. Your loaded pack shouldn't weigh more than 20% of your body weight. The lighter the load, the easier it is on your body. To reduce weight, shop for lighter gear or leave some items at home, but remember to bring your essentials, like a first-aid kit and a pocketknife.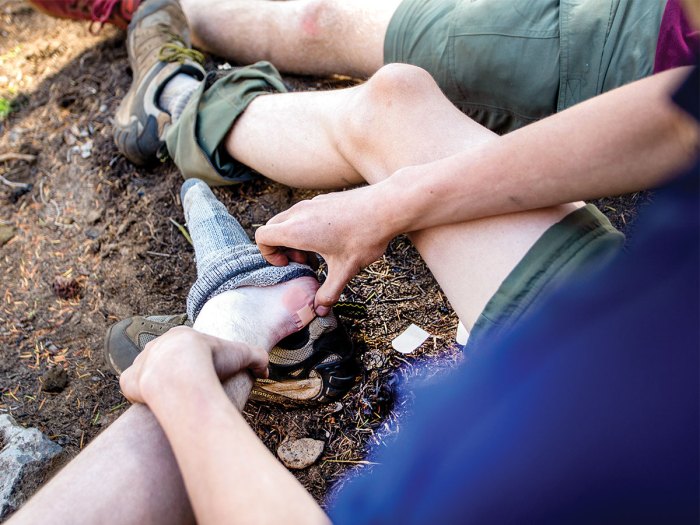 BEAUTY ALL AROUND
While the first day proved tough, the next couple of days offered much flatter terrain in the shade as Scouts hiked past towering evergreen trees.
"I really enjoyed the scenery and seeing the Sisters through the trees," Josh says.
Keep your head up with your eyes and ears alert, and you can appreciate the environment. Instead of quickly crossing, the Scouts stopped at creeks, where they discovered snakes and salamanders. One lake teemed with thousands of toads.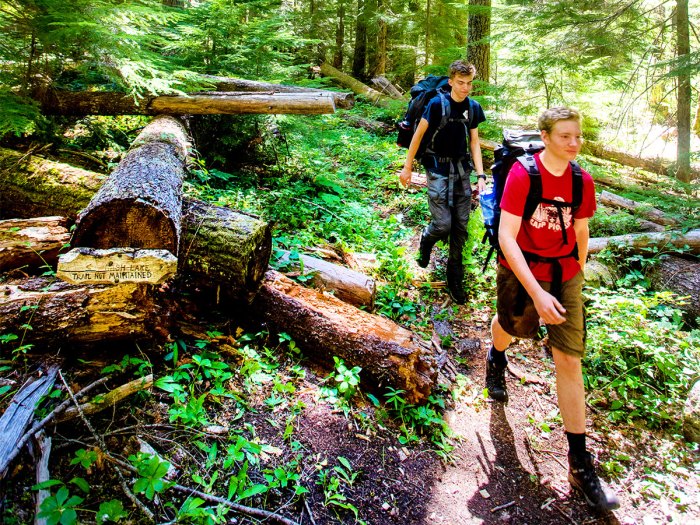 "It was really cool," Josh says. "You could hear them jumping around."
At night, some Scouts set up tents or hammocks, and some slept on a tarp.
"We were woken up one night by what we thought was a mountain lion scream," says Orion Braham, 16, a Life Scout. "The wildlife was awesome to hear."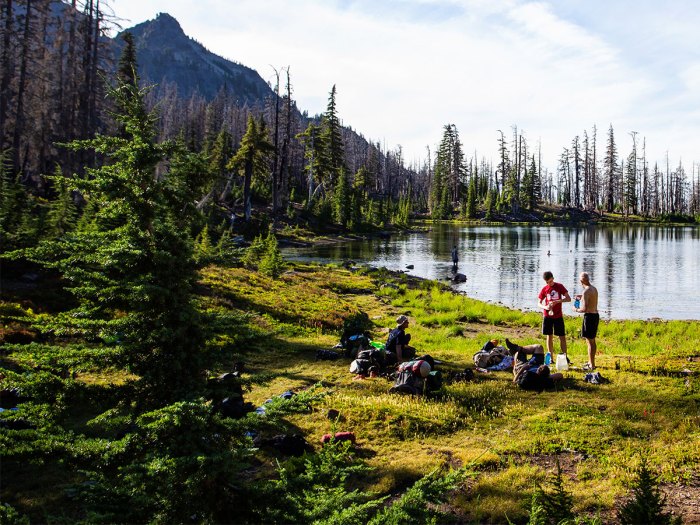 DEALING WITH THE UNEXPECTED
Sleeping out in the open is fine on comfortable, dry evenings, which the weather forecast predicted for the week. With this in mind, some Scouts opted not to bring rain gear or tents.
But the weather can change in a hurry, especially in the mountains. On the fourth night, it started to sprinkle and mist.
"When it does that all night, you get soaked," Andrew says.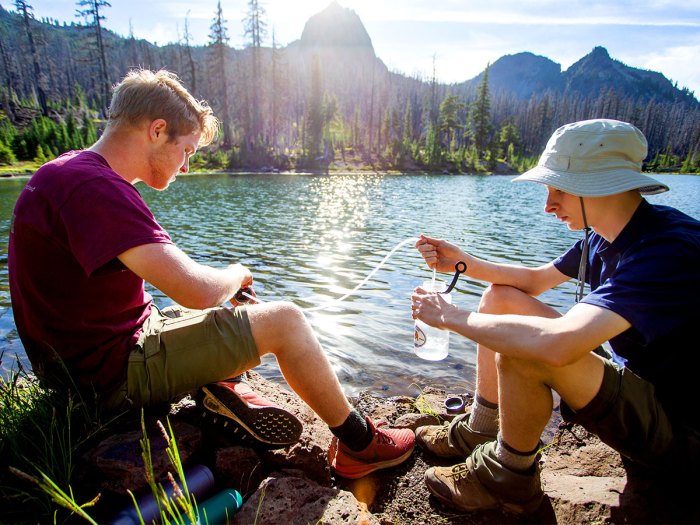 Another unwelcome surprise came during the last couple of days. The trail was poorly defined, littered with sharp brush and fallen logs. Scouts carefully watched their steps on the uneven ground.
"It was slow going. If we couldn't see the trail, we waited for everyone," says Eagle Scout Connor Griffiths, 16.
To stay on the right path, Scouts pulled out their maps and compasses, and also checked the adult leaders' GPS. Despite the challenges, they finished the trek — proud of their accomplishment, but mostly grateful to have hiked in such a beautiful area.
"It's important to look where you are, not just a few feet in front of you," Derek says.
---
VOLCANOES IN THE U.S.
Oregon is home to 17 volcanoes, including the Three Sisters. The Sisters' last eruption was about
1,900 years ago.
America has more than 160 active volcanoes, and more than 140 of them are in Alaska. California has the second most with 18. Volcanoes are in practically every other western state. An active volcano is usually defined as having erupted within the past 10,000 years. There are about 500 active volcanoes worldwide.
Inspire Leadership, Foster Values: Donate to Scouting
When you give to Scouting, you are making it possible for young people to have extraordinary opportunities that will allow them to embrace their true potential and become the remarkable individuals they are destined to be.
Donate Today