Canyoneering at Zion National Park with Arizona's Troop 818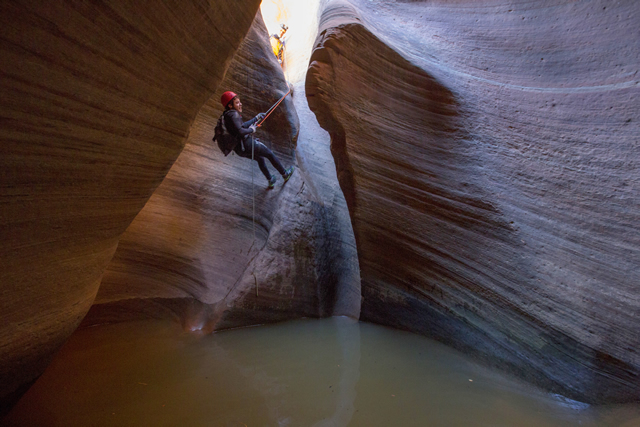 Justin Smith was looking down —  a long way down.
Over the previous two days, Justin, 15, and five other members of Troop 818 from Scottsdale, Arizona, had climbed, rappelled, squeezed, scrambled, waded and swum their way through three of Zion National Park's famed twisty-turny canyons.
Finally, they were at the last test: a 100-foot free rappel to the canyon floor — just the right kind of challenge for Justin.
"I'm scared of heights, so my favorite part was getting outside of my comfort zone," he says.
Fellow Scout Miguel Mariscal, 16, remembers the moment well: "Like, you're backing up, and then all of a sudden you look down and you see …"
"Air!" 13-year-old Ralph Mersiowsky shouts.
"Yeah, just air," Miguel says, "and you know there's nowhere to put your feet, and the bottom just seems so far away. But then you start going down, and it's an amazing feeling."
The Right Stuff
Canyoneering involves many Scout skills, including hiking, climbing, swimming, orienteering, planning, rope work, first aid, problem solving and even a little meteorology. To prepare for the trip, the guys did practice hikes and went rappelling and climbing at local camps.
And they did their homework.
They knew to bring quick-drying clothes and plenty of water and snacks, as well as dry bags for a change of clothes and gear. Footwear consisted of shoes with enough grip and support for the hiking, but lightweight enough for the swims … and old enough that it's OK if they got muddy, wet and maybe a little torn.
Helmets were donned before entering any of the canyons and stayed on until the end. Gloves protected hands not only for the rappels but also for the climbing, bracing and negotiating of the abrasive canyon walls.
On the first day of their trip, the guys tackled the 12.3-mile Orderville Canyon. After an exposed hike in the hot sun, there was a long finish through several pools of cold water. Some were only ankle-deep, while others required a short teeth-
chattering swim.
Video: Canyoneering with Troop 818
The Going Gets Tough
Day Two through Keyhole and Pine Creek Canyons got more technical, featuring multiple rappels and long, cold swims requiring wetsuits.
Keyhole Canyon is short, with the longest rappel only 30 feet. But there are several long swims, downward climbs and tight spaces. The Scouts relied on teamwork to get everyone through the tricky obstacles smoothly and safely. After spending three hours exploring narrow passages that opened to eerie rooms small and large, they ate a quick lunch and headed for the big finish.
Pine Creek Canyon is a longer, far more technical adventure with rappel after rappel often into pools of water requiring a swim to the next obstacle.
"The water was ice-cold and of course the wetsuit was real tight, but it was well worth it by the end since you're just having a good time with your buddies in a place not many people get to experience," Justin says.
Sometimes they had to swim through long, dark passages, making the experience more like caving.
"That was the coolest part," says 13-year-old Luke Rodriguez. "We didn't really know where we were going to go and what we would see."
The payoff? Exceptional scenery of rock, light and shadow combined with the thrill of becoming more confident with increasingly challenging rappels.
"If I wasn't a Boy Scout, I would never have dreamed of doing anything like this, never in my wildest dreams," Ralph says. "It was so high up there … words can't even describe it."
---
Canyoneering Safety
Canyoneering is a great adventure, but with any challenge there are potential dangers that require you to be prepared.
Heat exhaustion and heat stroke: Beat the heat by limiting sun exposure, using sunscreen and eating snacks, as well as drinking plenty of fluids along the way. Drinking without eating can lead to low blood salt, which is also very dangerous.
Hypothermia: Avoid the chills by wearing quick-drying clothes, bringing a change of clothes in your dry bag and munching on those high-energy snacks during the trip.
Flash floods: Flash floods can be caused by storms many miles away, so it's important to know the area's weather patterns for the time of year. Keep updated with the forecast for the entire region.
Once in the canyon, keep an eye on the sky and be aware of your surroundings. Know some of the signals of a possible flash flood: cloud buildup, thunder, sudden changes in the water from clear to muddy, floating debris and rising water levels or strong currents. Part of being aware is identifying possible escape routes along the way.
Often a flash flood will start small before building quickly to a monster wave. On a previous trip to Zion, Troop 818's canyoneering was cut short because of a thunderstorm. Miguel Mariscal got to see what can happen from the safety of high ground.
"I always thought a flash flood was the water just rising up slowly," he says. "But I guess I had to learn by seeing that it's one massive wave that comes in and destroys everything. It's powerful and kind of cool, but it's also dangerous and kind of scary how powerful nature can be."
---
Know before you go
Units with youth who are at least 13 may participate in canyoneering, along with related activities such as lead climbing, caving, and snow and ice climbing. Units participating in these activities must use an instructor with training from a nationally recognized organization that trains climbing instructors. BSA National Camping Schools do not train climbing directors and instructors in lead climbing, snow and ice climbing, caving or canyoneering.
Climb On Safely is the Boy Scouts of America's procedure for organizing climbing-type activities. Check it out at scouting.org.
---
Photos of Troop 818's Trek
Inspire Leadership, Foster Values: Donate to Scouting
When you give to Scouting, you are making it possible for young people to have extraordinary opportunities that will allow them to embrace their true potential and become the remarkable individuals they are destined to be.
Donate Today