7 Tasty Ways to Make Pancakes Pop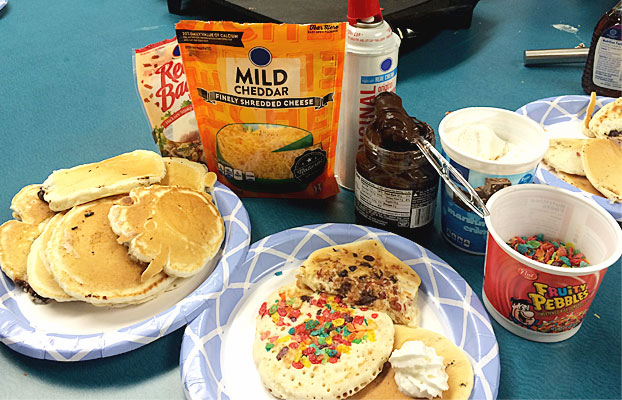 Add these ingredients to spruce up your next batch of pancakes.
Trail Mix

Add trail mix to your batter for a nice flavor and texture variation. This also packs extra energy that can help you on a long hike.
Lemonade Mix
Toss in lemonade mix to give your pancakes a sweet and sour twist. Use pink lemonade mix to add a unique pink hue to your 'cakes.
Instant Oatmeal
A packet of instant oatmeal adds texture to plain pancakes and, like trail mix, adds a little extra energy to your breakfast. Take it further by using flavored instant oatmeal, like Apple Cinnamon.
Breakfast Cereal

Pouring your favorite breakfast cereal into the batter can taste great, as the batter will take on the flavor of the cereal.
Hot Cocoa
Adding instant hot cocoa to your batter results in chocolate flavor with the texture of a traditional pancake.
Bacon and Chocolate Chips

Chop up some bacon, grab some chocolate chips and mix it all into the batter. This savory and sweet treat is fantastic topped with maple syrup.
Grilled Ham & Cheese
Take two pancakes (or cut one in half) and put sliced ham and cheddar cheese between them. Toss it back on the griddle until the cheese melts and enjoy.
Chocolate Mints
Chop up chocolate mints, toss 'em in the batter and prepare your taste buds for a wild ride.
S'mores

Spread melted chocolate and roasted marshmallows on top of a traditional pancake and sprinkle the top with graham cracker crumbs.
Note: Originally we tried sandwiching the ingredients, but found it tasted better as a topping on a single pancake.
Watch as we tested these recipes live on Facebook


---
Have a pancake ingredient that you love? Tell us about it in the comments.
Inspire Leadership, Foster Values: Donate to Scouting
When you give to Scouting, you are making it possible for young people to have extraordinary opportunities that will allow them to embrace their true potential and become the remarkable individuals they are destined to be.
Donate Today