Inside the April 2016 issue
Here's what you'll find inside the April 2016 issue of Boys' Life magazine. Remember, many articles are exclusive to the printed magazine and are not available online.
To subscribe to Boys' Life magazine, please visit http://scoutlife.org/subscribe.
ON THE APRIL 2016 COVER
A COMPLETE FISHING EXPERIENCE
From streams to rivers to lakes, you can fish it all at Fish Camp.
• Visit fishing.scoutlife.org for fishing tips
---
THIS MONTH'S OTHER FEATURES
Get Your Fish On!
Gear Guy brings you some of the best new rods, reels and other fishing tackle.
Hide-And-Seek on the River
Hook some tips from BL's own pro angler.
• How to find fish in a stream or river
Worlds Apart
Dodgers pitcher Clayton Kershaw has other-worldly talent — and a heart to match.
BL Workshop: Fishing-Rod Rack
Organize your rods with this simple wooden rack.
• How to build a fishing rod rack
---
ONLY IN OUR BOY SCOUT EDITION
Scouting Around
Get FITT: Not only is good fitness essential to many of the most fun Scout activities, it's also a major contributor to a long, healthy life.
• Visit the Scouting Around blog
Doc Hawk: Flowery Mimics
These wildflowers are named for what they look like.
Cool Jobs: FBI Special Agent
From bank robbery to terrorism, these agents fight all kinds of crime.
---
ONLY IN OUR CUB SCOUT EDITION
Let's Look at Golf
Read it! Color it! Get it all in this special Cub Scout section.
---
AND MORE!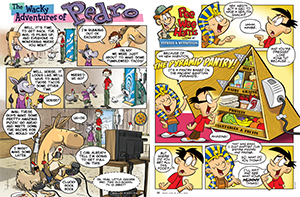 Look for the regular score of comics, jokes, games, Scouts in Action, Tradin' Post and more! Only in the April 2016 issue of Boys' Life!
• The Wacky Adventures of Pedro
• Pee Wee Harris
• Scouts in Action
• More S.I.A.
---
Inspire Leadership, Foster Values: Donate to Scouting
When you give to Scouting, you are making it possible for young people to have extraordinary opportunities that will allow them to embrace their true potential and become the remarkable individuals they are destined to be.
Donate Today