How to Choose an Emergency Communication Device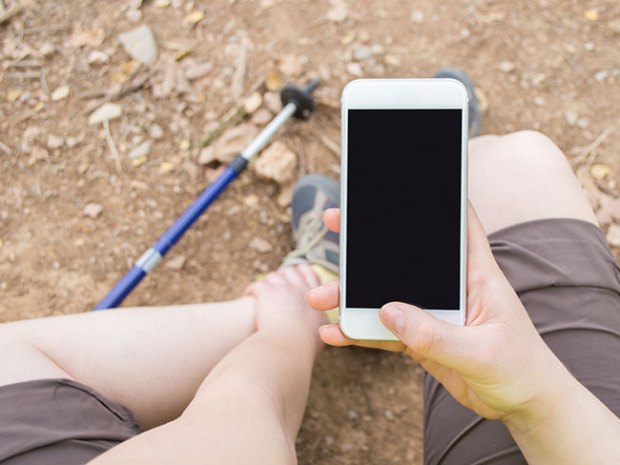 You might be trained in wilderness survival, safety and first-aid skills. But should you ever encounter someone who has a serious injury — like a broken bone, internal injuries, severe bleeding or a head injury — and you are hours or days from an emergency room, that person's chance of survival might depend on your quick actions to communicate and organize a rescue.
Weekend trips to a local park probably include access to cellphone towers, allowing you to use your smartphone to call for help. Extended off-the-grid treks, on the other hand, require much more thought when it comes to planning emergency communication. Use the following guide to choose the best device that meets your group's needs.
Connecting in 3, 2, 1 …
Three of the major communication devices — personal locator beacons, satellite emergency notification devices and satellite phones — use one of the major satellite systems orbiting Earth.
When researching the best device for your trip, verify that the device offers satellite coverage for the location where you will be traveling.
PERSONAL LOCATOR BEACONS
Personal Locator Beacons (PLBs) are handheld devices used to send a distress signal via satellite that helps emergency responders "fix" on your location. Some devices' signals provide search-and-rescue responders with your personal information, including your name, emergency contacts and more.
Pros: PLBs are compact, lightweight, waterproof (most models) and easy to use, with a relatively long battery life — for some, a pair of lithium batteries can last up to six years. While the device must be registered with the National Oceanic and Atmospheric Administration (NOAA), no subscription fee is required.
Cons: PLB devices can only transmit your location and basic emergency-contact information; they cannot tell search-and-rescue responders any details about the emergency. Once you have sent the signal, you will not get confirmation that it was received or that someone is responding. Users must be extremely careful not to accidentally send a false distress signal.
SATELLITE EMERGENCY NOTIFICATION DEVICES
Lightweight, handheld Satellite Emergency Notification Devices (SEND) are a technological step up from PLBs because you can send text messages via satellite. Some devices even let you update your social-media profiles.
Pros: Two-way messaging, available on some devices, can be used in an emergency or simply to let families at home know your trip is going well. In the event of an emergency, search-and-rescue teams can confirm that your message was received. And, if an SOS message is sent by accident, you can let responders know you are OK.
Cons: The device itself is pricey, and you must also pay subscription fees. Compared to a PLB, the battery life is significantly less (approximately 100 hours).
SATELLITE PHONES
Just like your cellphone — except this one pings satellites high above — a sat phone lets you call any telephone number, such as the closest public-safety or rescue agency. Some models also send text messages, depending on the subscription plan you purchase.
Pros: Satellite phones are highly reliable for verbal communication — particularly for expedition and outdoor leaders — and they are available for rent in some areas.
Cons: Dense forest and terrain features like mountains and deep, narrow canyons might block satellite reception, and sat phones are prohibitively expensive for many people. They can be a little bulky, too. You must also know the phone number of the nearest emergency-response team in the place you are traveling.
TWO-WAY AMATEUR RADIOS
Known as "ham" radios, these devices use designated radio frequencies to communicate with search-and-rescue responders. They are commonly used at permanent locations, including remote Scout camps like Northern Tier National High Adventure Program and Florida National High Adventure Sea Base, because they are very powerful and reliable.
Pros: These radios are affordable (starting well under $100), and they facilitate two-way verbal communication over a potential range of hundreds or thousands of miles.
Cons: They require a license to operate, but the training can be a great troop activity. You must also make sure the radio you buy uses the bands for which you are licensed, and these bands allow you to reach people who can help you in an emergency. Some handheld models have limited battery power and range.
WALKIE-TALKIES
You might not be trekking the remote backcountry, but you still need to communicate with buddies across relatively short distances (think: Scout camp). Portable walkie-talkies are useful for groups that might spread out or in an emergency when party members become separated. Check with your Scout leaders to make sure walkie-talkies are permitted.
Pros: Walkie-talkies offer two-way verbal communication that is relatively affordable, lightweight and simple to use.
Cons: They can only call someone using another walkie-talkie on the same channel; you cannot message or call authorities to request help. Range can be reduced by terrain like dense forest or elevation. Battery life is typically short.