Expert Buying Tips to Help You Pick the Best Backpack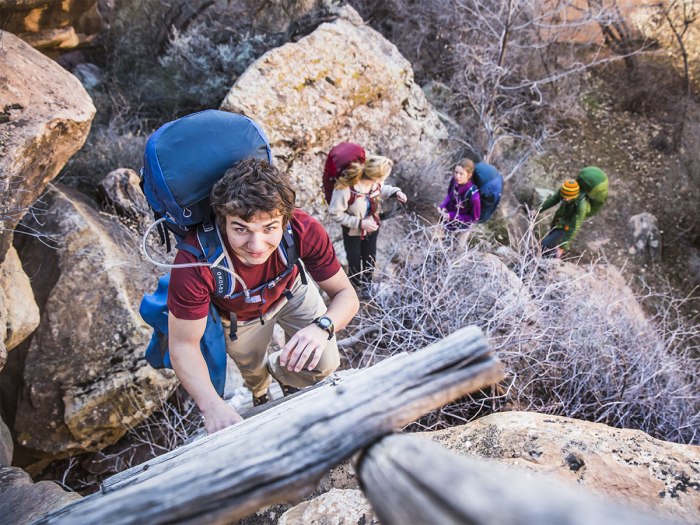 Backpacking lets you explore places in the wilderness that most people never see. Other than boots, no piece of gear will affect how much you enjoy a backpacking trip as much as your pack.
Here is the Gear Guy's guide to picking the perfect pack.
HOW BIG SHOULD YOUR BACKPACK BE?
Backpacks with 40-50 liters of capacity are generally made for carrying some personal gear — sleeping bag, pad, clothes, some personal items and snacks — but not a full share of team gear.
If you're planning an ultralight backpacking trek for a few days, look at backpacks that hold 50-65 liters of gear and weigh no more than 2.5 pounds when empty.
A 65-liter backpack is a good all-around size for weeklong trips. Some are fairly lightweight yet comfortable, carrying up to 40 pounds, sometimes more.
For gear-intensive multiday trips, look at 70-liter backpacks or bigger, with a supportive suspension system and more features.
GET THE RIGHT FIT
If you're still growing, stick to adjustable-suspension packs that can adapt to your body through the years. Fixed-suspension bags are another option, and they are usually sold in more than one size — meaning you buy a new one when you grow out of it.
Whether the pack has an adjustable or fixed suspension, fitting it correctly is critical to comfort, and that requires knowing your torso length. Here's how to measure it:
Stand straight and place your hands on the shelf-like top of your hipbones; your thumbs will point to a spot on your lower spine. Ask someone to extend a soft tape measure (or a string to hold against a stiff measuring tape afterward) from your thumbs to the bone protruding from the base of your neck when you tilt your head forward. That's your torso length.
A pack fits better when your torso length falls within the pack's fit range. Try on the pack to make sure it's comfortable. If it isn't, it's not worth your money.
Expert tip: If all this measuring and pack-fitting sounds like too much, head to your local outdoors store. There you can ask an expert, who will help you find a pack that fits best.
PICK YOUR FLAVOR
Backpacks come in a variety of designs, differing in shape, how you open them (top-loading, one-zip panel access, roll-top), pockets and tons of other features. Find one that meets your needs and backpacking style.
BACKPACK PRICES
Higher prices usually mean greater comfort, more durable materials and construction, and sometimes cutting-edge technology. But any pack will get you into the backcountry.
TRY ON THE BACKPACK
Follow the same rule for buying backpacks as you would for buying boots: Try them on first. Throw some weight in a pack and walk around. After going through all the above steps, this step will help you decide if the backpack is right.
Inspire Leadership, Foster Values: Donate to Scouting
When you give to Scouting, you are making it possible for young people to have extraordinary opportunities that will allow them to embrace their true potential and become the remarkable individuals they are destined to be.
Donate Today