ROBOTICS COMPETITIONS
One of the best places to find the latest on various robotics competitions is http://robotevents.com, the website of the Robotics Education and Competitions Foundation. The foundation exists to connect students, mentors, and schools in every community, and its site can connect you to competitive events, workshops, camps, conferences and more.
UNIVERSITIES AND MUSEUMS
Check your local universities and museums. Many provide the public and Scouts with workshops and special opportunities to learn about robotics. In addition, organizations and groups such as the 4-H, city recreational groups, Mad Science and ID-Tech Camps can also provide workshops and camps in areas like robotics.
Here are a few examples:
ARTICLES, BOOKS AND LINKS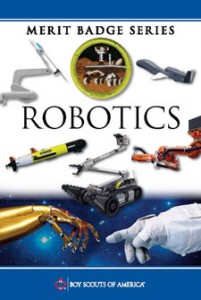 There is a wealth of information to assist you on the topic of robotics. The first reference is your Robotic merit badge pamphlet, which provides a good overview and list of additional resources. The Robotics merit badge pamphlet is available at your local Scout shop or online at https://www.scoutshop.org.
In addition to the links above, here are some other websites that might be helpful. All helped the Boy Scouts of America in creating the Robotics merit badge:
Inspire Leadership, Foster Values: Donate to Scouting
When you give to Scouting, you are making it possible for young people to have extraordinary opportunities that will allow them to embrace their true potential and become the remarkable individuals they are destined to be.
Donate Today