Bronx Scout honored for saving elderly neighbor and toddler from apartment fire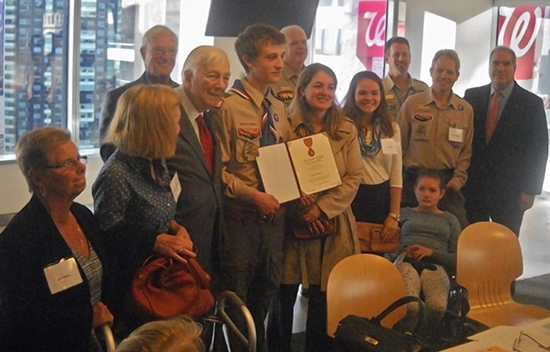 A 17-year-old Scout received the Honor Medal on October 16 after racing into a burning apartment building in January to save his elderly neighbor and a toddler.
Jack Dailey – a member of Troop 240, Riverdale, N.Y. – had just returned to his seventh floor apartment in the Bronx when he smelled smoke.
He quickly determined where the smoke was coming from and sprung into action by entering the apartment of 74-year-old Marion Lawrence, who was babysitting her 1-year-old great grandson Jake.
After pushing a dresser out of the way, he helped his neighbors safely escape through a window leading to a fire escape.
Inspire Leadership, Foster Values: Donate to Scouting
When you give to Scouting, you are making it possible for young people to have extraordinary opportunities that will allow them to embrace their true potential and become the remarkable individuals they are destined to be.
Donate Today