Towering Rock Formations, Stargazing, Zip Lining in Palo Duro Canyon
Standing atop the 800-foot-tall launch tower, Ethan Wheat didn't have much time to think about how he was about to zip a quarter-mile across the second-largest canyon in the United States.
"They hook you up, and you go," says the 14-year-old Life Scout. "It was fun. It sounded like a Ferrari going down, it was so high-pitched. You could feel the wind."
Zip lining across Palo Duro Canyon was only one activity Troop 4018 of Frisco, Texas, did in the Texas Panhandle last November. The Scouts also hiked around the canyon, admired the night sky through telescopes and adjusted to some surprises.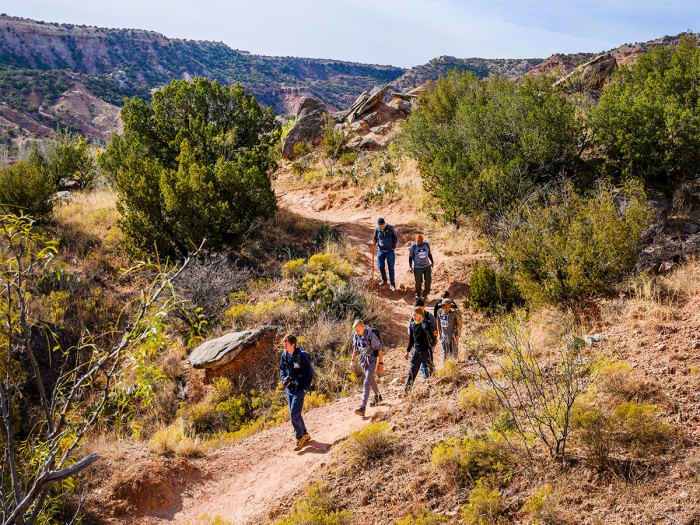 'THE GRAND CANYON OF TEXAS'
Palo Duro Canyon stretches 120 miles in length and is about 800 feet deep with layers of shale and sandstone creating its tall walls. By comparison, the Grand Canyon in Arizona measures more than 270 miles long and a mile deep. The "Grand Canyon of Texas" is not as grand, but it's still impressive.
The troop had visited once before and looked forward to cooking pizzas in a Dutch oven at camp. However, when they arrived, they learned that they'd need to change their menu.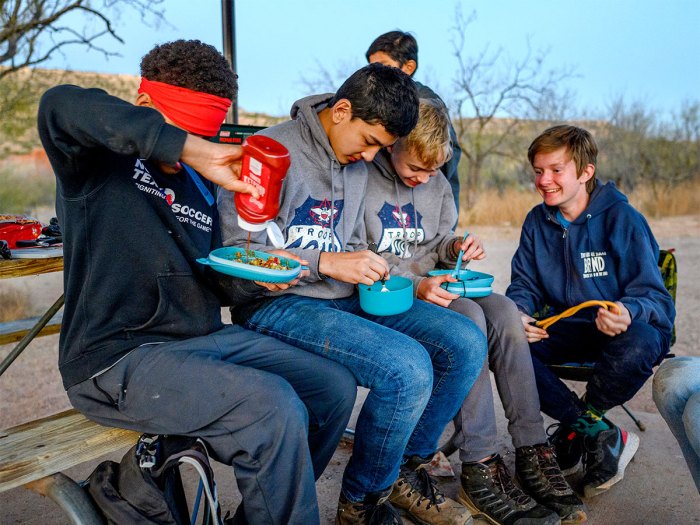 "They had a burn ban while we were there, so we couldn't use a Dutch oven or have open fires," says Star Scout Colin Brodner, 14. "Luckily, we had backups. The motto is 'Be Prepared.'"
When conditions are dry, the risk of wildfires increases, so local officials might ban campfires. The guys altered their meal plans, cooking their food on propane stoves. But you can't really huddle around a stove to stay warm. While temperatures reached 80 degrees during the day, they dropped to the low 20s at night.
"We were warned it'd be pretty cold," says Life Scout Agam Sheth, 17. "I was shivering."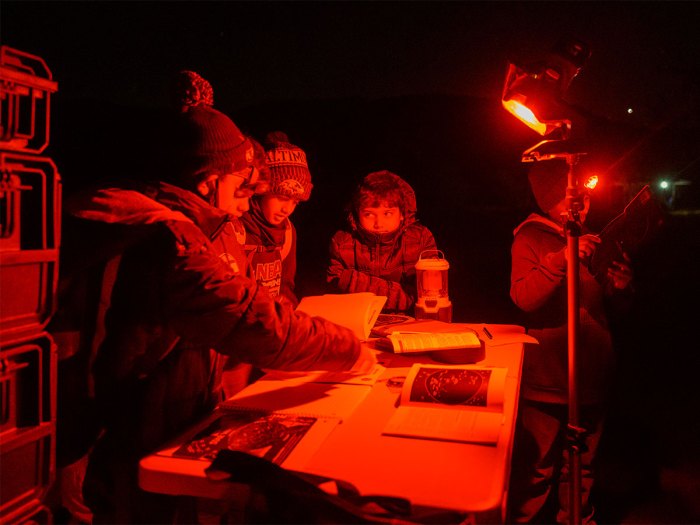 STARS AND SOLAR FLARES
Some Scouts braved the chilly evenings to work on the Astronomy merit badge, thanks to an assistant Scoutmaster who brought two telescopes. The first night was clear, perfect for observing the stars and planets. For three hours, the guys located Venus, Saturn, Neptune and Jupiter, along with four of its moons.
"We saw the rings on Saturn," says Second Class Scout Jayant Rajadhyaksha, 11. "It was mesmerizing."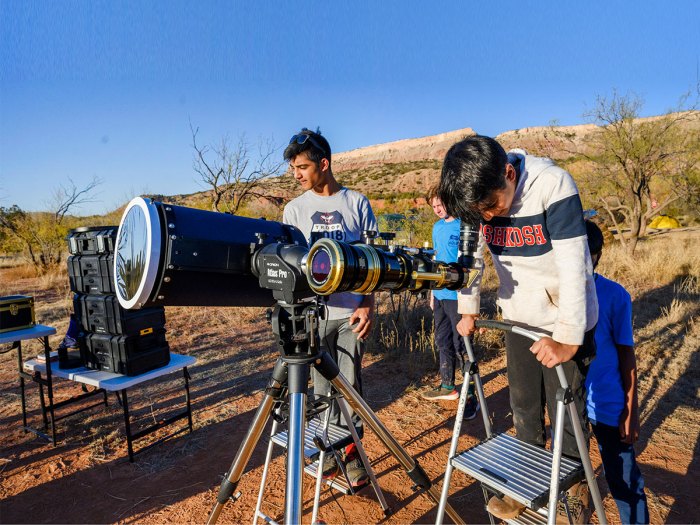 They also studied the moon, viewed nebulas and saw the Andromeda Galaxy. To earn the merit badge, Scouts must identify at least 10 constellations and eight bright stars.
The next day, the assistant Scoutmaster installed special scopes and filters for them to safely view the sun. It was difficult to see many dark sunspots, which are caused by disturbances in the sun's magnetic field. They did, however, see solar flares — eruptions of electromagnetic radiation in the sun's atmosphere.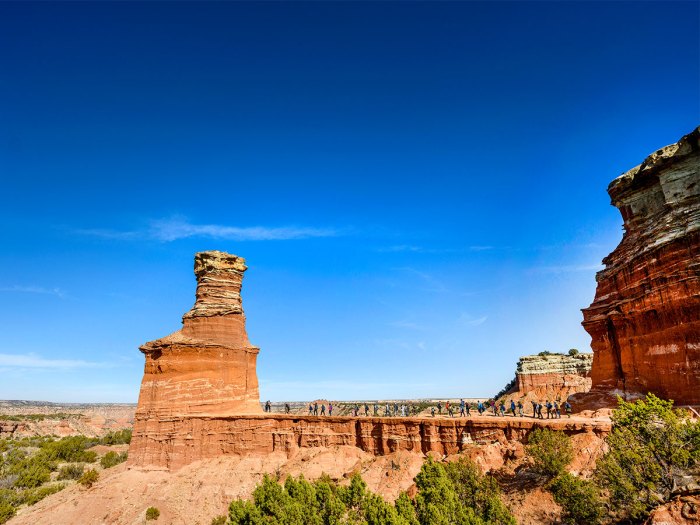 TO THE 'LIGHTHOUSE'
Another day activity the troop planned was a nearly 6-mile round-trip hike to the Lighthouse. It's not a real lighthouse — it's a 300-foot-tall rock formation overlooking the canyon. The guys packed their lunches so they could eat when they arrived. Most brought freeze-dried meals that only required boiled water to make.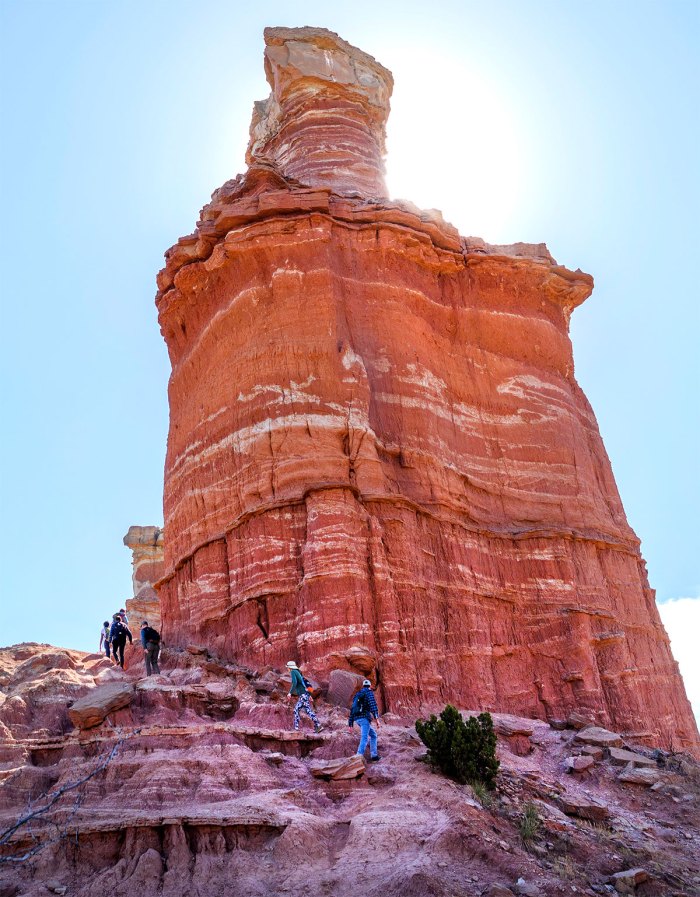 "It wasn't bad, but it wasn't good," Ethan says of the food.
"After that, we had to climb to the top," says First Class Scout Cayson Young, 12.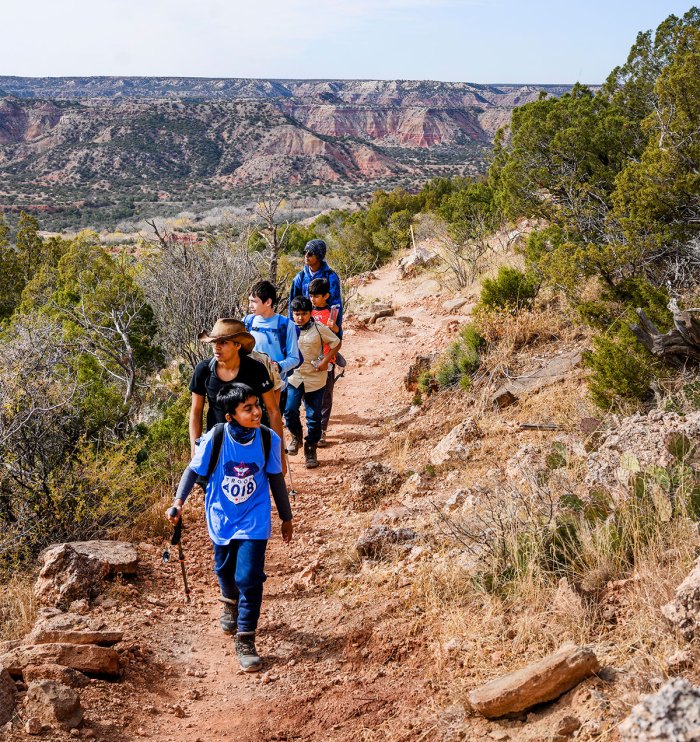 They scurried up a summit trail to get a good look at the canyon. It was windy and a little chilly up there, but the views were worth it.
"The Lighthouse was a really interesting bit of terrain. The way you could see for miles was really cool," says Star Scout Perryn Cote, 13.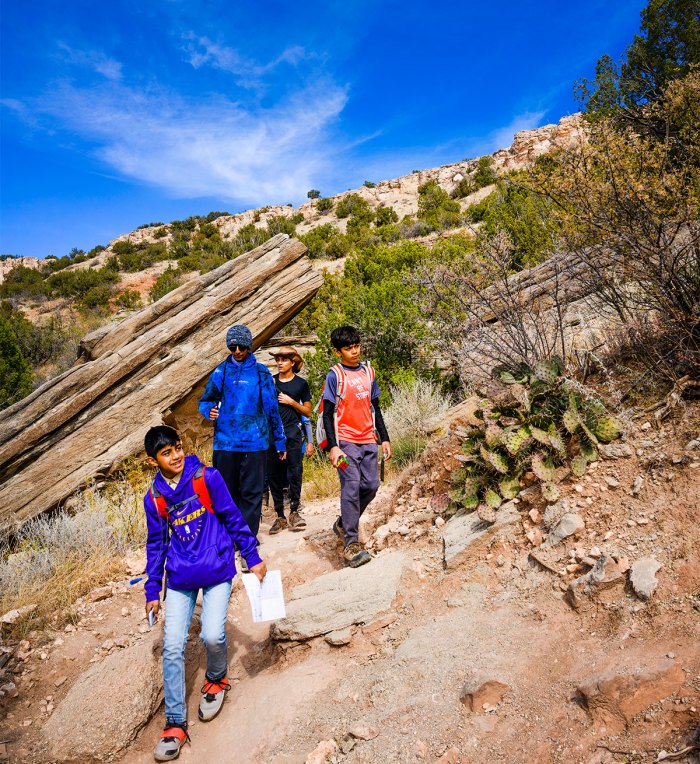 FINDING FUN
For some Scouts, the Lighthouse hike proved to be the highlight of the campout. For others, it was riding the zip line at Palo Duro Canyon Adventure Park. Perryn, on the other hand, preferred what wasn't on the itinerary.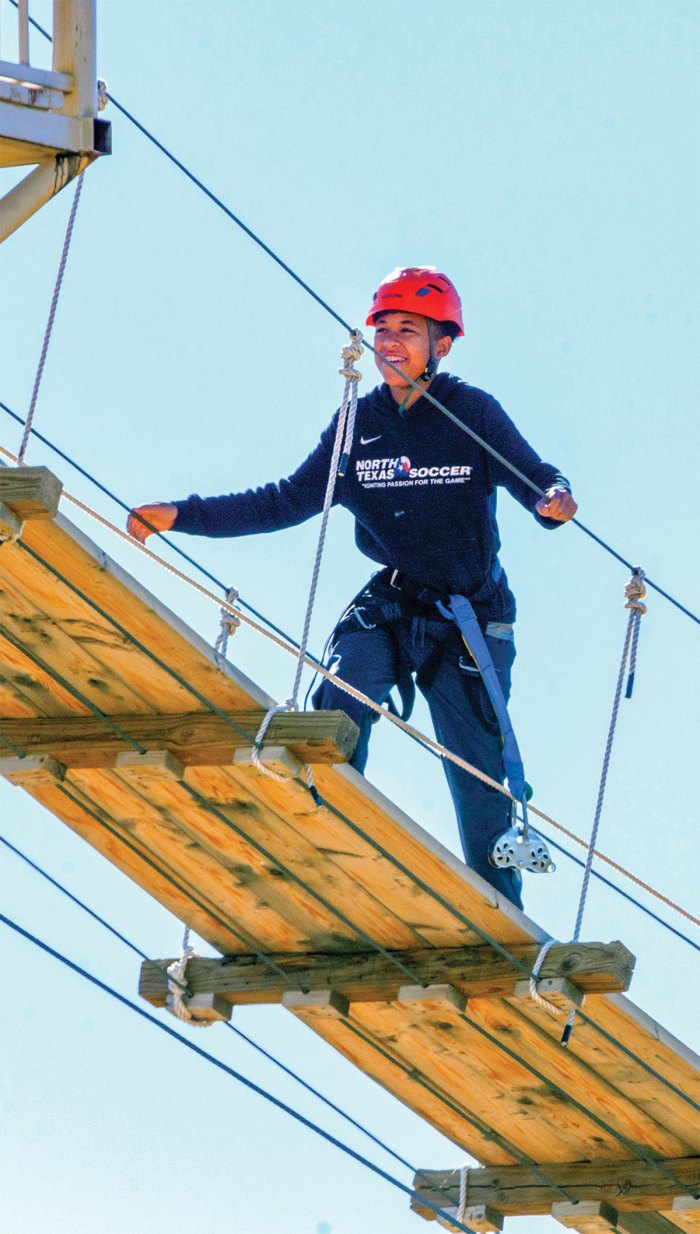 "The stuff I found the most memorable were usually the smaller moments, not the big activities," he says. "I had fun making quesadillas and seeing a raccoon."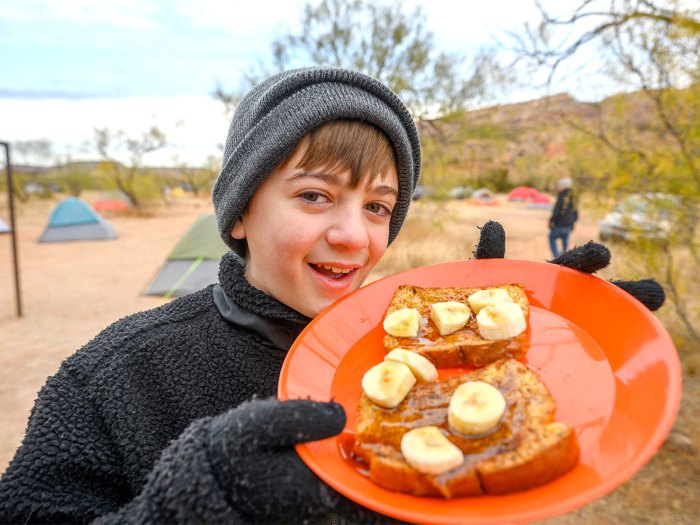 While it's great to enjoy action-packed activities, remember to savor the quiet times. You can use them to do a service project like picking up trash, or sit down for a fun game of cards with your friends — both of which the troop did on the campout. Or you can take in the scenery and maybe spot some wildlife. The guys saw deer, woodpeckers and wild turkey in the canyon.
"The views were impressive," Ethan says. "It was awesome."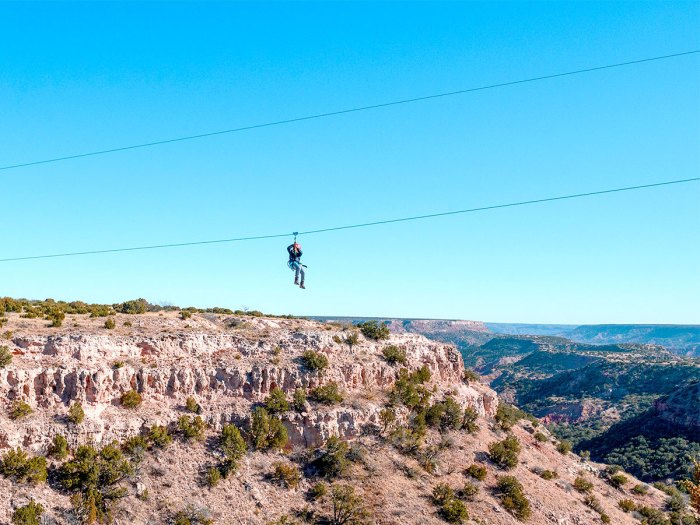 ---
Grand Views
A canyon is a deep valley often carved out by erosion from water and wind, sometimes forming over millions of years, like the Grand Canyon in Arizona. Scientists estimate Palo Duro Canyon formed in about 1 million years.
Canyons, sometimes referred to as gorges depending on their size, can be found in many states, including Utah, Georgia, Colorado, Hawaii, Wyoming and New York.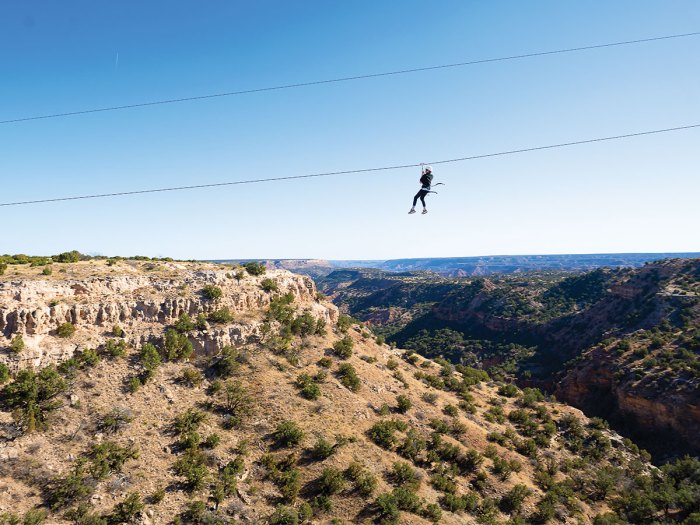 ---
Zip Lining Safety
Riding a zip line across a canyon or through a forest can be a lot of fun. But before you book an aerial adventure, first ask if the zip line company meets the operating standards set by the Association for Challenge Course Technology (ACCT) or American Society of Testing Materials (ASTM). If your council camp has a zip line, they're required to follow these safety standards, so going to a council camp is a great option.
Zip lining is an appropriate activity for Scouts BSA members, Sea Scouts, Explorers and Venturers, but not Cub Scouts.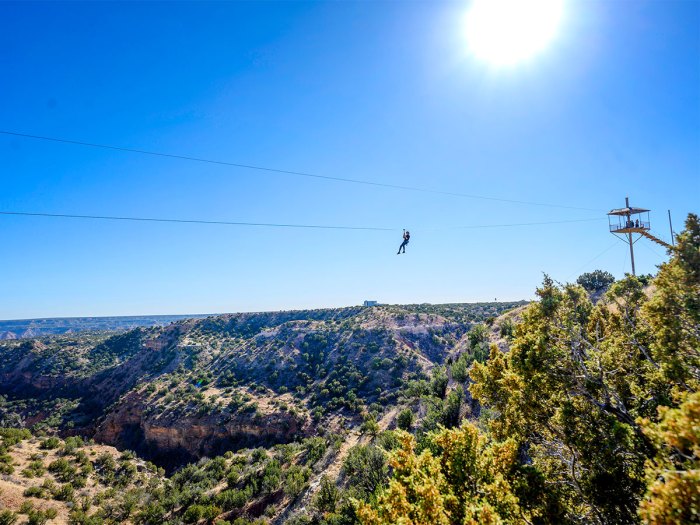 Inspire Leadership, Foster Values: Donate to Scouting
When you give to Scouting, you are making it possible for young people to have extraordinary opportunities that will allow them to embrace their true potential and become the remarkable individuals they are destined to be.
Donate Today