Go Beyond GORP With These 40 Tasty Trail Mix Ingredients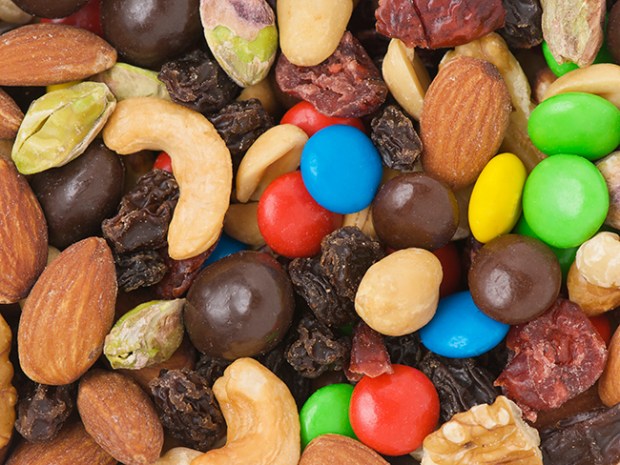 There's nothing like a bag of trail mix on a hiking or backpacking trip. Originally called GORP, for "Good Old Raisins and Peanuts," this mix of dried fruit, nuts, chocolate and other dry ingredients can be a good energy source on the trail.
Almost anything can go into a trail mix, but many people try to find a good balance between sweet and salty items. Here are 40 tasty trail mix ingredients that you might want to try. Mix and match them to create your own perfect trail snack.
NUTS, SEEDS AND LEGUMES
Loaded with protein and fiber, nuts and seeds also pack plenty of vitamins, minerals and other nutritional benefits. Some experts say that 50 percent of your trail mix should be made up of these ingredients, but be aware of allergies.
Peanuts
Cashews
Pecans
Almonds
Sunflower seeds
Pumpkin seeds
Walnuts
Pistachios
Sesame seeds
Flax
DRIED FRUITS
Dried fruits don't spoil as fast as fresh fruit and won't moisten the other ingredients. In moderation, these sugary treats can be a great source of fiber, calcium and vitamins.
Raisins
Banana chips
Dried cranberries
Dried apricots
Dried apples
Candied orange peel
Dried blueberries
Coconut
Dried cherries
CHOCOLATE AND SWEET STUFF
Add in your favorite sweet treat to round out the mix. Just be sure to use sparingly. Be careful in warmer climates, because chocolate can melt and make a big mess.
Chocolate chips
White chocolate chips
M&Ms
Reese's Pieces
Sweetened coconut
Peanut butter chips
Marshmallows
CEREALS AND GRAINS
These crunchy carbohydrates boost energy levels and leave you feeling full. Everyone loves the satisfying texture of these ingredients.
Granola
Chex cereals
Popcorn
Pretzels
Unsweetened cereal, like Cheerios
Sweetened cereal, like Fruit Loops
Cheetos
Wasabi peas
SPICES
Lightly sprinkle your trail mix with one or more of these spices for extra flavor. But be careful, a little goes a long way.
Salt
Cinnamon
Cayenne pepper
Garlic powder
Onion powder
Curry powder
Chili powder