How to Make a Pinewood Derby Car Display
SAFETY FIRST: Ask an adult to help with tools you haven't used before.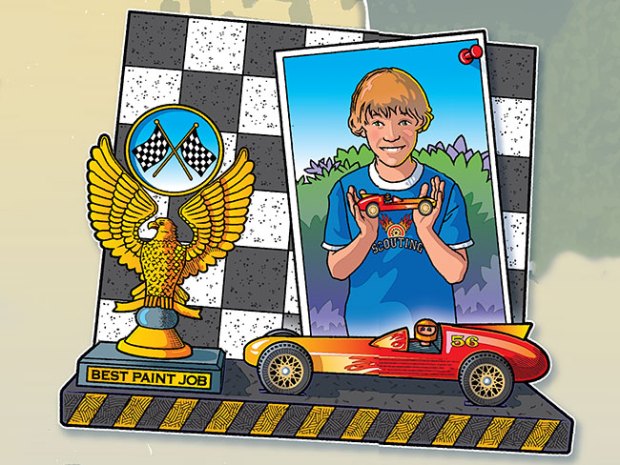 When the race is over, enter the winner's circle by building this display for your Pinewood Derby or model car.
WHAT YOU'LL NEED TO MAKE A DISPLAY
Tape measure
Ruler
Saw
Lumpy rock
Screwdriver
Wood screws
Hammer
Narrow chisel
Scissors
Utility Knife (Optional)
Wood glue
3/4″ x 10″ x 10 1/2″ board
3/4″ x 3 1/2″ x 10 1/2″ board
12″ x 12″ cork board
1/2″ x 2″ x 9″ wood strip (optional)
1/2″ x 1″ x 9″ wood strip (optional)
Some black paint and white paint
Paint brush
WHAT YOU'LL DO TO MAKE A DISPLAY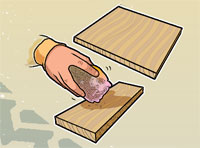 1. With the help of an adult, cut out the two boards and whack the small board with a rock. This will make the board rough like asphalt.
2. Chisel out four shallow depressions for the car's wheels to sit in.
3. Glue and screw the two boards together using the three screws. Paint the whole thing black, or any color you like.
4. Use scissors to carefully cut the cork board into 1 1/2″ squares. Or, with an adult's help, you can cut the cork with a utility knife.
5. Paint half the corkboard squares black and the other half white.
6. Glue the cork squares to the back of the display.
7. You can place or pin whatever you want on the completed stand. Your Pinewood Derby car or trophy would look great on the stand. Display it on a flat surface or hang it on the wall.
HOW TO MAKE WALL MOUNTING BRACKETS FOR YOUR DISPLAY
You can use this trick to securely mount almost any heavy, flat object to a wall.
Cut the 1/2″ x 2″ x 9″ wood strip lengthwise at a 45-degree angle. Mount one piece about 1″ below the top of the back of the display and the other to the wall as shown. Attach the 1/2″ x 1″ x 9″ wood strip about 1″ from the bottom of the back of the display. The display will then slide firmly onto the wall.
PHOTOS OF COMPLETED PROJECT
Check out these photos of the completed project sent to us by Boys' Life readers. If you have a photos of a BL Workshop project, please use the form below to send them to us.
---
Important Note: Please only upload photos of your project. Because of privacy rules, we can't post any photos that show people's faces. Always ask for your parent's permission before uploading anything to a website.
---
Inspire Leadership, Foster Values: Donate to Scouting
When you give to Scouting, you are making it possible for young people to have extraordinary opportunities that will allow them to embrace their true potential and become the remarkable individuals they are destined to be.
Donate Today