Inside the July 2017 issue
Here's what you'll find inside the July 2017 issue of Boys' Life magazine. Remember, many articles are only available to subscribers and are not available online.
Please visit Boyslife.org/subscribe to subscribe to the print or digital editions of Boys' Life magazine.
JULY 2017 FEATURES
Going Up
The journey is just as exciting as the destination on the way up Arizona's tallest mountain.
No Fear
On a trek to remote Alaska, there are plenty of opportunities to stretch your limits.
Greg Heffley's Guide to Outdoor Survival
Against our better judgment, the "Wimpy Kid" convinced us to print his take on the great outdoors.
BL Workshop: Make Your Own Crystals
It might seem like magic, but all you're doing is collecting salt crystals from evaporated salt water. (It's still cool!)
---
ONLY IN OUR BOY SCOUT EDITION
Scouting Around
Team Building: Building stuff with wooden poles, stakes and rope is called pioneering, and it's lots of fun.
• Visit the Scouting Around blog
Special Section: Jamboree Guide
What you need to know about Scouting's biggest event: the National Jamboree.
Doc Hawk: Bullfrog or Bully-Frog?
This big, loud predator is no timid amphibian.
Reptiles and Amphibians, Oh My!
Cool Jobs: Herpetologist. Studying these cold-blooded creatures can be an adventure.
---
ONLY IN OUR CUB SCOUT EDITION
Let's Look at the Jamboree
Read it! Color it! Get it all in this special Cub Scout section.
---
AND MORE!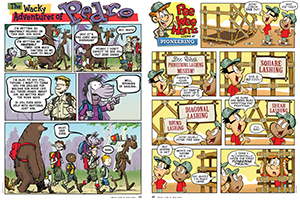 Look for the regular score of comics, jokes, games, Scouts in Action, Tradin' Post and more! Only in the July 2017 issue of Boys' Life!
• The Wacky Adventures of Pedro
• Pee Wee Harris
• Scouts in Action
• More S.I.A.
---
Inspire Leadership, Foster Values: Donate to Scouting
When you give to Scouting, you are making it possible for young people to have extraordinary opportunities that will allow them to embrace their true potential and become the remarkable individuals they are destined to be.
Donate Today