Tent or Tarp? How to Pick the Right Camping Shelter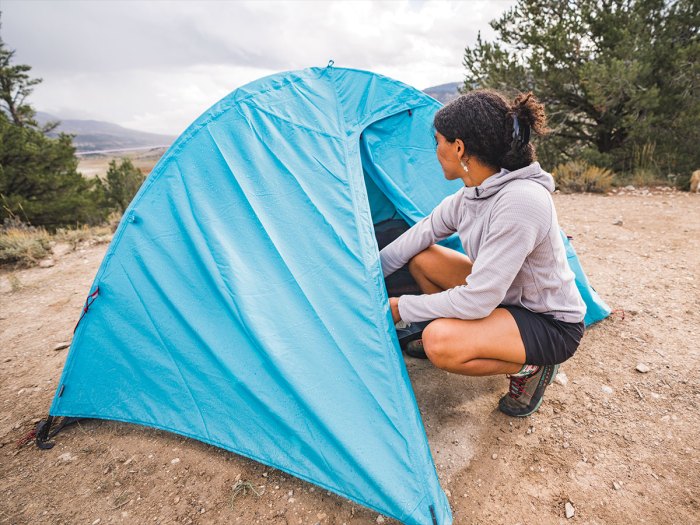 Whether you pick a tent or tarp, these shelters will guard you from the elements.
Tents and tarps both have advantages. How you want to sleep, the environment and how you want to use it can all factor into your decision.
CAMPING TARP ADVANTAGES
"Tarps are lighter than tents, most are more versatile and a tarp can easily adjust to its surroundings," says Charlie Ranahan with outdoor gear company Mountain Hardwear. "Most tarps have multiple attachment points, and they extend over a wider area than a tent, giving you and your friends more space to hang out and sleep."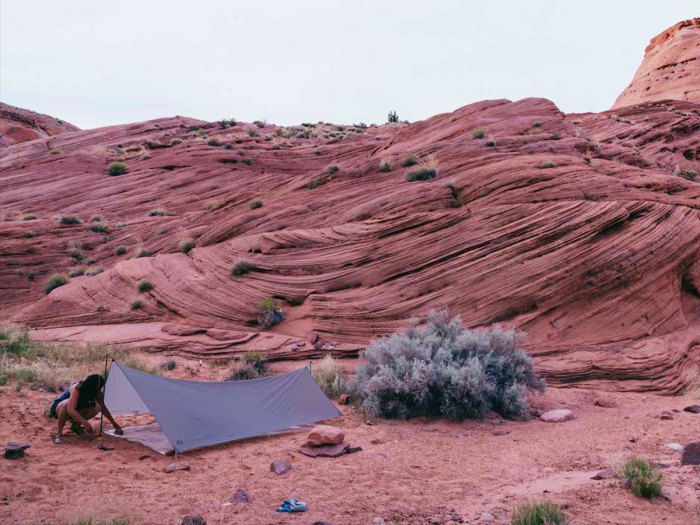 There's more open air between you and the outdoors, which can be a pro or a con, depending on what you're comfortable with. Tarps really let you feel one with nature. If the weather looks good, a tarp might be a perfect choice. But when it comes to tarps, they're not all created equal.
"Camping tarps are mostly made from nylon or polyester with special coatings that keep out wind and weather," Ranahan says. "A camping tarp will also be a lot quieter than a blue tarp or other hardware store tarp if it's windy. It'll dry faster and pack better, too."
HOW TO PICK A TENT
Opt for a tent if you want to seal yourself from wind and weather, stay warmer and steer clear of creepy-crawlies. Backpackers should look at lightweight, packable tents.
Don't get the smallest tent. Choose one with space for you and your friends in case it rains. A tent with two doors and vestibules, which are covered areas by the doors, lets you store your packs on one side and use the other to get in and out. A tent with one door and vestibule is likely lighter.
3 RECOMMENDED CAMPING TARPS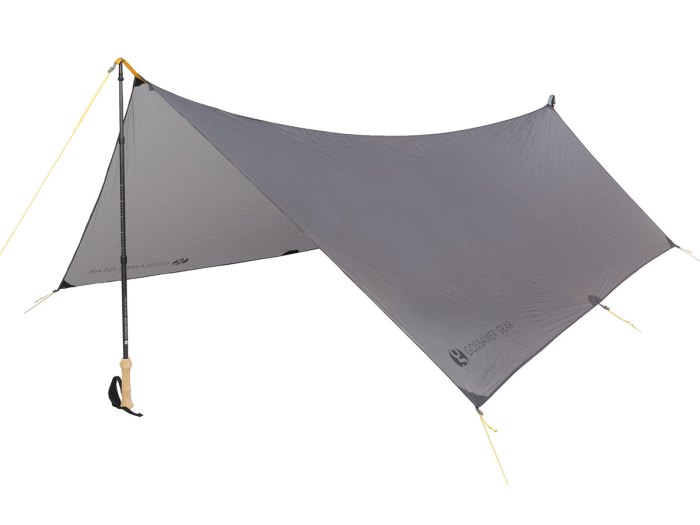 At 9.7 ounces, the Gossamer Gear Twinn Tarp ($149, gossamergear.com, 9.7 oz.) is one of the lightest tarps you can buy. It's so small that it could pack into an insulated mug. Roughly 10-by-9 feet when opened, the high-tenacity nylon Twinn Tarp has bug net loops at each end and two side-wall tie-out points on each side. These options give this tarp tent-like qualities. It's thin, tough and big enough to sleep two. It's also small enough that even if you pack a tent, you might want to bring it along as a protected hangout space.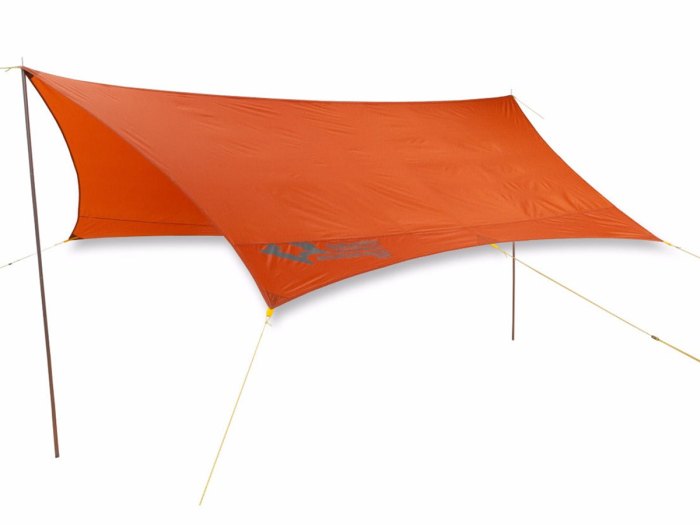 Hang the 12-by-12 Mountainsmith Mountain Shade Tarp ($70, mountainsmith.com, 1 lb. 14 oz.) from the trees or support it with your trekking poles, and you've got a durable waterproof shelter. It comes in a long, narrow carrying bag that's easy to strap on the outside of a backpack. While it doesn't have as many tie-down points as some other tarps, it has enough to get the job done. It comes with stakes.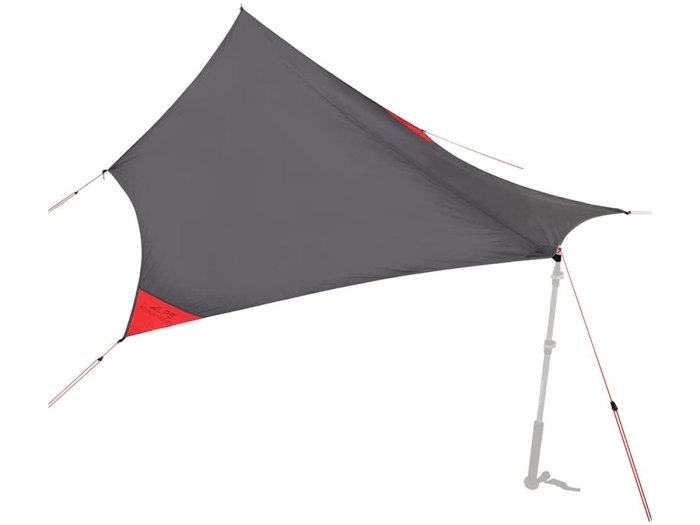 Roughly 10-by-12 ½ feet when it's set up, the Alps Ultralight Tarp Shelter ($100, alpsmountaineering.com, 1 lb. 3 oz.) packs to about the size of a Nalgene bottle. The tarp has a catenary cut, which means its edges are curved. That makes it more aerodynamic in the wind and cuts down on noise since the edges tend to flap less. The cut also helps keep the tarp light. 1 lb., 3 oz.
3 LIGHTWEIGHT CAMPING TENTS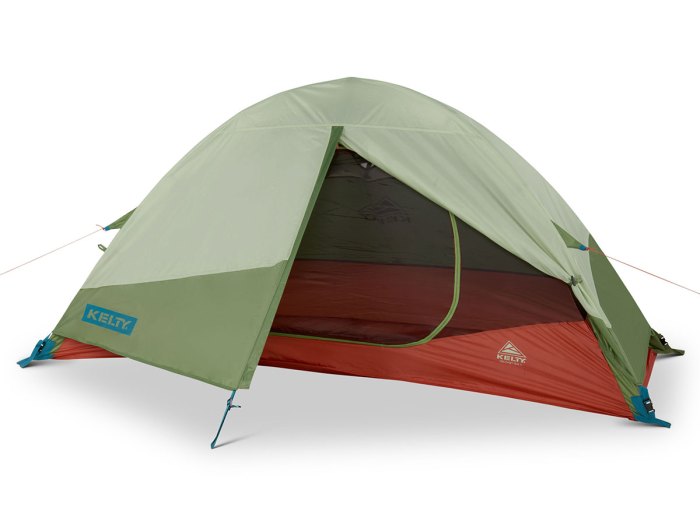 If you choose to sleep alone, a one-person tent is a cozy option. In cool temperatures, there's less space to warm up, yet most have plenty of space for your gear. The Kelty Discovery Trail 1 Tent ($115, kelty.com, 3 lbs. 15 oz.) has two poles, and it's quick to set up. The three-season tent has ultrafine no-see-um mesh inside, with a rainfly outside.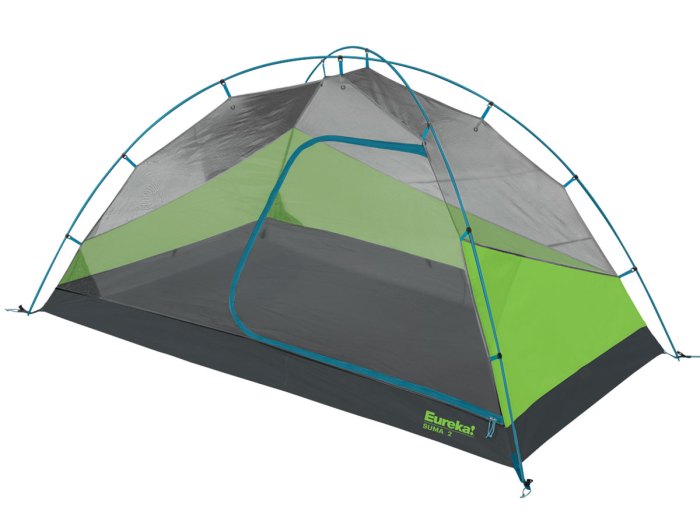 A solid backcountry tent, Eureka's Suma 2 Tent ($160, eurekacamping.johnsonoutdoors.com, 4 lbs. 2 oz.) has one door, one vestibule and plenty of space inside to sleep two. A gear loft and three inside pockets help you stay organized. The color-matched tent body and rainfly make it easy to set up this tent quickly. Because it has a single vestibule, you'll be entering and exiting where you're storing your pack. If you are backpacking with it, it's light enough that it won't cramp your style.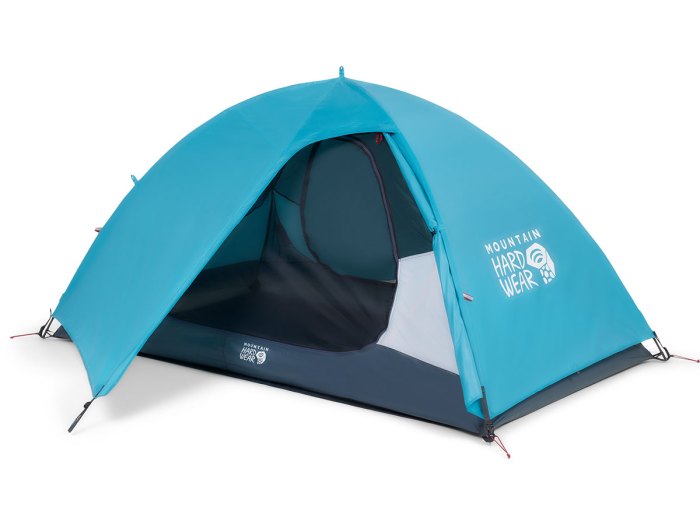 Spacious and easy to set up, Mountain Hardwear's Meridian 2P Tent ($275, mountainhardwear.com, 5 lbs. 8.6 oz.) is a backcountry palace. With two doors, double vestibules and five interior pockets, the symmetrical tent has a rainfly that rolls back and clips half open so you can view the stars while keeping the bugs out. It's easy to cover the tent fully if the weather changes. It comes with a ground cloth to protect the bathtub bottom from wear and tear. Because it's symmetrical, you can sleep head to toe, and the fly can go on either way.