Running shoes buying guide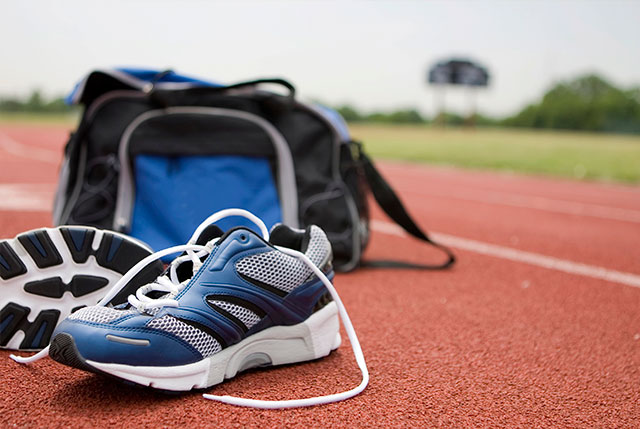 When it comes to buying new running shoes, it doesn't really matter how cool they look or how sweet a bargain they were. If the shoes don't fit properly, you won't be running much of anywhere — except maybe back to the store.
Picking the right shoes for road- or trail-running is tough stuff. So for some handy tips and tricks we tapped former Boy Scout and ex-running store employee Alan Webb, who also just so happens to be one of the fastest distance runners on Earth.
Whether you're a beginner or a seasoned runner, read on and we guarantee you'll learn something from Webb that will make your next trip to the shoe store better than ever.
SHOP FOR THE STORE, NOT THE SHOE
"The best thing to do is try to find a good running specialty store," Webb says. "Sure, you'll pay $10 or $15 more than at some big-box shoe store, but you're getting service and you're getting the right shoe." Salespeople at specialty stores will take the time to help you find a shoe that properly fits your type of foot.
KNOW YOUR FOOT
Everybody runs differently, but we all do something called pronating when we run.
Basically, every time your shoe hits the ground your foot rolls from the outer edge to the inner edge. Guys whose feet roll excessively inward are called over-pronators. Those whose feet don't roll in much at all are called under-pronators.
Most running shoes are designed for one type of foot or the other (and most say so in the printed product details on the tag or box).
A salesperson at a running store can tell you right away what kind of a foot you have. Or try this: Put your old pair of shoes side-by-side on a table, toes pointing away from you, and look at how the cushion has worn down. If the shoes tilt outward you are an under-pronator; if they tilt inward, then you are an over-pronator. If they do neither, you have a neutral gait.
"Figure out what kind of runner you are, then find a shoe that matches your foot," Webb says. Over-pronators need a shoe with added stability and motion control. Neutral runners and under-pronators are usually best off with a shoe with cushioning that minimizes impact without directing the foot in a specific direction.
ROAD OR TRAIL?
Once you know your foot type, think about where you'll be running most often. Regular running shoes are best for streets or well-maintained jogging paths, but if you plan on heading off-road on rough or undeveloped trails, go for a trail-runner. Trail-runners are usually heavier but have sturdy knobby soles and additional foot support.
WEATHER OR NOT
Is it hot where you run? If so, look for a lightweight shoe with lots of mesh. Cold and rainy? Then pick a pair made with fabrics such as Gore-Tex that will protect you from cold while keeping your feet dry.
IF THE SHOE FITS….
Some guys, like Webb, prefer their shoes to be tight.
"I wear my shoes at least a half size smaller than most people do," he says. "I jam my foot inside my shoe, so I've grown to like that tight feel."
But for most, a thumbnail's width of space past your longest toe and the end of the shoe is fine. Also, make sure you have enough room to wiggle your toes freely. Be careful about buying shoes bigger so you'll have room to grow into into them, because a loose shoe can cause blisters and foot problems if you're running often.
TEST DRIVE
Always try on the the shoes before you buy. The best time of day to shop for shoes is the evening, Webb says, because your feet swell throughout the day and are largest late in the day. Try on shoes while wearing the same kind of socks you'll be wearing when running. Finally, don't be shy: Run around inside the shop. Do your best to simulate the bouncing and bounding you'll do while actually running.
Inspire Leadership, Foster Values: Donate to Scouting
When you give to Scouting, you are making it possible for young people to have extraordinary opportunities that will allow them to embrace their true potential and become the remarkable individuals they are destined to be.
Donate Today