When it comes to experiencing the outdoors, nothing beats backpacking. But carrying around all that gear on a trail isn't easy. Here are some ways you can make it easier by packing the right way:
Stuff you won't need until reaching camp should go deeper in your pack.
Put rain gear, first-aid kit, a sweater, dry socks and other essential items near the top or in a side pocket where they are easily accessible.
Keep cooking fuel in a side pocket so it's isolated from the rest of your supplies.
Keep your tent where you can quickly reach it if you need to get a shelter up fast.
At the end of your trip, review your gear list to see if there is anything you can do without next time.
Once you have your pack loaded, adjust the waist belt and shoulder straps so that most of the weight rides on your hips. Don't try to carry the pack with your muscles. Throughout the day, you can adjust the straps to shift the weight to ease any discomfort.
And leave the frozen chicken at home 🙂
THE WELL-PACKED PACK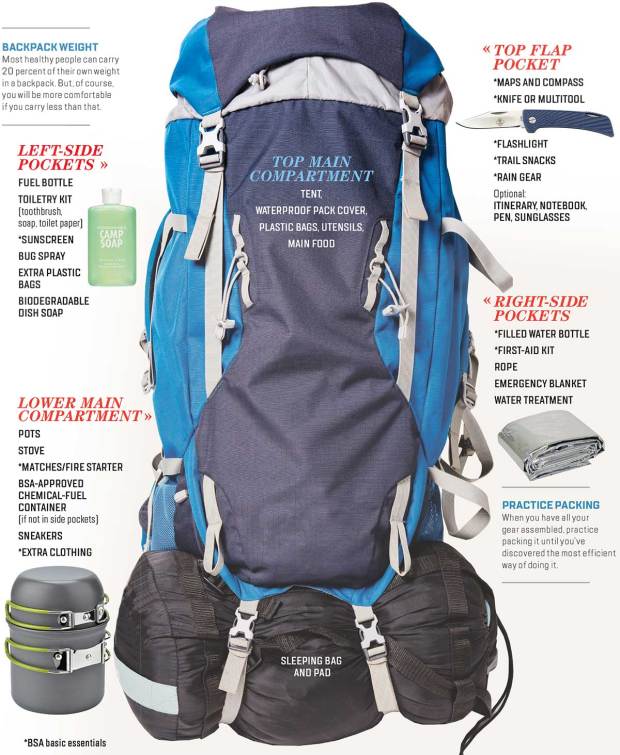 WHAT SHOULD GO IN YOUR PACK?
The contents of your pack will depend on the type of outing, but our packing checklists can help keep you from forgetting any of the essentials.
Inspire Leadership, Foster Values: Donate to Scouting
When you give to Scouting, you are making it possible for young people to have extraordinary opportunities that will allow them to embrace their true potential and become the remarkable individuals they are destined to be.
Donate Today