St. Louis Scouts Collect Millions of Food Items for Hungry Families
This service project takes just two Saturdays, but its impact lasts a year and stretches across an entire city.
It's called Scouting for Food. Each November, Scouts from St. Louis, Missouri, collect nearly 2 million items of food to help feed hungry people.
The ultimate team effort, Scouting for Food involves Cub Scouts, Boy Scouts, Venturers, adult leaders and members of the community.
Scouting for Food was invented in 1985 in St. Louis. It's the oldest and largest Scouting for Food event, but it's not the only one. Councils from coast to coast — including, perhaps, yours — hold similar drives throughout the year.
Here's a look at how it's done.
STEP 1: Distribute the Bags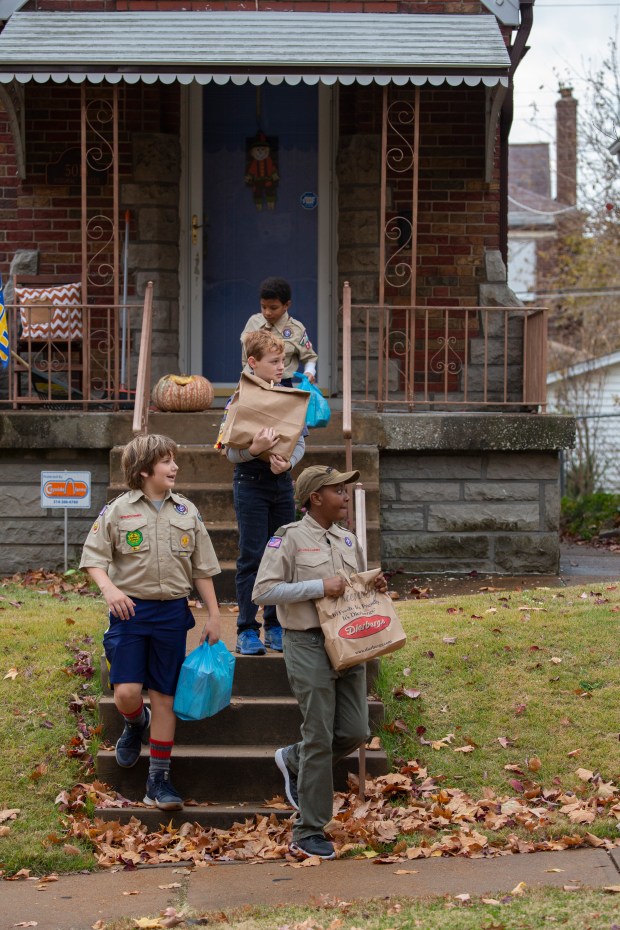 Scouting for Food starts on bag distribution day. On a Saturday in November, Cub Scouts deliver 1 million plastic bags to houses across St. Louis.
"As Cub Scouts, we hiked around our assigned neighborhood and distributed the bags," says James Venegoni. He's now a 15-year-old Life Scout from Troop 35, but James has been Scouting for Food since he was a Cub Scout. "The trick was to tie on the bag so that it doesn't blow away but can be easily removed for filling."
They leave behind a flyer telling homeowners that they'll be back in a week to collect the filled bags. The flyer explains what kind of canned food is best — stuff like soup, beans and veggies. It also points out what shouldn't be donated — anything perishable or in glass containers.
STEP 2: Collect the Bags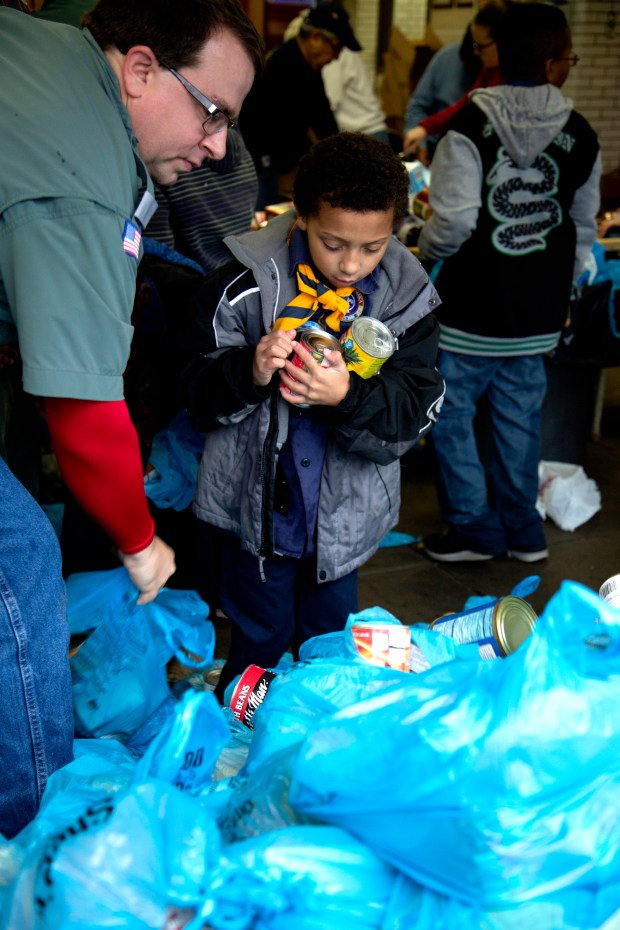 A week later, the Cub Scouts return.
Joe Horvath, a 7-year-old Wolf in Pack 721, worked in a team of three. The team approached each house to pick up the bags of food. Sometimes the bags were right there waiting on the doorstep.
Sometimes the bags were extremely heavy and required two people to carry. And sometimes the porch was empty.
"Some people would hand us the bags, and we would say, 'Thank you.' If there was no bag of food at a house, we would go to the next house," he says.
STEP 3:

Sort the Food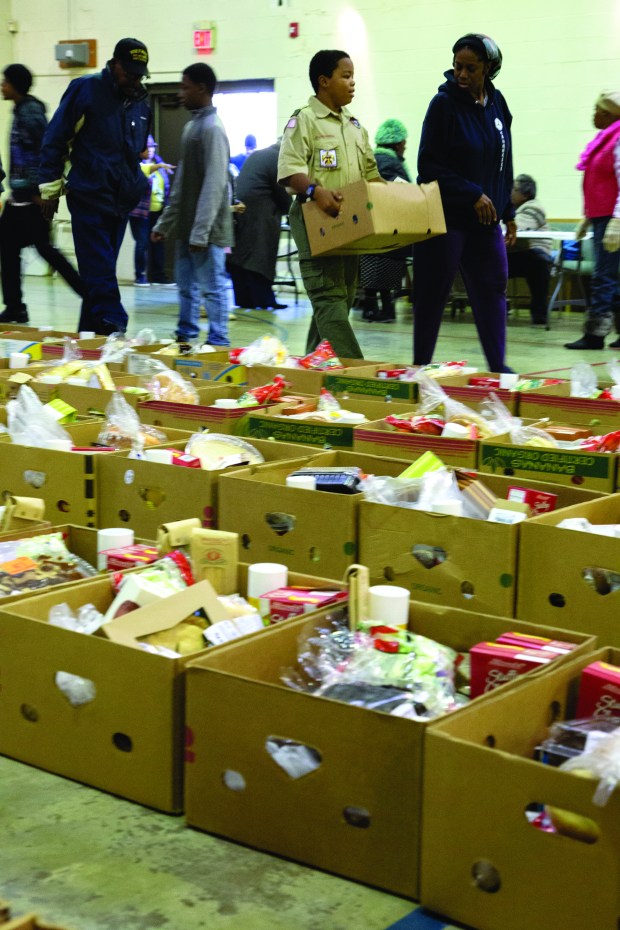 After the bags are collected, the food is taken to local firehouses, churches and food banks, where it gets sorted and boxed by Boy Scouts.
"Each Scout has a station to work," says Cullen Dill, a 13-year-old Life Scout from Troop 35. "You need to be organized and know your position, because once the day starts, the food keeps coming until we clean up at the end of the day."
Let's say your job is on the assembly line, collecting cans of fruit. Boxes containing a variety of cans will pass, and you inspect each box for cans of fruit. When you see a can of fruit, you take it out and put it into a bin of canned fruit. By the end of the day, you're really good at your job.
Walker Trieschmann, a 17-year-old Eagle Scout, serves as a chapter chief in the Order of the Arrow's Shawnee Lodge. His job was to organize the assembly lines at the St. Louis Area Foodbank.
"At first, we only had one line going," he says. "We were able to find another set of conveyor belts, and we made the process much more efficient."
STEP 4:

Deliver the Food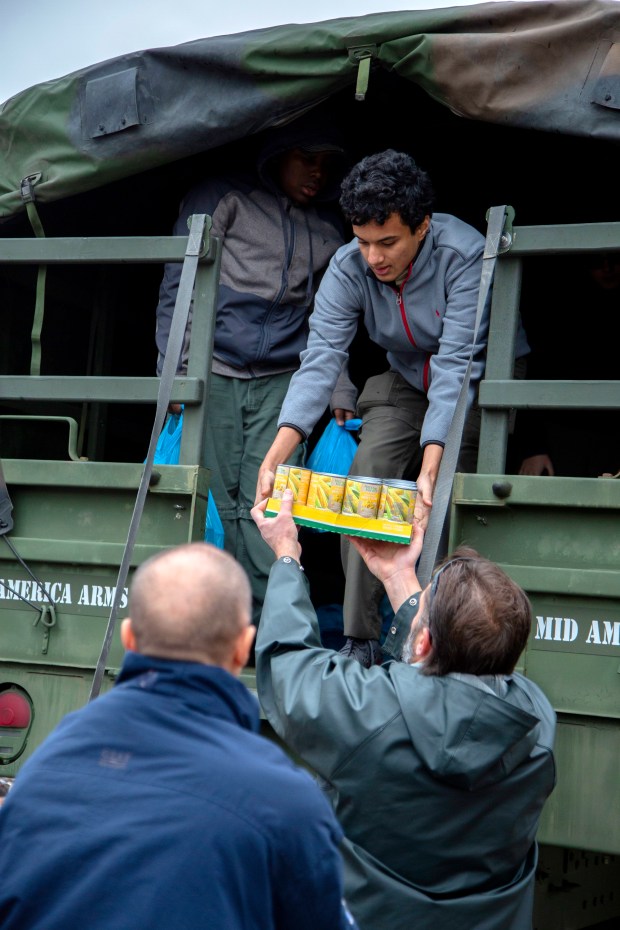 Once the food is sorted and boxed, everything gets sent to one of the 500 food pantries across St. Louis.
People who are hungry sometimes don't know where they'll find their next meal. They can visit one of these pantries and get healthy food for free.
The Scouts don't often see this step. They never meet the men and women who receive their donations. But they can be proud of their Good Turn all the same.
"It feels great knowing that our efforts will make a real difference in the lives of others," James says. "It's a lot of work, but it's also a lot of fun. At the end of the day, you'll know that you made a difference."
By the Numbers: St. Louis Scouting for Food
30,000: Cub Scouts, Boy Scouts and Venturers who participate each year
1 MILLION: Plastic bags distributed to homes
1,978,195: Food items collected during last year's drive
500: St. Louis area food pantries that receive donations
575,000: Meals provided to hungry families
55 MILLION: Items collected during the 32-year history of the drive
What's been the most successful community service project you've participated in? Tell us below!
Inspire Leadership, Foster Values: Donate to Scouting
When you give to Scouting, you are making it possible for young people to have extraordinary opportunities that will allow them to embrace their true potential and become the remarkable individuals they are destined to be.
Donate Today