Cub Scouts Help Paralyzed Dog Get Moving Again
Noah, a 1-year-old Beagle/Dachshund mix, had just hours to live. The poor guy had likely been hit by a car and had lost the use of his back legs.
Animal Control workers in Atlanta say he was dragging his back legs around, creating multiple wounds and making his long-term care problematic without tons of help.
So Noah was set to be euthanized.
Thank goodness, help arrived just in time, in the form of a dog-loving good samaritan and about 50 Cub Scouts.
When a woman saw Noah's story on Facebook, she rescued him from the facility just in time. But she still had no way to help Noah walk again. That's when Cub Scout Pack 513 came to the rescue.
The boys built Noah a set of wheels that made it easy for the pooch to get moving again. Now, Noah can run and play almost like a fully abled dog. Thanks to the good samaritan and her Cub Scout friends, Noah is all set to live happily ever after.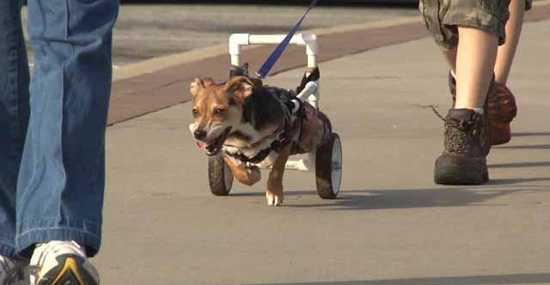 Inspire Leadership, Foster Values: Donate to Scouting
When you give to Scouting, you are making it possible for young people to have extraordinary opportunities that will allow them to embrace their true potential and become the remarkable individuals they are destined to be.
Donate Today