How to Buy a Good Rain Jacket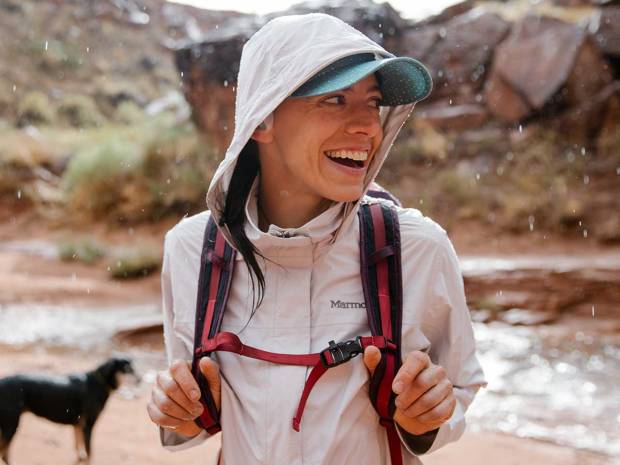 There's no bad weather — just bad gear and bad attitudes. Rainy and windy? No problem. Just bring along a waterproof and windproof rain jacket. Here's how to buy a good one that is sure to keep you dry and warm in any type of downpour.
THE LOW DOWN ON RAIN JACKETS
When experts talk about rain jackets, they usually categorize them as either hard shells or soft shells.
Hard shells are what most people think of when they talk about outdoor rain jackets. These are lightweight hooded jackets designed to keep out wind and rain. Standard rain slickers are considered hard shells, too, but we're focusing on rain jackets that are also breathable, meaning they wick sweat away from your body. If you're wearing something that doesn't breathe, you're going to sweat and get all the rest of your insulation wet because none of the moisture is going to be able to leave.
Soft shells are woven jackets that are wind- and water-resistant and totally breathable. Many soft shells use a durable water-repellent (a.k.a. DWR) coating on the jacket's surface to make it shed rain.
ONE RAIN JACKET FOR ALL?
If you can afford only one rain jacket, you should buy a simple lightweight hard shell. Hard shells are necessary equipment for heavy wind and wet weather because a soft shell jacket simply won't give you the needed protection. That said, if you can afford both, a soft shell jacket is ideal for about 80 percent of your outdoor activities, and you can keep a lightweight, waterproof hard shell in your backpack for the nasty weather.
HARD VS. SOFT SHELL
Soft shells are generally more supple and more breathable but less windproof and less waterproof. Hard shells typically don't fit quite as nice, but they're usually more waterproof, more windproof and lighter weight.
WATERPROOF/BREATHABLE FABRICS
These are marketing words you'll hear used to describe rain jackets. Usually these jackets are built with two to three layers of material, including a special membrane layer that keeps weather out while letting your sweat escape.
A common misconception when people are looking for a rain jacket is they think they need to see the words 100 percent waterproof on the tag. Depending on your activity, you might want a decent amount of waterproofness, but don't get hung up on it.
Also, there are a wide variety of waterproof/breathable materials on the market. Some are more heavily advertised than others, but often the generic or "house brand" waterproof/breathable fabrics offered by manufacturers will work just as well for you. Gore-Tex, for example, is a fine product, but it's only one of many waterproof/breathable fabrics.
MAKE SURE YOUR JACKET FITS
You want a rain jacket to be decently trim. You don't want it to be bulking out and getting in the way of your mobility. To make sure it fits right, raise your arms over your head and make sure the bottom of the jacket doesn't come up above your waist.
For hard shells, make sure it's roomy enough to allow for layering when it's cold. Soft shells should be more form fitting. If you'll be wearing a backpack waist belt or climbing harness, consider how the jacket may interfere with that.
THE HOOD
A really well-designed hood that lets you see well is something a lot of people probably don't think about a lot, but it's really important because with poorly designed hoods, you can barely do anything. Every time you turn your head you're looking into the side of the hood.
Look for a hood that has good coverage, can fit over a climbing helmet (if you'll be climbing) and is able to cinch down tight to your face so it doesn't obstruct your view.
TAPED SEAMS
Always look for a rain jacket that's seam-sealed. That said, keep in mind it doesn't matter how much you spend, in a downpour even the most expensive rain jackets will probably eventually wet-out.
PIT ZIPS
Even though they may claim breathability, the truth is that any rain jacket is going to be a little clammy. So look for one with pit zips (zippers that open the sides of the jacket under your arms) because they help with breathability, especially when you're being active.
BELLS AND WHISTLES
MP3 pockets, hydration bladders, etc. You'll see tricked-out jackets in the stores with these things, but it's best to keep it simple. The ideal jacket is really lightweight and just has a well-designed hood, two chest pockets and fully sealed seams.
TRY BEFORE YOU BUY
You can find good rain jackets online, but it's always best to buy in person because you can try it on.
COST
In general, the more you spend on a jacket, the more bells and whistles you'll get. Also, higher-end waterproof rain jackets tend to be more breathable.
If you happen to fit into kids' sizes rather than adult jackets, you can save lots of cash on a rain jacket while still getting the same waterproof/windproof performance.
Inspire Leadership, Foster Values: Donate to Scouting
When you give to Scouting, you are making it possible for young people to have extraordinary opportunities that will allow them to embrace their true potential and become the remarkable individuals they are destined to be.
Donate Today