A fire can save your life in winter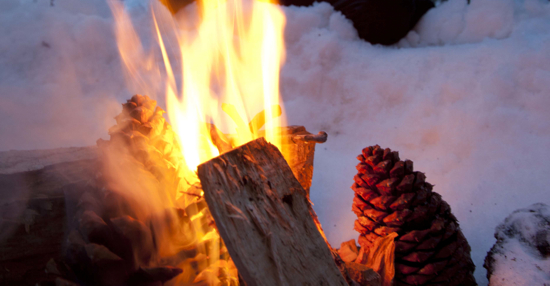 In cold weather, a fire can be important to staying warm and dry. But even in a survival situation, you should still take the time to build a fire in a way that does not put the environment or yourself at risk.
Carry matches in a waterproof case, an empty plastic medicine bottle with a tight lid or a resealable bag. Carry a butane lighter in a pocket close to your body so it doesn't freeze.
In survival situations, gather three or four times as much tinder, kindling and fuel wood as you normally would. Take plenty of time to prepare the fire before lighting it so you don't waste matches and lighter fuel.
As with all survival skills, practice fire building in a safe, controlled, super- vised environment. That way, you'll be better prepared in an emergency.
Click here for more on campfire safety.
Inspire Leadership, Foster Values: Donate to Scouting
When you give to Scouting, you are making it possible for young people to have extraordinary opportunities that will allow them to embrace their true potential and become the remarkable individuals they are destined to be.
Donate Today