From streams to rivers to lakes, you can fish it all at fish camp.
By Aaron Derr
Photographs by W. Garth Dowling
There are lots of different ways to experience freshwater fishing.
You can take a trip to a river, you can take a trip to a stream or you can take a trip to a lake. You can take a trip during the day or you can go at night.
Or, at the Blue Ridge Mountains Council's Fish Camp, you can do it all.
The fishing-intensive summer camp, based out of the Blue Ridge Scout Reservation in Virginia, takes Scouts all over the state, from rivers to streams and everything in between.
For one full week, it's all fishing, all the time.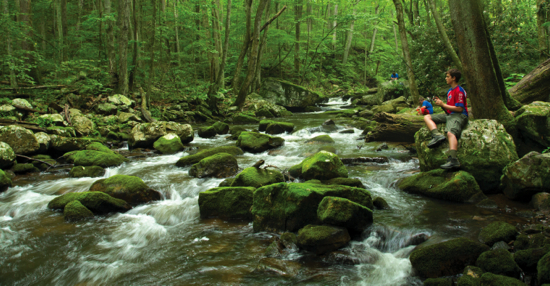 Novice fishermen learn all the basics: casting, knot tying, fish iden- tification and fish-finding techniques. Experienced fishermen learn how to take the skills they already have to a whole new level.
Everyone learns how to clean and cook fish. If you take advantage of
all of the opportunities, you can earn both the Fishing and Fly-Fishing merit badges, and several requirements of Cooking.
But mostly, you just have fun.
"It was a fun learning experience," says 13-year-old Conner Jenkins from Troop 110 in Jackson, Tennessee. "Every time you catch a fish, it's exciting. It's like you've never caught one before."
Starting With the Basics
Logan Blevins, a 17-year-old Scout from Troop 1004 in Chilhowie, Virginia, is the assistant director of Fish Camp. On Day One, Logan and his boss (who also happens to be his dad) gather all the participants together to see what kind of fishermen they've got.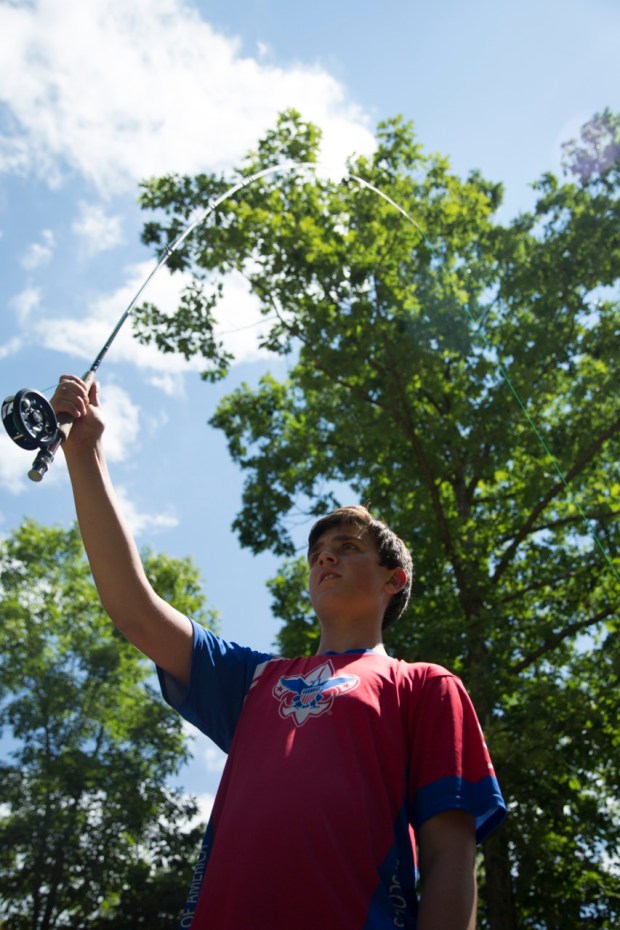 Some of the experienced anglers might have brought their own tackle. That's cool. They can use it at
Fish Camp.
Most of the rookies probably haven't. That's cool, too. Fish Camp provides everything you need.
The first half-day is spent in an out- door classroom, learning and refining the art of casting.
Want to try fly-fishing? You can do that at Fish Camp. Prefer the traditional rod and reel? You can do that, too.
"I liked fly-fishing the best because it was something new for me," Conner says.
"I prefer fishing with a rod and reel," says 14-year-old Nick Fondren from Troop 561 in California, Mary- land. "It's easier."
There's something at Fish Camp for everybody.
Different Environments
How about wading into the New River and fishing for smallmouth bass, rock bass and bluegill? Fish Camp's got that.
How about a trip to Crooked Creek for trout? Fish Camp's got that, too.
Fishing from a boat on a lake? Yep.
Fishing for catfish from a river at night? Yep.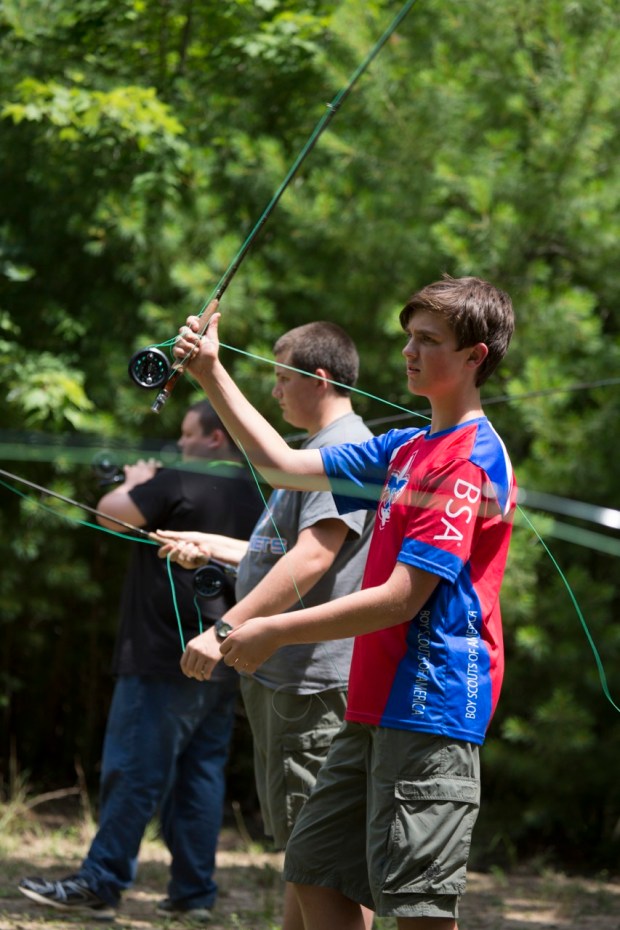 Or how about one of the most popular trips offered: a 2.5-mile hike to 66-foot-tall Cascade Falls near Blacks- burg, Va., where you can trout fish from a pristine stream surrounded by the wilderness of Jefferson National Forest?
You guessed it: Fish Camp offers that, too.
"That was my favorite place," says Raleigh Combs, an 11-year-old from Troop 109 in Boone, North Carolina. "The hike … the environment … When you were walking up, you could stop and fish along the way. The water was very clear."
"My favorite was when we went catfishing," says Nick. "It was pretty fun out there, just waiting for the fish to bite."
If it's possible, you can do it at Fish Camp.
At the End, They Eat
But what good is it to have access to all those fish if you don't know what to do with them after you catch them?
While they do teach the proper catch-and-release techniques at some of their fishing spots, Scouts at Fish Camp are encouraged to keep their fish for the end-of-the-week fish fry.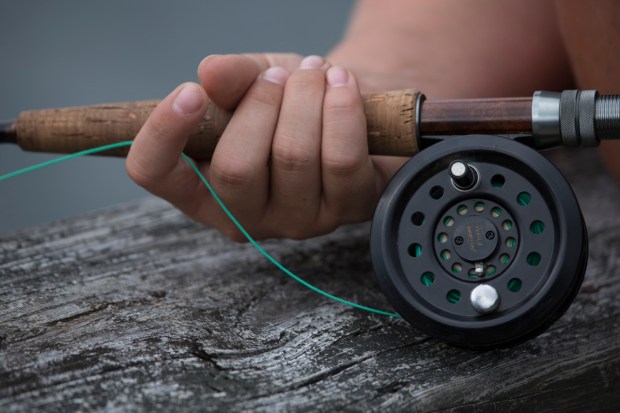 That's when they learn that cleaning a fish — the process of preparing the fish for cooking — isn't as gross as it might seem at first.
Yes, you have to cut the fish open with a knife. Yes, you might have to remove some of the stuff from inside. But you know what? It's part of the Fishing merit badge.
You want to earn that badge? Then get to work, and don't be afraid to get your hands dirty.
Just be sure to wash them when you're done.
The fish fry is the perfect end to a perfect week of fishing.
"We hope when they go home, they've learned how to be a good fisherman," Logan says. "And we hope they really enjoyed their stay and would like to come back."
---
For more on the Blue Ridge Mountains Council's Fish Camp program, click on go.scoutlife.org/fishcamp
---
BE A COMPLETE ANGLER
The BSA Complete Angler Recognition honors Boy Scouts who earn all three fishing-related merit badges: Fishing, Fly-Fishing, and Fish and Wildlife Management.
The Fishing merit badge was one of the original merit badges offered by the Boy Scouts. Fly-Fishing was introduced in 2002. And Fish and Wildlife Management is designed to show you how you can help preserve healthy fish and wildlife populations.
Contact your unit leader or local council to apply.
---
ALSO AT BLUE RIDGE …
Blue Ridge Scout Reservation is located in Pulaski County, Virginia. It is the home of Camp Powhatan, Camp Ottari and Claytor Lake Aquatics Base, along with a network of more than 100 miles of mountainous trails. go.scoutlife.org/brsr
---
Inspire Leadership, Foster Values: Donate to Scouting
When you give to Scouting, you are making it possible for young people to have extraordinary opportunities that will allow them to embrace their true potential and become the remarkable individuals they are destined to be.
Donate Today