A Pinewood Derby at the NASCAR Hall of Fame
The race cars at the NASCAR Hall of Fame in Charlotte, North Carolina, are some of the fastest ever.
The Pinewood Derby cars are not too shabby, either.
The Mecklenburg County Council held its championship Pinewood Derby race right smack in the middle of the Hall of Fame. More than 200 Cub Scouts competed in the Outlaw Race, Open Race and Council Championship Sprint Series race.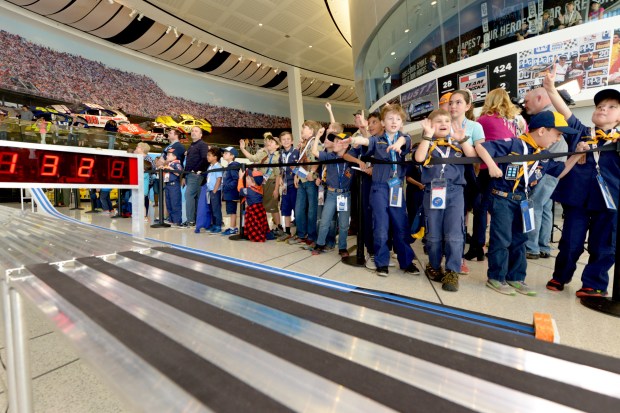 "It was really exciting," says Landon Bailey from Pack 118 in Charlotte. "There were so many cool cars racing."
The Outlaw Race was for cars that did not follow all the rules. Maybe they were too heavy or just too tricked out to compete in the other races. The Open Race was open to any Scout who wanted to enter.
And the council championship race featured only first-place winners from throughout the council in the Tiger, Wolf, Bear, Webelos and Arrow of Light categories.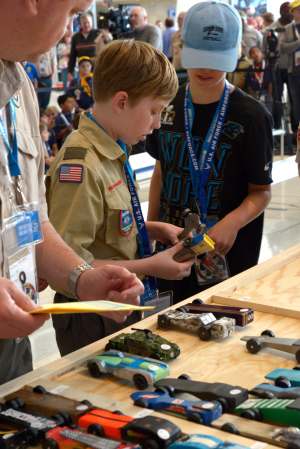 Cub Scouts got to experience all the NASCAR Hall of Fame has to offer, including the Great Hall displays and the tilted ramp called Glory Road that shows off 18 real-life famous cars.
"It was cool to see all of the cars from the different packs racing against each other," says Jacob Hulse from Pack 3 in Charlotte. "And it was fun meeting new Cub Scouts."
Some of the Scouts even spent the night inside the Hall of Fame building.
"It was a great opportunity," says Marcus McConnell from Pack 490 in Charlotte.
Click here for Pinewood Derby tips, tricks and ideas.
---
NASCAR stands for National Association for Stock Car Auto Racing. It has been around since 1948 and hosts many of the most popular car races in the United States.
The most famous series of races is probably the Sprint Cup Series, which features 36 races throughout the year. Richard Petty and Dale Earnhardt are the most successful Sprint Cup racers of all time. They each won seven championships.
The NASCAR Hall of Fame was built to honor them and other racers who have excelled at NASCAR over the years.
Click here to follow the Sprint Cup Series.
---
Inspire Leadership, Foster Values: Donate to Scouting
When you give to Scouting, you are making it possible for young people to have extraordinary opportunities that will allow them to embrace their true potential and become the remarkable individuals they are destined to be.
Donate Today