An Awesome Aviation Experience With a Little Scouting on the Side
At Air Camp, Scouts can go rock climbing and biking. You can try your hand at tomahawk throwing and archery. If you're a Cub Scout, you can play fun games.
But mostly, Air Camp is all about aviation.

There's an actual Boeing 737 that you can explore and, later, watch take off. There's a huge cargo plane that you can walk inside.
There are military planes, and there are pilots on hand to talk about their jobs.
The FAA — Federal Aviation Administration — is there, showing how it regulates aviation in our country.
Even NASA is there to talk about the type of aircraft used to take people into space.
"If you have a love of aviation, then it's an interesting experience," says Nate Richardson, 11, from Pack 101 in Monroe, Wisconsin. "You learn so much stuff about flying airplanes that you probably wouldn't learn anywhere else."
And it's at the perfect location: Chicago Rockford International Airport, a major facility for one of the busiest cargo airlines in the United States.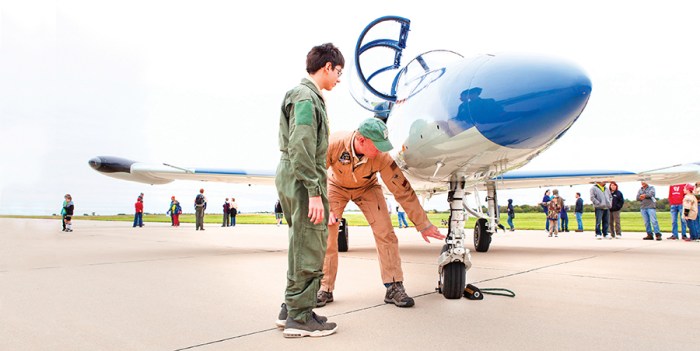 Going Up
Standing inside the cockpit of the 737, Nate got to talk with a pilot about his job.
"He let us ask questions, and he explained all the buttons," Nate says. "It looked very complicated. I'm not surprised that they have to go to school for like four years."
The 737 series of planes is one of the most popular in the history of jet liners. Boeing, the company that makes them, says there are on average more than 1,000 737s in the sky at any given time.

Not long after Nate and others toured the plane, they stood near the runway as the plane took off with that same pilot behind the controls.
"I got to be like, 'That's the plane I was just in,' " he says.
Some Scouts entered a drawing to participate in Young Eagles flights. Those who were lucky got to ride in a small plane with just a few other passengers to get a taste of what it would be like to learn how to fly a plane themselves.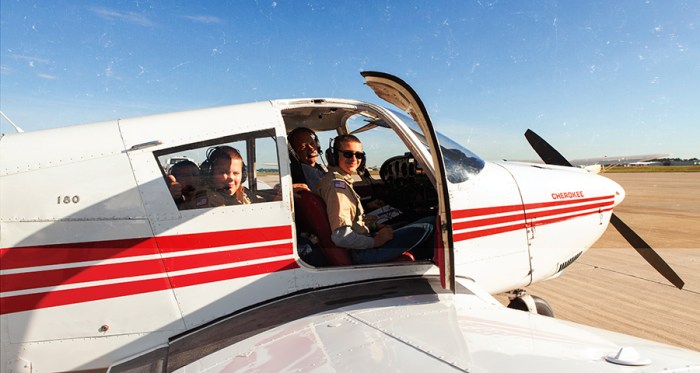 "You get in the plane, and they take you up in the sky and talk to you about their personal experience," says Connor Wisniewski, 13, from Troop 190 in Spring Grove, Illinois.
"We flew in a huge circle. We saw a school below us, a few houses, a large power plant and some buildings.
"It was noisy, so we had to wear headphones to communicate with each other."
Adventure on the Ground
Once you get your fill of airplanes at Air Camp, you can try BMX biking. BMX means bicycle motocross. It's a special kind of bike designed to go off road.
"They had a really cool BMX track," says William Richardson, 13, from Troop 101 in Monroe. "It was this path you could ride your bikes around. Me and my friend were trying to race each other.

"It was on the side of a hill, so you could ride down the hill and then ride back up. That made it fun."
In the mountain-boarding area, Scouts tried a sport that's similar to snowboarding, except on wheels.
"It was really fun," says Jacob Costa, 15, from Troop 181 in Cherry Valley, Ill. "It's like going on a skateboard, except it's got a suspension so you can go down hills that are pretty bumpy.
"It's a pretty smooth ride, and you can go pretty fast."
Looking for Leaders
Representatives from NASA, the U.S. military and the FAA were on hand to talk about the kind of training it takes to break into the aviation industry. One of the common themes was the importance of developing leadership skills in programs such as Scouting.
"I really enjoyed talking to people who have leadership positions about how they got in those positions," says Julia Costa, a 16-year-old from Crew 181 in Cherry Valley. "They mentioned how important leadership is. Earning trust. Learning how to communicate.
"If you can't communicate, you can't do anything effectively in that position.

---
FLY LIKE AN EAGLE
Cub Scouts, Scouts BSA members, Venturers and Explorers ages 8-17 are eligible to participate in Young Eagles flights.
The Young Eagles program was created by the Experimental Aircraft Association (EAA). Thousands of EAA volunteer pilots are available for flights that usually last between 15 and 20 minutes.
Find a flight near you at go.scoutlife.org/eaaflights
When done as part of an official Scouting activity, Young Eagles flights require completion of the BSA's flying plan checklist. Find it at go.scoutlife.org/flyingplanchecklist
---
AN IMPORTANT PART OF HISTORY
Before it was Chicago Rockford International Airport, the area that hosts Air Camp was known as Camp Grant. It was named after U.S. President and Civil War general Ulysses S. Grant.
Camp Grant was established in 1917 to train U.S. soldiers to fight in World War I. On Sept. 26, 1917, President Theodore Roosevelt visited Camp Grant and spoke to the soldiers.
Standing –legend has it — near the same hill where Scouts now try their hands at mountain boarding, Roosevelt told the group, "Men, you are going away to fight abroad, so that in the future, we will not have to fight at home."
---
Inspire Leadership, Foster Values: Donate to Scouting
When you give to Scouting, you are making it possible for young people to have extraordinary opportunities that will allow them to embrace their true potential and become the remarkable individuals they are destined to be.
Donate Today