Scouts Navigate the Same Northern Tier Treks That Launched Scouting's Canoeing Tradition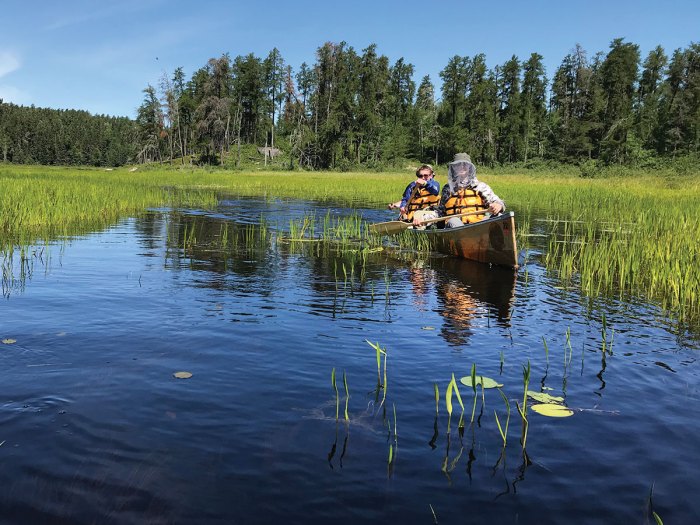 Gliding to shore in their canoes, Scouts with linked troops 65 of Circle Pines, Minnesota, scanned for the portage trail.
Nope, nothing but heavy brush.
After getting out of their canoes and investigating, they found the hidden path. Hunting for the right way to go sometimes happened, as these Scouts were on a Northern Tier voyage most had never trekked. It's a trek that was conquered by 15 Eagle Scouts in 1930.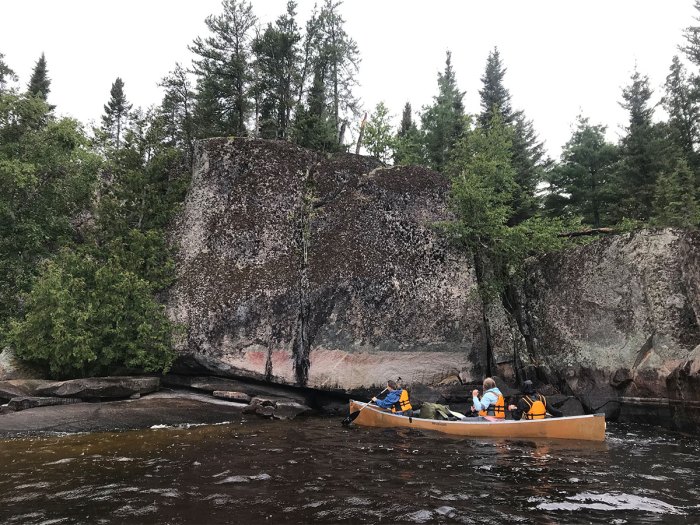 "It felt like I was back 90 years ago; it was amazing to see what they portaged through," 15-year-old Star Scout Zach Short says.
Not only did the troops navigate through overgrown trails on the 82-mile trip, but they also spotted Native American rock paintings and waterfalls in the Minnesota wilderness.
You, too, can paddle the same spectacular route during the Northern Tier High Base's 100th anniversary.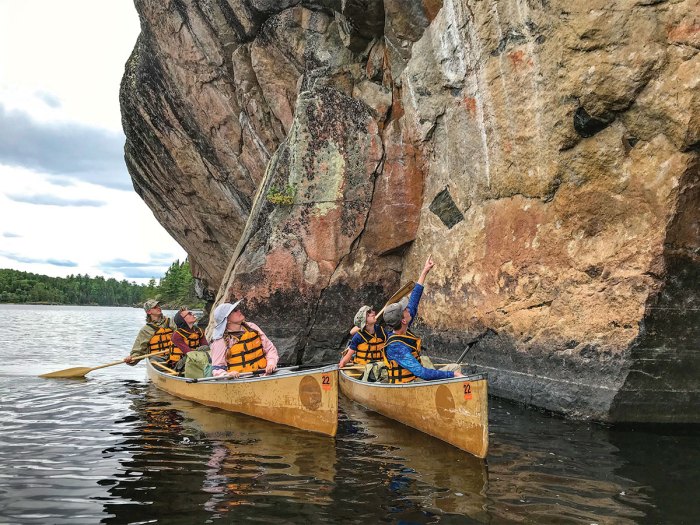 BUILDING ON TRADITION
In August 1930, the high-adventure program in Ely, Minn., invited a crew of Eagle Scouts from Minnesota, Montana, North Dakota and South Dakota on a seven-day trek led by canoeing experts. Some of those Scouts went on to be Scouting leaders and directors, while the experts wrote canoeing guides for the BSA.
In honor of that trek and the Scout crews that explored the wilderness in the 1920s and 1930s, Northern Tier will offer the Charles L. Sommers Trek, which follows that 1930 Eagle Scout route. For a week in July, boys and girls troops 65 explored the route, which will be an option to Scouts who visit in the 2022 and 2023 summer seasons.
"I kept a journal, because I knew things were going to get so crazy," says Sophia Engler, a 14-year-old Second Class Scout. "It was pretty fun."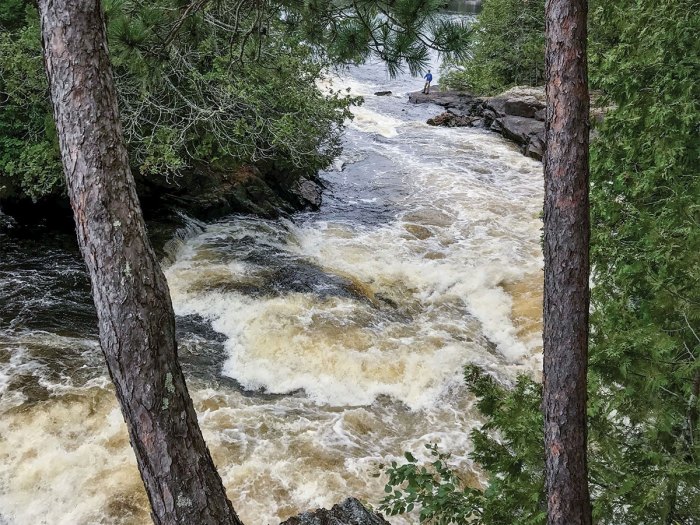 The troops followed COVID-19 guidelines, and the week started with Sophia celebrating her birthday — she got to eat a slice of cake as she and the crew reviewed the route. Dessert wasn't a rarity — the Scouts carried the ingredients to make more cakes while camping.
Each canoe was occupied by three Scouts and two backpacks: a big green one to store the food and cooking supplies, and a huge gray pack to hold gear. After crossing a lake, two Scouts would handle each of the packs while the other carried the canoe across the portage trail to the next lake.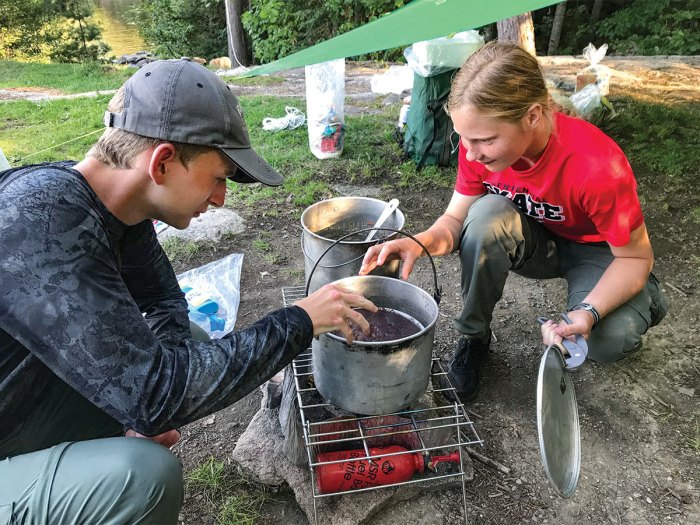 Even with three per canoe, the group's first day on the water proved difficult.
"We had to go straight into the wind," says Life Scout Anna Peterson, 15. "That was really tough, but everyone made it across. I was proud of everyone."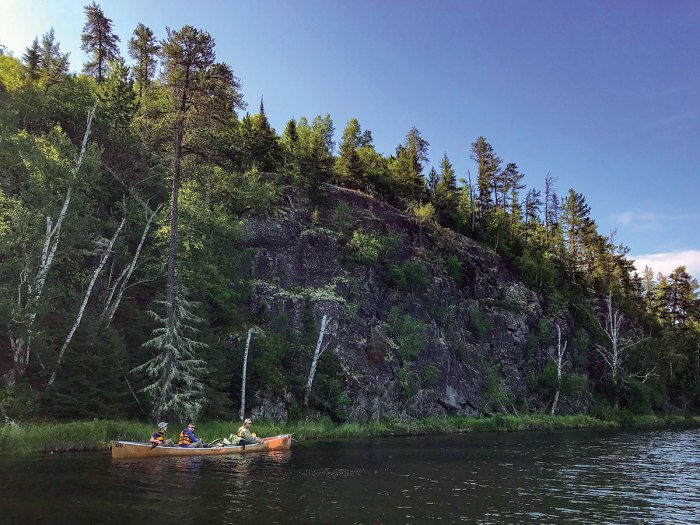 STRUGGLES AND SATISFACTION
As it turned out, the wind wasn't the only challenge.
"The ideal paddling situation was cloudy and calm," says Life Scout Max Theis, 15. "The sun got annoying when it beat down on you for six hours. I did wear sunscreen, but my hands still got sunburned."
Scouts also had to maneuver their canoes around beaver dams, sometimes forced to get out of their vessels in shallow places. Not only were some portage trails hard to find, but a few were also really long. The longest hike between lakes proved to be 340 rods — that's more than a mile.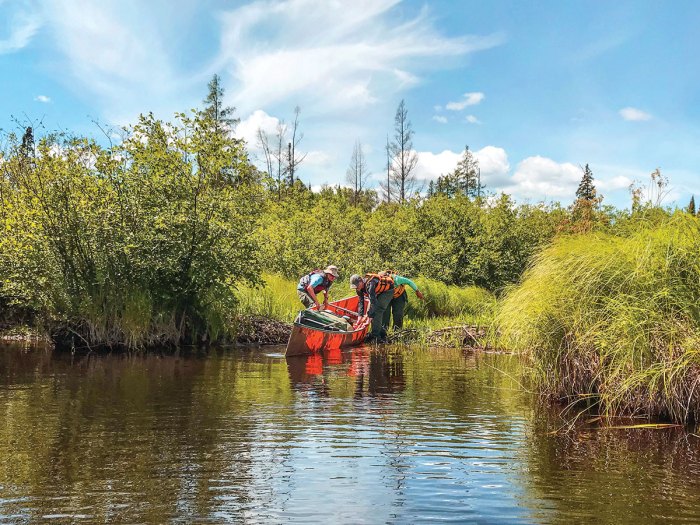 But for any struggle, the trip presented even more rewards. Scouts watched spectacular sunrises over peaceful water layered with wispy fog. They saw Native American pictographs painted on boulders, viewable only by canoe. They spotted a majestic bald eagle dive and snatch a fish from the lake.
First Class Scout Lucas Engler, 16, fished nearly every day of the trek. Low on fishing line, he borrowed Anna's pole threaded with a four-pound line.
"I casted three times before I got my first hit. I wasn't able to catch it the first time," Lucas says. "I was using a frog lure with a flasher. It attacked the legs every time. The one time I adjusted the hook, I landed that fish — at the expense of Anna's rod."
The pole snapped in two, but he proudly managed to pull out the smallmouth bass.
"That was a very lucky fish for me to get," he says.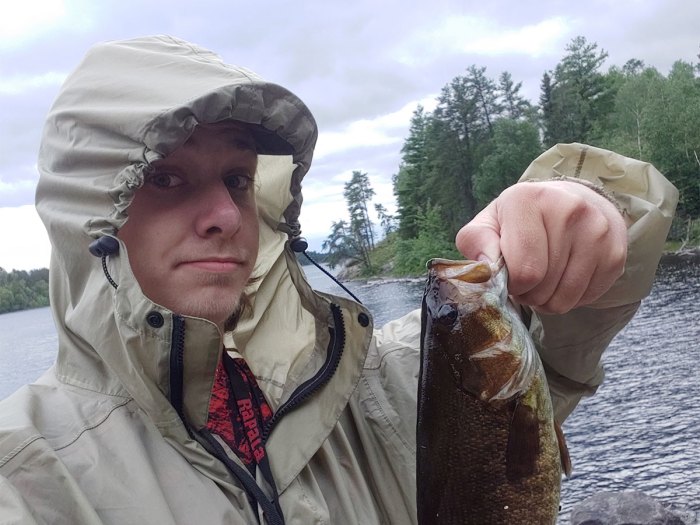 TIME TO REFLECT
A demanding yet rewarding trip, the Northern Tier trek will be one the Scouts always remember. While some moments obviously stick out in their minds, reviewing journal entries and photos stirred up even more memories — like when 15-year-old First Class Scout Benjamin Rexeisen struck a pose in camp to elicit a laugh from everyone.
"It was nice to have that close bond with people," says Life Scout Elisabeth Bley. "It was really cool to go on, and I enjoyed it a lot more than I thought I was going to."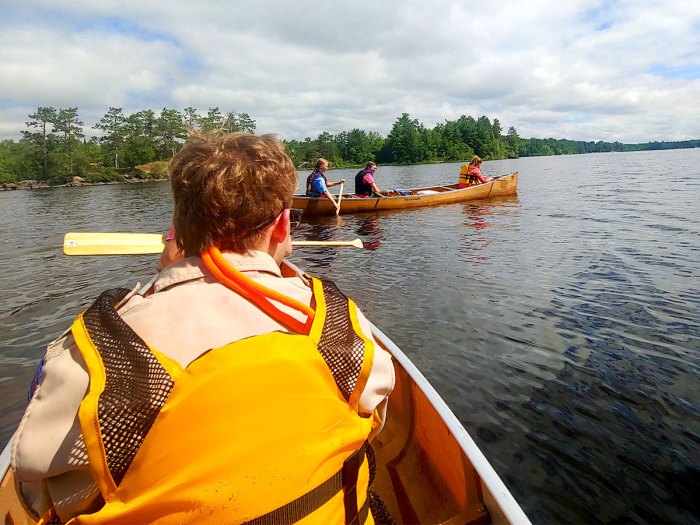 Those experiences are now part of Northern Tier's nearly century-old history. The troops followed in the wake of those early Eagle Scouts, and yet this crew forged their own unique journey. And that will be the case for all crews that visit the Minnesota wilderness for this year and every year beyond.
---
MAKE PLANS NOW
Sign up for 2022 or 2023 treks by visiting Northern Tier's website or by logging on to the Find Your Adventure portal.
There you can also sign up for treks at the BSA's other high-adventure bases: Florida National High Adventure Sea Base, Philmont Scout Ranch and Summit Bechtel Reserve.
---
PICK YOUR TREK
Northern Tier is bringing back the Paul Bunyan Award, a participation patch last handed out 50 years ago. To earn the honor, your crew will have to head to Northern Tier and meet one of three qualifications during the 2022 and 2023 summer canoeing seasons:
Finish a 100-mile canoe trek.
Be from one of 10 councils within the original "Region 10" that managed Northern Tier during its first 50 years:
— Black Hills Area — Rapid City, South Dakota
— Central Minnesota — Sartell (St. Cloud), Minn.
— Gamehaven — Rochester, Minn.
— Montana — Great Falls, Montana
— Northern Lights — Fargo, North Dakota
— Northern Star — Fort Snelling (Twin Cities), Minn.
— Sioux — Sioux Falls, S.D.
— Twin Valley — Mankato, Minn.
— Voyageurs Area — Hermantown (Duluth), Minn.
Participate in one of two special trips: the Charles L. Sommers Trek or the Paul R. Christen Trek, a 200-mile journey over 12 days.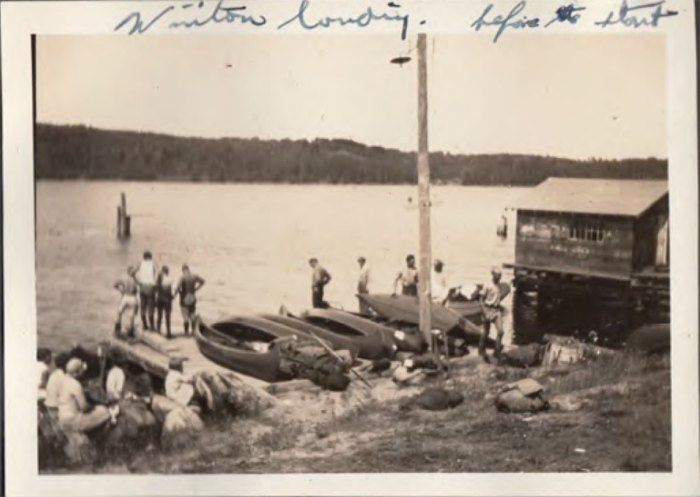 ---
KNOW THE NORTHERN TIER SLANG
Portage: A trail connecting two bodies of water.
Rod: The unit to measure the length of a portage. It's the length of one canoe. There are 320 rods in a mile.
Gray Whale: Nickname of the Northern Tier portage packs. They can hold three campers' gear.
Inspire Leadership, Foster Values: Donate to Scouting
When you give to Scouting, you are making it possible for young people to have extraordinary opportunities that will allow them to embrace their true potential and become the remarkable individuals they are destined to be.
Donate Today