One of the BSA's Rarest Awards Goes to the Scouts Who Make the Biggest Impact
The BSA Distinguished Conservation Service Awards recognize Scouts and adults who have produced long-standing, significant impacts on the environment.
It's a lot of work to earn Eagle. It's also a lot to earn a BSA Distinguished Conservation Service Award.
You must provide clear, written evidence that you planned, led and carried out two substantial long-term projects. (One of the projects can also serve as your Eagle Scout project, assuming it is related to conservation.)
We're here to tell you: It can be done.
WHERE DO I BEGIN?
Interested in starting down the road toward a BSA Distinguished Conservation Service Award? Start with the workbook, available for free. It's long, so take your time. It's packed with tons of useful information and will give you a clear idea of what you're getting into.
Next, find yourself an advisor. An advisor is an adult with experience who can help you get where you want to go. Learn more at go.scoutlife.org/conservationadvisor.
BSA DISTINGUISHED CONSERVATION SERVICE AWARD PROGRAM
The new BSA Distinguished Conservation Service individual awards are granted by the National Council through the local council's conservation committee to a member of a Scouts BSA, Sea Scouts or Venturing unit for exceptional and distinguished service to conservation and environmental improvement.
You must complete two conservation projects. Both must be designed to address a conservation issue or need in the local area and must benefit the environment or the creatures that live there.
The BSA Distinguished Conservation Service Awards are presented for distinguished service in natural resource conservation. The awards are:
Youth: BSA Distinguished Conservation Service Award
Adult: BSA Distinguished Conservationist
Organizations and Individuals: BSA Distinguished Conservation Service Award Certificate
In 2020, a similar program called the William T. Hornaday Awards was discontinued, and the BSA Distinguished Conservation Service Awards program was launched. We spoke with three recent winners of the previous award to get their advice.
---
Trevor Burke, Troop 577, Dallas, Texas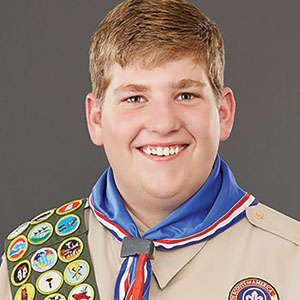 Where He Is Now: Double majoring in mechanical engineering and mathematics and studying pre-medicine at Southern Methodist University in Dallas
His Projects: Trevor's Eagle Scout project — which also counted as a conservation service project — focused on clearing invasive pecan trees in Texas' Blackland Prairie Ecological Region. As he learned more about the region and the challenges it faces, he became more determined to do what he could to help.
The soil and climate of the Blackland Prairie is perfect for crops. That's good news for agriculture — but not good news for the plants and animals native to the region. Over the years, as more and more land was converted to crop production, native plants and animals were forced out.
"I found a sense of like, 'Wow, this ecosystem is special.' It's home to a lot of unique plants and animals. And it is dying off. My goal was to help save the prairies as much as I can and make a difference as best as I can." Once he got the pecan trees under control, Trevor focused next on removing invasive grasses.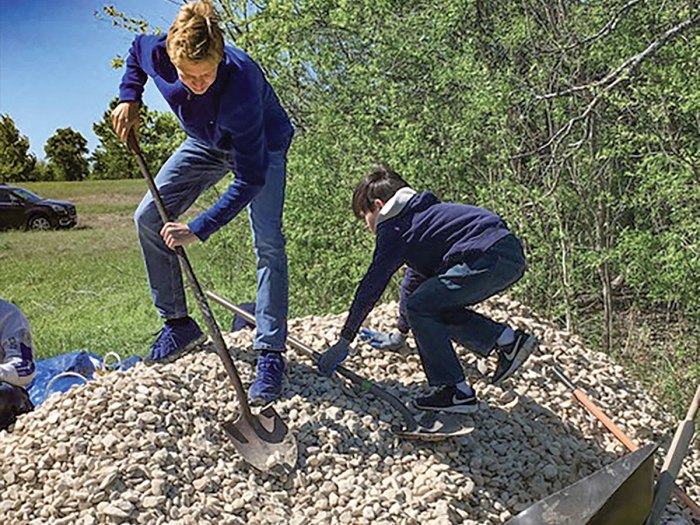 Hundreds of years ago, early farmers learned that native prairie grasses didn't grow as fast as the grasses imported from overseas. Johnson grass became more and more popular, because it grew back quickly after being grazed by livestock. Eventually, it overwhelmed the native grass species.
Trevor developed a plan that reintroduced native grasses in concentrated areas, allowing them to slowly spread over time.
The next step was to limit erosion caused by water runoff from surrounding neighborhoods. Trevor took a drainage pipe, rerouted it so that it would divert the rainwater to a nearby meadow, and installed a row of rocks to prevent erosion.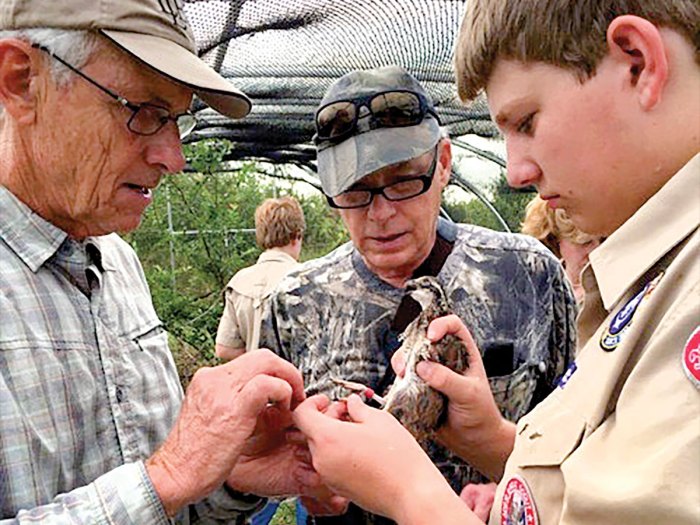 Trevor's next project involved the reintroduction of native bobwhite quail to the prairie. He raised the birds in a pen himself and released them into the wild. Years later, wildlife cameras indicate quail numbers are on the rise.
His advice: "You've got to have perseverance. It's not always going to be straightforward. Don't let the setbacks define you. It's not an easy thing, and it's not an instant thing. It's just a matter of solving problems."
---
Peter Livengood, Troop 687, Farmington, Pennsylvania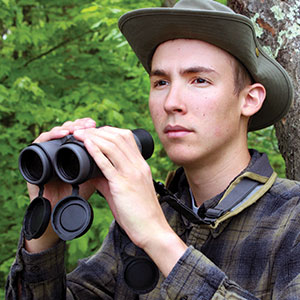 Where He Is Now: Studying fisheries and wildlife biology at California University of Pennsylvania in California, Pa.
His Projects: Peter didn't know the BSA conservation awards existed until he was almost 17. From that point, it was an all-out race to get it done before he turned 18.
"Some people were like, 'You're crazy! You can't do that!'" he says. "And I said, 'Sure I can.'"
He certainly didn't skimp on the hard work.
His first project was sprucing up the bioswales in nearby Ohiopyle. A bioswale is a path where water from sidewalks and streets can flow into an area with dirt and vegetation, which helps filter out pollutants before the water returns to local waterways.
Next, Peter developed a system where he and other volunteers could count the number of raptors that migrate through an area near his community called Chestnut Ridge. Counting migrating birds — and making that data available to the public — is critical for monitoring bird populations.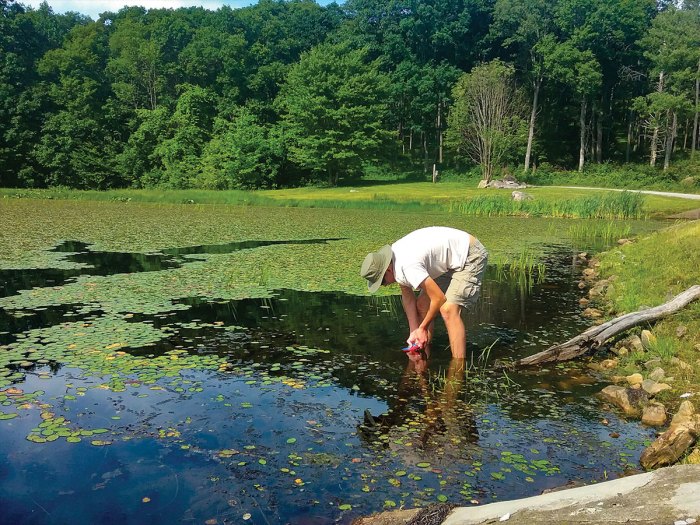 Peter spent months collecting data that could be used to save a nearby lake that had become choked with vegetation. He and his team went through the painstaking process of identifying all the plants in the lake, recording the water depth at multiple spots, recording the water temperature on an hourly basis and testing the water for nutrients that could be contributing to plant growth.
And, finally, Peter recruited a team to perform a second massive research project, this one on the struggling understory — the layer of plants under the main canopy of the forest — near a local campground. They found that visitors were inadvertently stomping out much of the vegetation.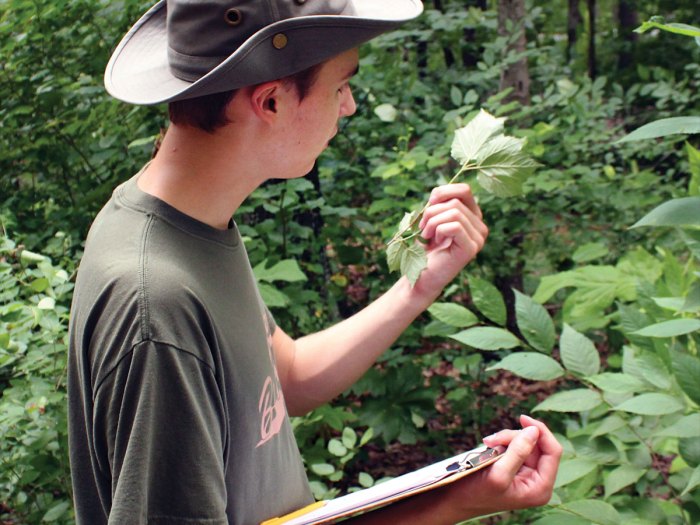 "We worked with the park manager to develop a plan," he says. "We put in some tent pads so people would know where to put their tents. We made some recommendations for signage. And we recommended planting more native vegetation to make it look natural again."
His advice: "For me, it was all I did for eight months. It's better to keep it manageable. Try to take it slow and plan ahead. It's never too early to get a head start on these projects."
---
James Raubenheimer, Troop 105, Exton, Pa.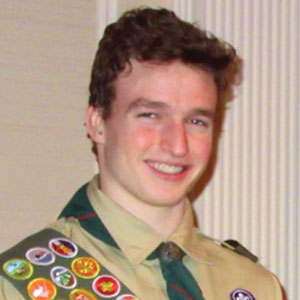 Where He Is Now: Enrolled in a four-year master's program in computer science and applied mathematics at Vanderbilt University in Nashville, Tennessee.
His Projects: James earned the rank of Eagle at age 14. "I really enjoyed working on my Eagle Scout project more than I thought I would," he says. "So it became, 'What's the next step?'"
James organized and executed a massive tree-planting effort along a stream in his community. Using a mathematical model called the Universal Soil Loss Equation, James was able to calculate how much soil was being lost per year due to the damaging effects of erosion in that area.
"We calculated it for this one area along the stream and found that 27.56 tons of acres were being lost per year," James says. "We ended up planting around 800 trees, and we calculated that we could take that number from 27 to 0.5 tons of soil lost per year."
James then set out to help build up the fish population in a nearby lake. Previous attempts to provide shelter for fish with downed trees had produced mixed results. James took the effort to a whole new level by designing, building and installing eight pyramid-shaped wooden structures better suited to provide shelter for smaller fish.
After that, James led an effort to remove invasive brush at a county park. He and his volunteers went after the vegetation with weed whackers and chainsaws, and then pulled the rest by hand. They also placed signs on trees to help visitors learn more about the native vegetation that was supposed to be there.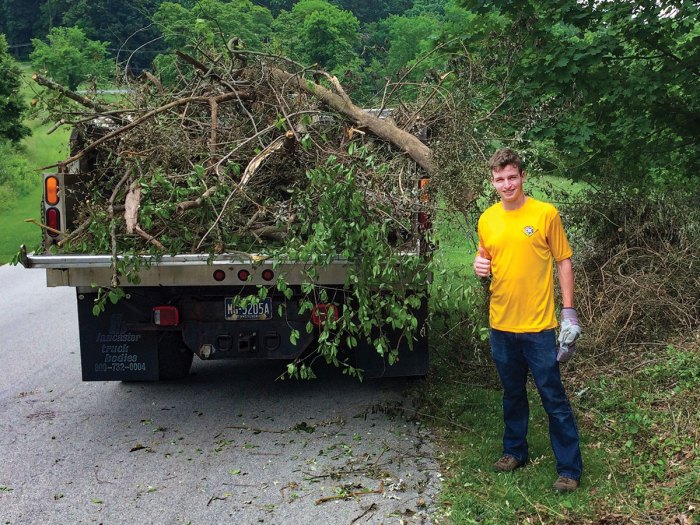 His final project was to create a website to clearly explain to citizens the tax benefits of implementing policies around their homes that would decrease the runoff of storm water that carries pollutants into local waterways.
His advice: "One of the trickiest parts of all of these projects was the paperwork. You can get overwhelmed. Use the [project] workbook, and have good advisors and mentors. Mine gave me so much good feedback and notes. They really helped guide me through the process."
Inspire Leadership, Foster Values: Donate to Scouting
When you give to Scouting, you are making it possible for young people to have extraordinary opportunities that will allow them to embrace their true potential and become the remarkable individuals they are destined to be.
Donate Today