Scouts Battle for Online Supremacy in Rocket League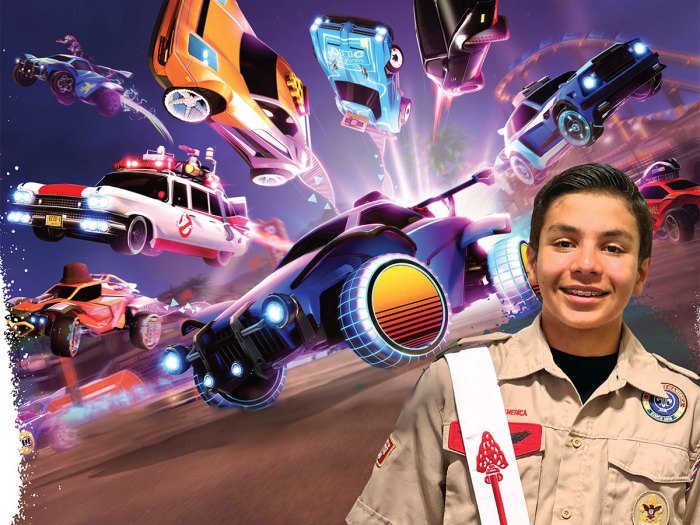 You're driving your custom car with a shiny paint job, high spoiler — and powerful rocket engine.
No, it's not street legal, but it's perfect for Rocket League.
You zoom up a wall, launch into the air and hurdle toward a giant soccer ball bouncing across a colorful field. Your vehicle makes contact, and the ball flies into a goal, sparking a fantastic explosion.
Rocket League ranks as one of the most popular videogames, with around 100 million players logging on every month. The game is simple: It's soccer in souped-up cars. But like any game, success demands strategy.
"It requires a lot of teamwork and constant communication," says Marco Rost, a 13 -year-old Second Class Scout with Troop 1333 of Klein, Texas, a suburb of Houston.
Scouts practice those skills on campouts and during service projects, but how well would they do online? Last year, eight teams from six Texas BSA councils competed in a Rocket League tournament. The winners would each receive a $100 gift card to the Scout Shop.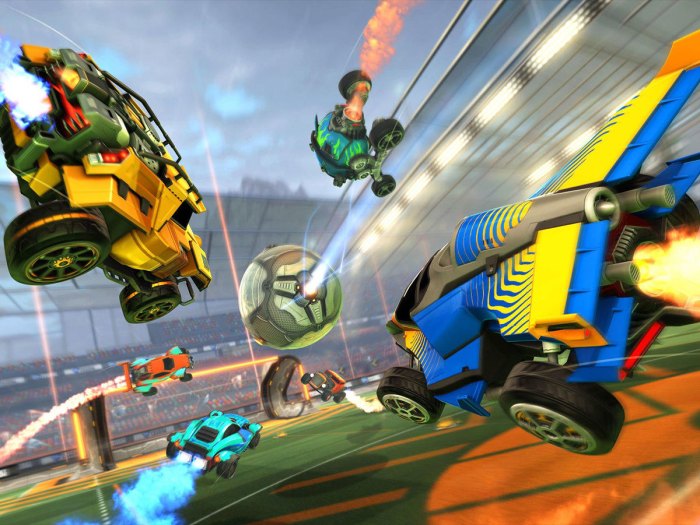 GAME ON
Rocket League can be played on PlayStation, PC, Switch and Xbox — and a mobile version launched last year. The game is free to play.
Based on one's experience within Rocket League, each team member gets a competitive rank, starting at the bronze level and going up to supersonic legend. Marco's silver-level team, the Squirreling Mambas, drew a high-ranking diamond-level opponent in its first qualifying match.
"That game was very complex, skill-wise," Marco says. "We got destroyed."
Time to regroup before the next match. Each team played weekly for a few weeks before the playoffs began.
In a Rocket League match, like in soccer, some players play offense while others stay back on defense. While attacking, players can dribble the ball on the ground or in the air. To score, they need timing and skill to flick the ball into the goal. Team Infinite had that. The squad, primarily made up of team members from Austin, Texas, marched its way to the championship.
The Squirreling Mambas got bounced in the first round of the playoffs by the team JAQ Gamers, but that doesn't mean they didn't have a good time.
"We were always pretty close," Marco says. "Other than the fact that we lost, it was still pretty fun."
THE SKILLS YOU NEED
Team sports call on athletes to be more than technically skilled. They must use "soft skills" like leadership, cooperation and creativity. The same is true for esports and Scouting.
Playing in a virtual tournament offered Scouts the chance to develop those soft skills in a fun way. They learned how to quickly communicate with each other and solve problems to give their teams the best chance to win.
You can give Rocket League a shot at rocketleague.com and check for any future tournaments hosted by Rally Cry at rallycry.gg/scouting
---
Follow this guidance when gaming online:
Follow all BSA Youth Protection policies.
To communicate outside the game, use business-oriented conference platforms that include good safety and privacy features.
Update with the latest security features to avoid unauthorized visitors or other security issues.
Do not record online activities or meetings that include youth.
Safeguard personal information.