Olympic Mascots Through the Years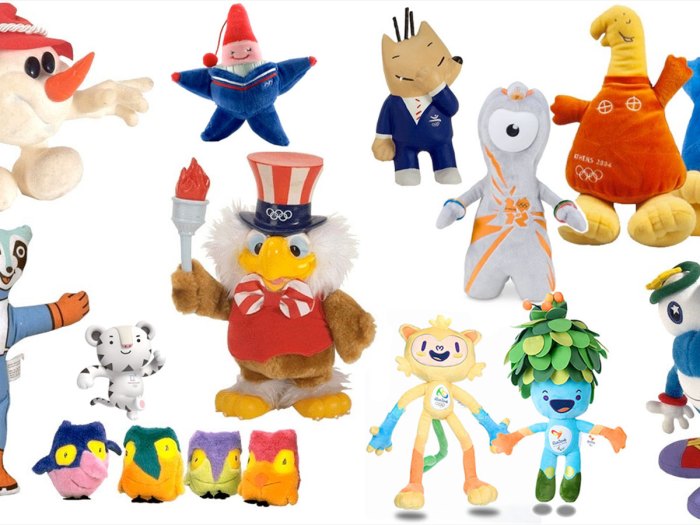 Since 1968, it has been a tradition to have a mascot for each of the Olympic games. Take a peek at our photo gallery of Olympic mascots and then use the comments section to tell us which Olympic mascots you think were the wildest, craziest, weirdest and coolest.
1968 Winter Olympics in Grenoble, France
1972 Summer Olympics in Munich, West Germany
1976 Winter Games in Innsbruck, Austria
1976 Summer Games in Montreal, Canada
1980 Winter Games in Lake Placid, New York
1980 Summer Games in Moscow, USSR
1984 Winter Games in Sarajevo, Yugoslavia
1984 Summer Games in Los Angeles, California
1988 Winter Games in Calgary, Canada
1988 Summer Games in Seoul, South Korea
1992 Winter Games in Albertville, France
1992 Summer Games in Barcelona, Spain
1994 Winter Games in Lillehammer, Norway
1996 Summer Games in Atlanta, Georgia
1998 Winter Games in Nagano, Japan
2000 Summer Games in Sydney, Australia
2002 Winter Games in Salt Lake City, Utah
2004 Summer Games in Athens, Greece
2006 Winter Games in Turin, Italy
2008 Summer Games in Beijing, China
2010 Winter Games in Vancouver, Canada
2012 Summer Games in London, England
2014 Winter Games in Sochi, Russia
2016 Summer Games in Rio de Janeiro, Brazil
2018 Winter Games in PyeongChang, South Korea
2020 Summer Games in Tokyo, Japan
2022 Winter Games in Beijing, China
Inspire Leadership, Foster Values: Donate to Scouting
When you give to Scouting, you are making it possible for young people to have extraordinary opportunities that will allow them to embrace their true potential and become the remarkable individuals they are destined to be.
Donate Today