The BSA is an official supporter of Operation Honor Cards, a program that encourages citizens to pledge a specific number of community service hours committed to honoring military families.
You can fill out an "Honor Card" and submit it online, or you can download and print the one below and mail it in. Examples of service include volunteering with an organization that supports veterans, putting together care packages for troops or raising funds to benefit military families.
Make your pledge online by clicking here.
Print out the card below and mail it to: Operation Honor Card, P.O. Box 5456, Capitol Heights, MD 20791-5456.
(Click on the card for a bigger version.)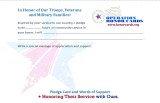 Inspire Leadership, Foster Values: Donate to Scouting
When you give to Scouting, you are making it possible for young people to have extraordinary opportunities that will allow them to embrace their true potential and become the remarkable individuals they are destined to be.
Donate Today