Take an interactive tour of the Summit Bechtel Reserve
Walter Sterling is about to take off.
Sitting in a harness at the top of a giant hill, all he can see ahead of him is foggy air and the zip line that will take him down the hill, over a lake and, hopefully, into a safe landing area.
He's about to go from zero to 50 miles per hour in just a few minutes on the Big Zip at the Summit Bechtel Reserve (SBR), but right now, his brain isn't cooperating. This ride might last only about 47 seconds, but they'll be 47 of the most fast-paced, high-flying seconds of his life.
---
Take a virtual ride on the Big Zip and explore 360-degree panoramas of the Summit Bechtel Reserve in this interactive map. (full screen)

---
"I was completely freaked out, going crazy," says Walter, an Eagle Scout from Troop 155 in Cuyahoga Falls, Ohio. "Then I got calm and just said, 'Here we go.'"
Seconds later, Walter is flying out of the fog several stories above Bravo Lake. Below him, he can make out the kayakers on the water, but he has to look quickly, because it's all a big blur.
"I was going so fast, I could barely breathe," he says.
Eventually, the line straightens out, and Walter slows down for his perfectly safe landing.
"I had zip-lined before and loved it, but none of them were this big," he says.
Indeed, just about everything at SBR is bigger and better than what you're used to.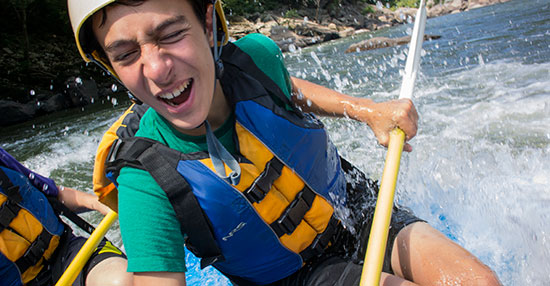 Bigger Rapids
The Paul R. Christen National High Adventure Base at SBR features the BSA's newest high-adventure program. The base was built along the New River Gorge National River for a reason: The area features some of the best whitewater rafting, rock climbing and, yes, zip lining, in North America.
Walter and several dozen Scouts are visiting SBR as part of the Order of the Arrow Summit Experience program. The guys spent four days on a service project before ditching their work gloves and enjoying some of the high adventure experiences the area has to offer.
---
Video: The Order of the Arrow Summit Experience program
---
The New River, for example, is known for its whitewater. Most of the Scouts had been whitewater rafting before, but few of them had experienced anything like this.
"This was a lot more big and wild," says Eagle Scout Billy Meyers, 14, from Troop 2322 in Kemah, Texas. "It was just incredible."
Safely navigating a section of Class IV whitewater rapids requires teamwork. The guys sit with their paddles along the edges of their raft and wait for orders from the guide, who sits in the back barking out instructions.
"It was a team-building experience, getting beaten up and knocked around by the rapids," says Ben Oswald, 15, from Troop 207 in Conyngham, Pennsylvania. "It was pretty awesome."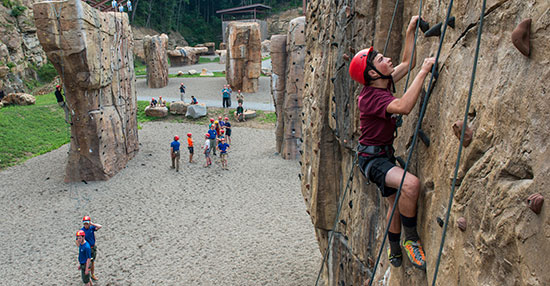 Bigger Climbing
The gorge is also known for its rock climbing. At SBR, Scouts get to try their hand on man-made rock walls that are much more like the real thing than what you'll find at the average climbing gym.
"I've been climbing before, but it was nothing like this," says Max Cook, 15, from Troop 155 in Peninsula, Ohio. "This was much better."
SBR's rock-climbing program lets Scouts test themselves on walls that range from beginner level to very, very challenging. Instructors make sure each Scout is safely secured in his harness, then, with the call of "Climb on!", the guys do their best to make it to the top.
"It was one of the most fun things I've done in my life," says Walter. "At first it seems simple; you just climb up. But then you have to double back, and suddenly your feet are off the wall and you're hanging with your arms."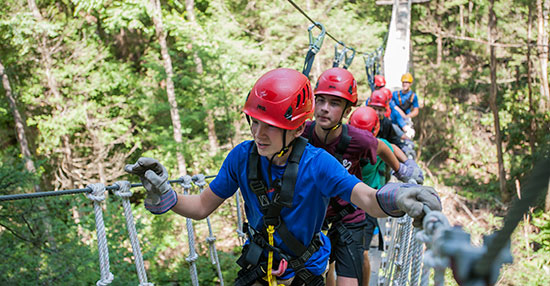 Nearly every activity offered at SBR is challenging, but fun. Whether it's ropes courses or biking, canopy tours or shooting sports, you might have done it before, but chances are, you've never done it like this.
"There's nothing else you can do that's quite like this," Max says.
---
PROGRAMS AT SUMMIT BECHTEL RESERVE
SBR's 2015 programs are organized around three components:
The Paul R. Christen National High Adventure Base at SBR offers these programs: The River, Helmets & Harnesses, The Marksman, Tires & Trails, Berms and Bars, and Ramps & Rails, along with more advanced programs in kayaking, climbing, mountain biking and photography. The Summit Experience program allows participants to try all nine adventure sports venues.
The James C. Justice National Scout Camp is designed to provide advancement opportunities to Venturers and older Scouts who have already attended council Scout Camps, with activities such as climbing, rappelling, stand-up paddleboarding, kayaking, canopy tours, ropes courses, mountain biking, archery and more.
The Summit National Training Center offers specialized leadership and educational training in areas such as whitewater rafting, mountain biking, shooting sports, climbing, orienteering and wilderness first aid.
For more information on SBR's 2015 programs, visit http://www.summitbsa.org/.
---
CHOOSE YOUR OWN ADVENTURE
The Summit Bechtel Reserve is one of four high-adventure bases operated by the BSA's National Council.
The Florida National High Adventure Sea Base features aquatics programs such as canoeing, sailing, scuba diving and fishing.
Philmont Scout Ranch in New Mexico offers backpacking and horseback riding to and from 34 staffed backcountry camps on 315 miles of trails.
The Northern Tier National High Adventure Program includes canoeing trips from three different bases, as well as winter camping.
Inspire Leadership, Foster Values: Donate to Scouting
When you give to Scouting, you are making it possible for young people to have extraordinary opportunities that will allow them to embrace their true potential and become the remarkable individuals they are destined to be.
Donate Today