Meet Musher Matthew Failor's Team of Alaskan Sled Dogs
When you're in the Alaskan wilderness, hundreds of miles from the nearest town, it pays to Be Prepared. This motto helps Matthew Failor keep himself and his team of 16 sled dogs alive when faced with brutally cold weather, dangerous terrain and unforeseen challenges during the Iditarod Trail Sled Dog Race.
The annual competition — which Failor compares to the ultimate camping trip — is more than a hobby to this Eagle Scout. It's one of many ways Failor makes a living as a sled-dog musher. Each March, Failor's team, 17th-Dog, faces off against about 80 other teams on the nearly 1,000-mile Iditarod course through Alaska.
Meet some of the dogs that make up Failor's team in the videos below.
---
FIONN
An 8-year-old, retired member of the team. Fionn was Matt's first dog and remains with him year-round.
---
UELS
A 4-year-old female and an Iditarod finisher. Uels is a hard worker and one of Matt's most-reliable lead dogs.
---
TWO FACE
An 8-year-old female and a crowd-favorite. Two Face is hard-working and well-suited for any position on Matt's team.
---
BADGER
An 8-year-old male with brown and blue-colored eyes that stand out in the pack. Badger is a lead dog and a previous Iditarod finisher.
---
COTTAGE CHEESE
A 5-year-old female whose 2014 Iditarod race was cut short due to injury. Cottage Cheese runs as if she has something to prove.
---
REBEL
A 2-year-old male who tends to act his age. Rebel "screams" to run fast and has a lot of potential.
---
COOL CAT
A 3-year-old female who is very shy. Cool Cat can run and shows leadership potential despite her young age.
---
TOUR MATT'S SLED
Eagle Scout Matt Failor crafts his own sleds to use during sled-dog races like the Iditarod. These sleds have front storage and an attached cooking stove and cooler at rear, which the musher can sit on and rest his legs.
---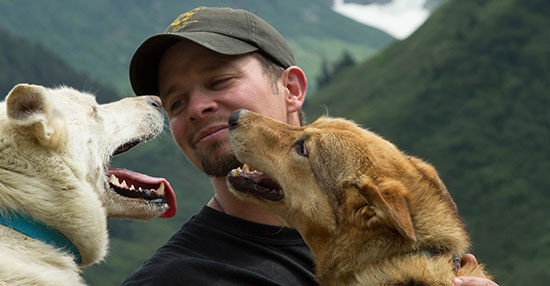 FIND OUT MORE
Visit 17th-dog.com to find out more about Matt Failor or visit his Facebook page.
For more on the 2017 Iditarod race, visit iditarod.com/
---
Inspire Leadership, Foster Values: Donate to Scouting
When you give to Scouting, you are making it possible for young people to have extraordinary opportunities that will allow them to embrace their true potential and become the remarkable individuals they are destined to be.
Donate Today