3 Mexican-inspired Dutch oven recipes
Enjoy a taste of Mexico on your next campout with these three tasty Dutch Oven recipes.
---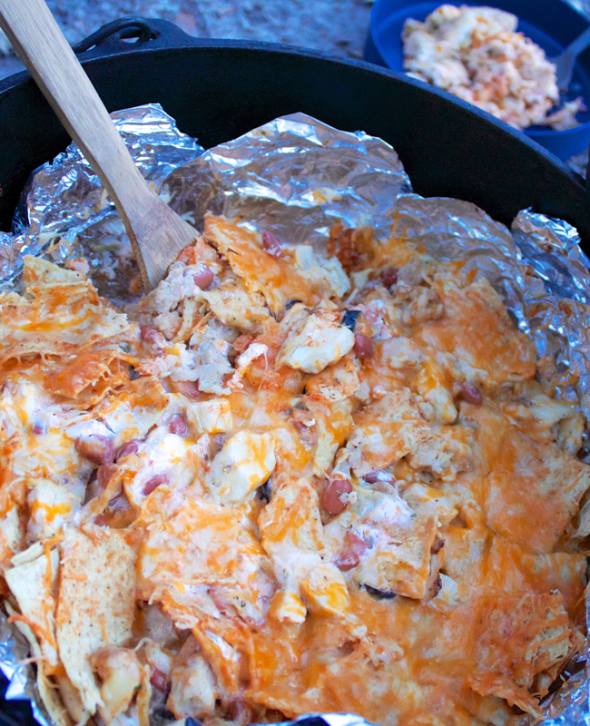 EASY ENCHILADAS
A winning recipe in the Scouting and Boys' Life magazines' Campout Cuisine Contest. Created by Scouts Nathan Rose and Clay Cochran.
Servings: 10 to 12
Preparation Time: 1 hour
Challenge Level: Easy
INGREDIENTS
Vegetable oil for greasing Dutch oven
1 (12-ounce) package tortilla chips
2 (15-ounce) cans pinto beans, drained and rinsed
1 (19-ounce) can green enchilada sauce
1 (16-ounce) container sour cream
1 (1-ounce) package ranch dip mix
2 (2.25-ounce) cans sliced black olives
1 (22-ounce) package Tyson Grilled & Ready Chicken Breast Strips, shredded
3 cups shredded cheddar cheese
REQUIRED EQUIPMENT
14-inch camp Dutch oven
Heavy-duty aluminum foil
WHAT YOU'LL DO
1. Prepare 32 coals for the Dutch oven.
2. Line oven with aluminum foil then grease the foil with a little vegetable oil.
3. Lay a third of the tortilla chips over the bottom of the oven.
4. Pour only about one-third of each of the pinto beans (about 2/3 of a single can), enchilada sauce, sour cream, ranch dip mix, olives (about 2/3 of a single can), shredded chicken, and cheese over the top of the chips.
5. Repeat steps 3 and 4 twice more, using up all remaining ingredients.
6. Bake for 40 to 50 minutes using 21 coals on the lid and 11 underneath the oven until cheese is melted and bubbly.
---
MEXICAN LASAGNA
By Tim and Christine Conners from their book, The Scout's Dutch Oven Cookbook. Featured in the November 2013 issue of Boys' Life magazine.
Servings: 14–16
Preparation Time: 1 1/4 hours
Challenge Level: Easy
INGREDIENTS
1 1/2 pounds lean ground beef
2 (1-ounce) packages taco seasoning mix
2 (15-ounce) cans pinto, kidney or black beans, drained
2 (26-ounce) cans spaghetti sauce
1 dozen corn tortillas
1 1/2 pounds shredded cheese
REQUIRED EQUIPMENT
12-inch camp Dutch oven
Large mixing bowl
WHAT YOU'LL DO
1. Pre-heat Dutch oven over 25 coals.
2. Brown ground beef in the oven, then transfer meat to a large mixing bowl. Remove oven from heat.
3. To the beef, add the taco seasoning mix, beans and spaghetti sauce. Mix.
4. Spread about one-third of the beef-sauce mixture on the bottom of the oven.
5. Top mixture with four of the tortillas, covering as much of the surface of the beef-sauce as possible.
6. Spread another one-third of the beef-sauce on the tortillas, then distribute about one-third of the shredded cheese across the top.
7. Continue layering with another four tortillas, the remainder of the beef-sauce mix, and another one-third of the cheese.
8. Finish with a final layer of four tortillas covered with the remainder of the cheese.
9. Bake for about 30 minutes using 17 coals on the lid and 8 briquettes under the oven, until heated through. Refresh coals if required.
---

SPICY TORTILLA SOUP
A winning recipe in Scouting magazine's 2009 "Great Tastes in Camp Cooking" contest. Created by Scouter Mac McCoy.
Servings: 8 to 10
INGREDIENTS
8 boneless skinless chicken breasts
1 red bell pepper, seeded and halved
1 green bell pepper, seeded and halved
2 15-ounce cans whole tomatoes, drained and chopped
2 medium onions, finely chopped
3 cloves garlic, minced
3 10-ounce cans enchilada sauce
2 4-ounce cans chopped mild green chiles, drained
2 cups water
1 15-ounce can chicken broth
1 15-ounce can beef broth
2 teaspoons ground cumin
1 tablespoon chili powder
2 teaspoons ground black pepper
1 teaspoon ground cayenne pepper
2 teaspoons salt
1 bay leaf
2 cups shredded Colby-Monterey Jack cheese blend
1 medium-size (about 14 ounces) bag tortilla chips
¼ cup grated Parmesan cheese
1 medium avocado, peeled and diced (optional)
1 16-ounce container sour cream (optional)
WHAT YOU'LL DO
1. Grill chicken, preferably over an open fire, browning each piece on both sides. (Note: Meat does not require thorough heating during this step because it will finish cooking in the Dutch oven.)
2. Roast red and green bell pepper halves on the grill until lightly charred.
3. Cube the grilled chicken breasts into bite-size pieces and chop the grilled peppers, placing each, along with the tomatoes, onions, and garlic, in a Dutch oven with a capacity of at least six quarts.
4. Add enchilada sauce and green chilies.
5. Pour water, chicken broth, and beef broth into the Dutch oven. Stir and add cumin, chili powder, black pepper, cayenne pepper, salt, and bay leaf. Stir thoroughly.
6. Cover and cook for two hours using 20 charcoal briquettes under the oven and 10 briquettes on the lid. Refresh the coals as they expire.
7. Remove from heat, remove the bay leaf, and stir shredded cheese into soup.
8. Serve in bowls, topping with a handful of crushed tortilla chips and a sprinkling of Parmesan cheese.
9. If desired, garnish with diced avocado and dollop of sour cream.
Inspire Leadership, Foster Values: Donate to Scouting
When you give to Scouting, you are making it possible for young people to have extraordinary opportunities that will allow them to embrace their true potential and become the remarkable individuals they are destined to be.
Donate Today