It's playtime! Make the most of your free time with the best toys, games and gadgets of the season.
---
BLAST INTO OVERDRIVE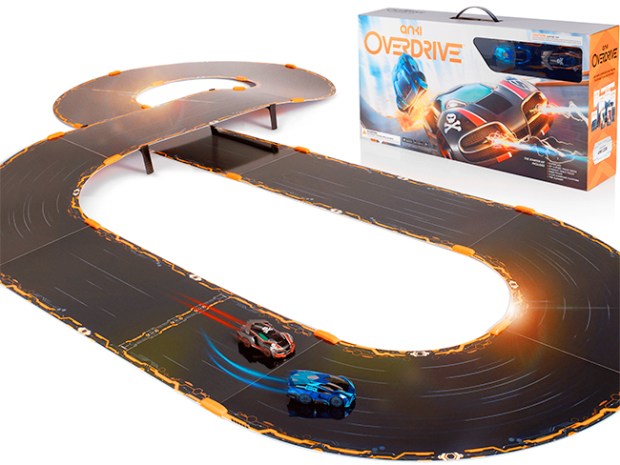 "Astonishing" is how our 13-year-old tester describes battle racing game Anki Overdrive. Players use their smartphones to race robotic supercars on a special track while battling it out with virtual weapons. You can get powerups for your supercar and design your own tracks, including cool jumps. Starter Kit: $149.99; anki.com
---
FLYING HIGH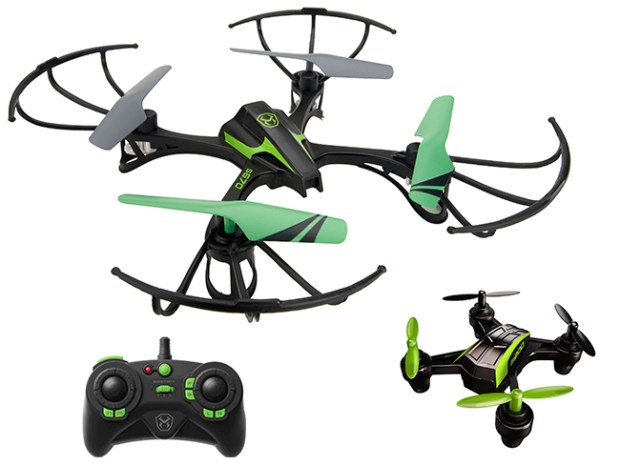 These are some of the best flyers BL has seen — and we've tested a lot over the years. All three new drones in the Sky Viper line rock: They're easy to control and durable in crashes. Our 13-year-old Nano Drone tester says, "It's awesome! Super-stable and easy to fly. It has a small battery, which means shorter life, but it charges in about five minutes, so that makes up for it." Video Drone: $89.99; Stunt Drone: $49.99; Nano Drone: $29.99; skyrockettoys.com
Before using this and other flying toys, visit knowbeforeyoufly.org for guidelines from the Federal Aviation Administration.
---
BE HAN SOLO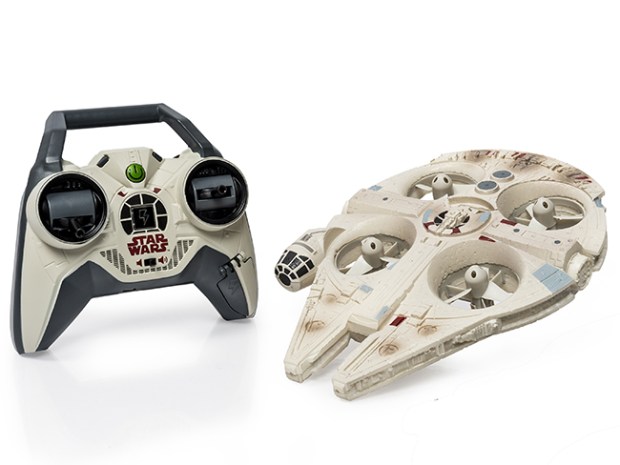 The Star Wars Millennium Falcon Quad is easy to control and flies smoothly — our 8-year-old tester mastered it in less than an hour. And while you're learning to master it, young Jedi, crashes are no worry because of the light foam construction. The quad also makes cool Star Wars sounds, including hyperspace mode. $109.99; starwars.airhogs.com
Before using this and other flying toys, visit knowbeforeyoufly.org for guidelines from the Federal Aviation Administration.
---
MESMERIZING MARBLES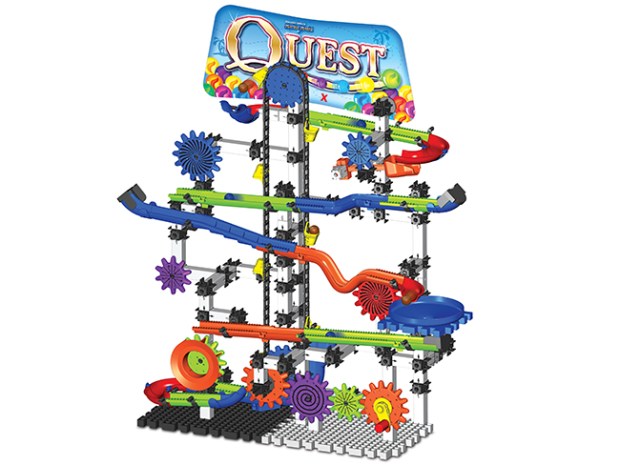 Our testers were pretty proud of themselves when they finished building the 200-piece Marble Mania Quest and got it working. They say the marbles are "mesmerizing" as they twist and turn down the tracks. This set is compatible with all others from Techno Gear. $39.99; tlji.com
---
DESIGN IN 3D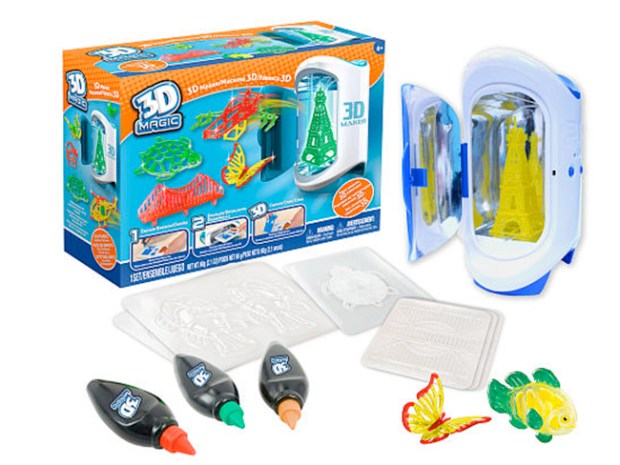 Turn gel into 3D creations with 3D Maker. Fill molds with gel and place them in the maker, which solidifies the gel using UV light (instead of heat). You can create your own designs or use templates to make construction-themed (bridge, tower, chopper) and nature-themed (turtle, fish, butterfly) designs. $39.99; 3-Dmagic.com
---
FIRED-UP FOOTBALL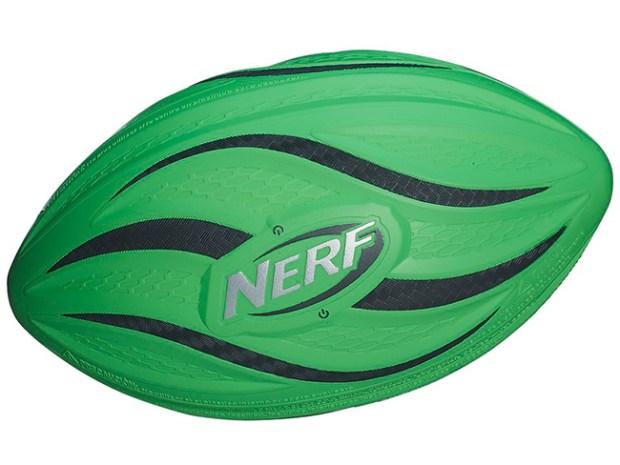 Don't let the dark ruin your football fun. Keep it going with the Nerf FireVision Ignite Football. It lights up with a cool green glow as you throw it and, like most Nerf stuff, it's easy to handle. $17.99; hasbrotoyshop.com
---
SLAPSHOT ACTION
Fun especially for younger players — say, 6 to 9 years old — NHL Arena is an old-school-style desktop hockey game. There are no lights or sounds, but the action is fast with the goalie and forward figures. Shoot the puck or block it at the push of a button. Comes with NHL stickers for your fave teams. $59.99; playmobil.us
---
YOUR WISH IS ITS COMMAND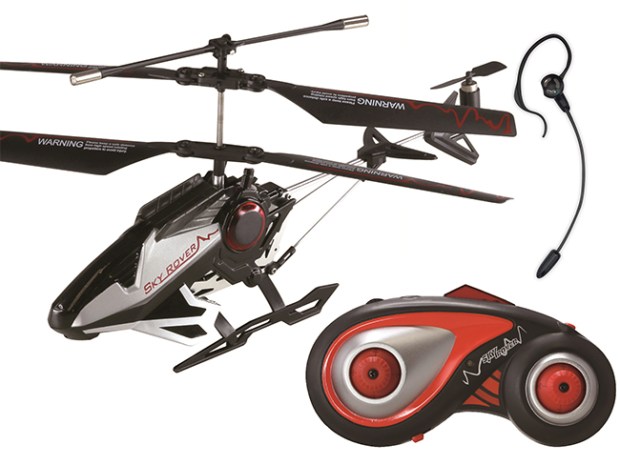 Here's another outstanding flyer: Sky Rover Voice Command Helicopter. Control this indoor chopper with 12 verbal commands. All you need is the headset — no hands required. Our 9-year-old tester was amazed: "It really does what I tell it to do!" $44.99; auldeytoys.us
Before using this and other flying toys, visit knowbeforeyoufly.org for guidelines from the Federal Aviation Administration.
---
TRANSFORMING MIGHT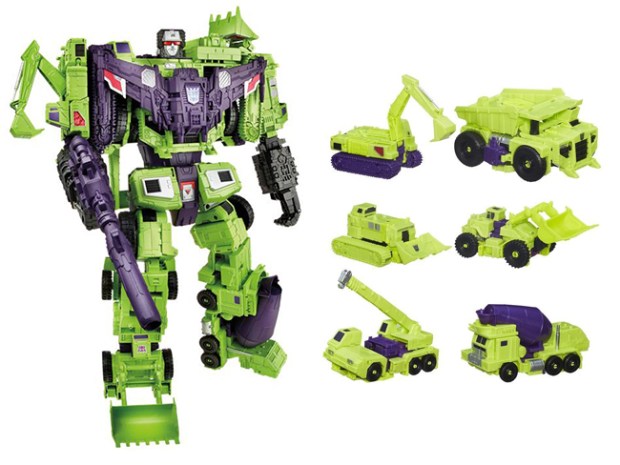 Build the biggest Transformers Generations Combiner Wars figure ever with the Constructicon Devastator. From Hook to Scrapper to Mixmaster and more, all six Voyager Class Constructicons come together to form this 18-inch-tall mighty Decepticon weapon. $149.99; hasbro.com
---
COLLECTOR'S ULTIMATE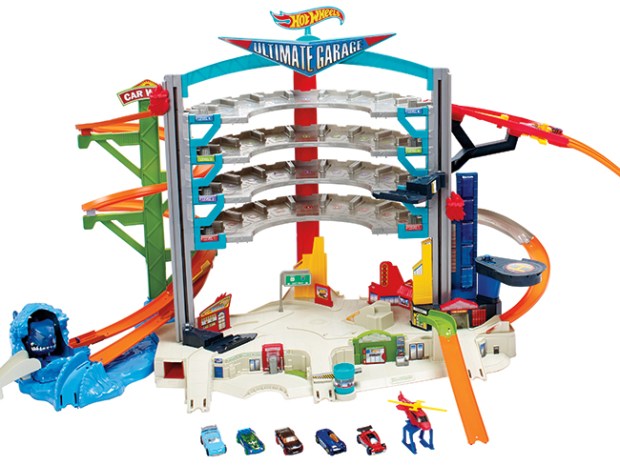 Hot Wheels Ultimate Garage is a cool way to store and display your collection. With 36 spaces, it's Hot Wheels' biggest garage yet. Plus, it's a multilevel playset that lets you race side-by-side and more. Includes five cars, lights, sounds, elevators and a car-grabbing helicopter. $109.99; mattel.com
---
INVENT YOUR OWN FUN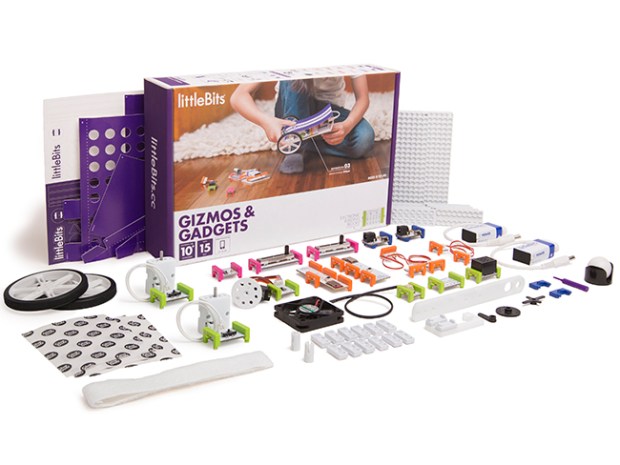 Create interactive games, smart vehicles and more with the littleBits Gizmos and Gadgets kit. It comes with all you need to get started on 10 different projects. Our 8-year-old tester built a remote-controlled scooter and a doorbell, each in about 20 minutes. $199; littlebits.cc
---
ENGINEERING MARVELS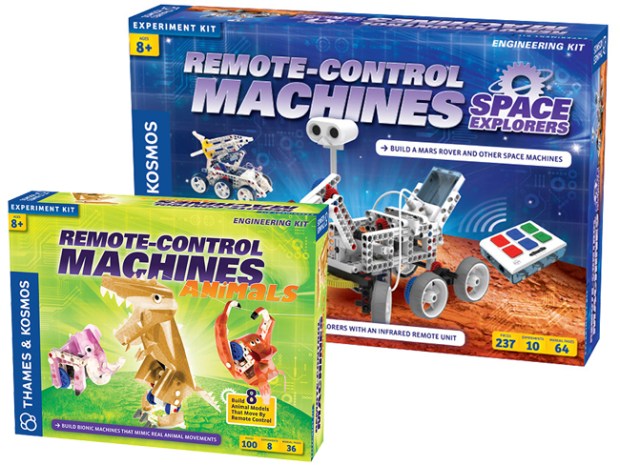 Whether you're into outer space or the zoo, there's a Remote-Control Machines engineering kit for you. The Mars rover, moon lander, elephant, scorpion or any other model you choose to build and control is motorized and mechanized to move around. Animals: $44.95; Space Explorers: $99.95; thamesandkosmos.com
---
HIGH-FLYING VARIETY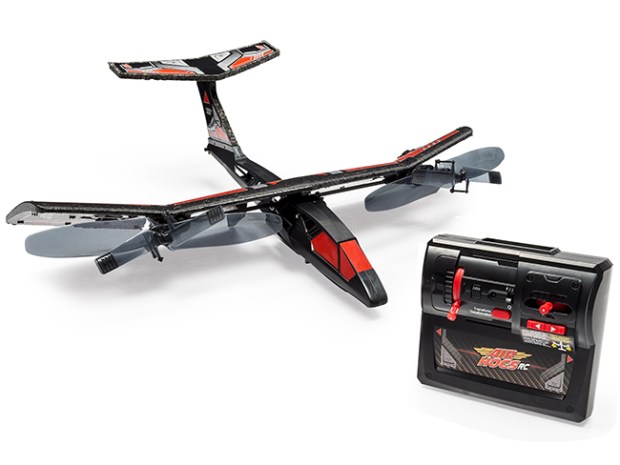 Is it a helicopter or a plane? Fury Jump Jet is kinda both. You can take off vertically in hover mode, and then with the push of a button, rotate the wings to plane mode. It takes some practice to learn to control it, but our 13-year-old tester took it to his Scout meeting and everyone liked trying it out. $49.99; airhogs.com
Before using this and other flying toys, visit knowbeforeyoufly.org for guidelines from the Federal Aviation Administration.
---
GET YOUR WIZARD ON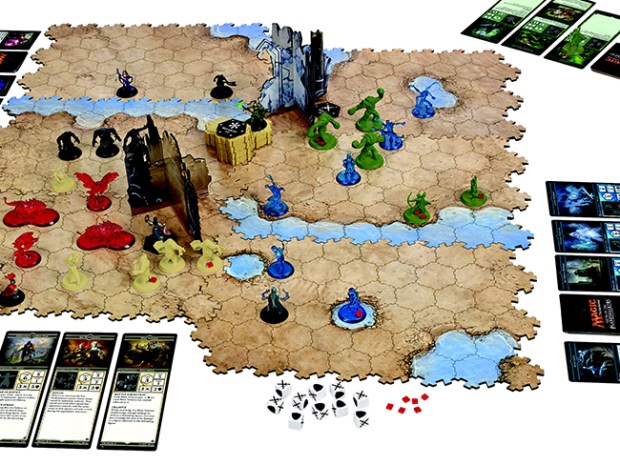 Powerful spells, strategic combat, fierce creature squads — all the excitement of the classic trading card game is here with Magic: The Gathering Arena of the Planeswalkers. But now there's a customizable board and new rules as you and your buds battle with mighty Planeswalkers. $29.99; hasbrotoyshop.com
---
MINECRAFT MANIA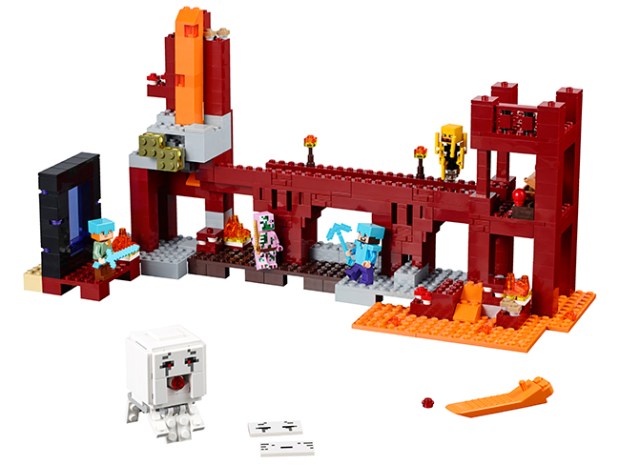 After you build it, a lot goes on at the LEGO Minecraft The Nether Fortress. Alex and Steve take on a Zombie Pigman, a Blaze and a fireball-shooting Ghast at the light-up Nether portal. There are also glowstones that actually glow in the dark, three swords, a pickaxe and more. $79.99; LEGO.com/Minecraft
---
MINECRAFT MOVIE DRAMA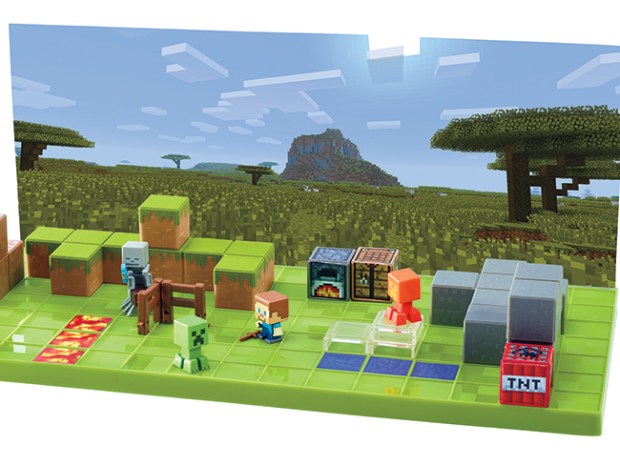 Grab your smartphone or tablet and bring Minecraft to life with Minecraft Stop-Motion Movie Creator. Download the free app and use the stage, set props and minifigures (including Steve) to animate your own adventures. You can even use music and sound effects from the game. $32.99; mattel.com
---
DYNAMIC DINO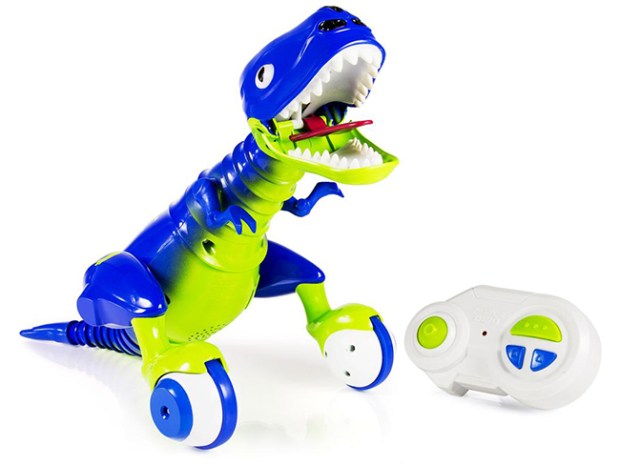 A follow-up to last year's Boomer Dino, Zoomer Dino Jester is a new interactive species (Jokeasaurus) with improved balance and a sense of humor — and sometimes a bad temper. Guide it with your hands or the remote control. "It's fun to learn the commands and how to control it," reports our 11-year-old tester. "I like making it angry to see its reaction!" $99.99; spinmaster.com
---
FUTURISTIC TWIST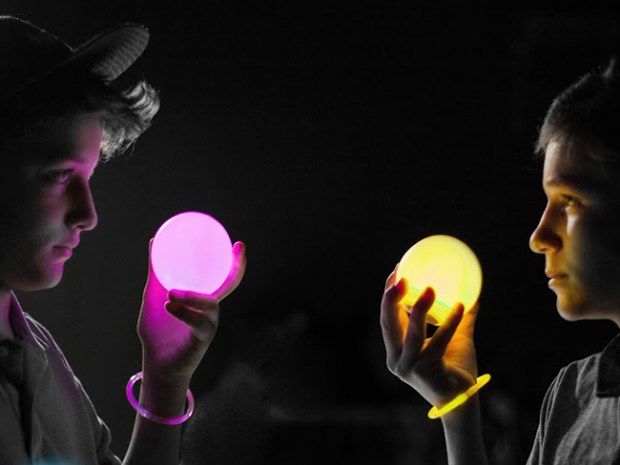 Capture the Flag has arrived in the 21st century. The kit of LED lights — orbs ("flags"), wristbands, jail markers and territory lights — makes Capture the Flag REDUX a cool nighttime game. "It's fun to play and has easy instructions," reports our team of Scout testers. $48.00; capturetheflagredux.com
---
MK8 IN RL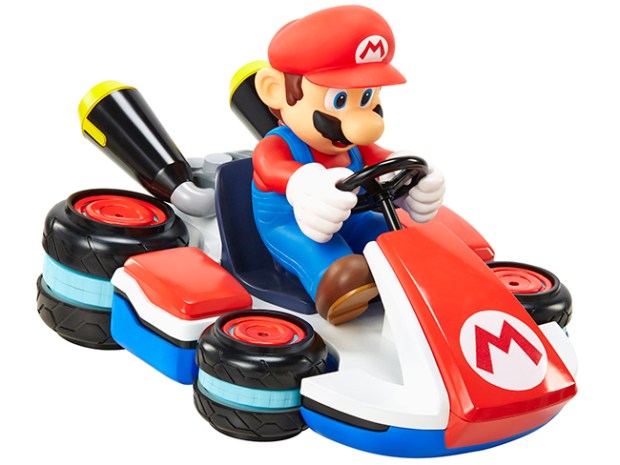 With Mario behind the wheel, the World of Nintendo Anti-Gravity RC Racer hovers in real life like it does in the Mario Kart 8 videogame. You can rotate the remote-controlled car's wheels while it's moving or not, and drive it in simulated "anti-gravity" mode. Make it drift around corners and do tricks, too. $99.99; toysrus.com
---
CONSTRUCTION JUNCTION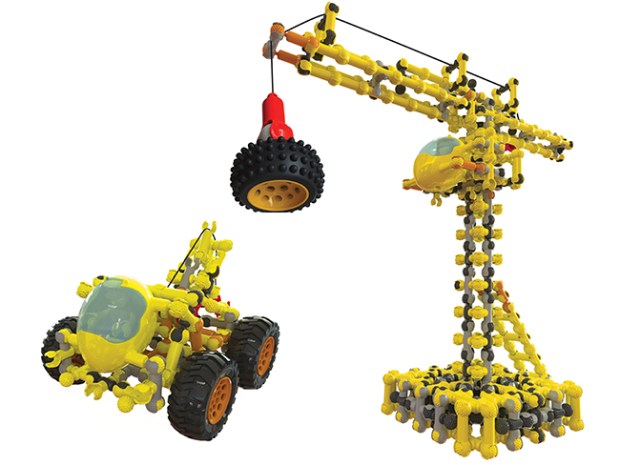 Build the Z-Strux Z-Lift Sky Crane, and then put it to work with the pulley and lifting hook. You can also build a hauler, tow truck and rolling crane with this 395-piece set. And our testers designed and built their own structures. $149.99; poof-slinky.com
---
ABRACADABRA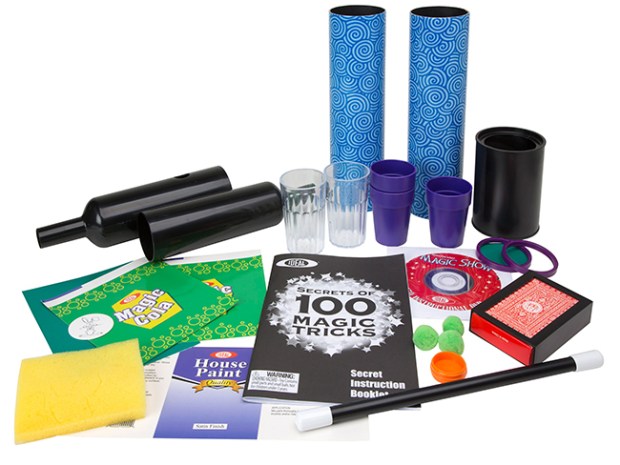 Aspiring magicians should turn to Spectacular Magic Show. Our tester wowed his brothers by making a deck of cards disappear and turning a glass into a bottle. There are 100 tricks in all. You might need a parent to help you with some of them. There's also an instructional DVD featuring a pro magician. $34.99; poof-slinky.com
---
ROCKIN' ROCK CRAWLER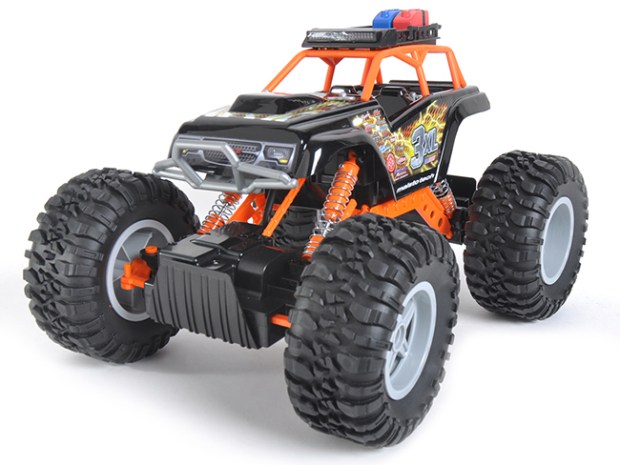 "This thing can go over anything!" our testers exclaim. They tried out the 15-inch Rock Crawler 3XL RC on different terrain — everything from grass to stairs — and they say its four-wheel drive was "awesome and powerful." Plus, the remote-control range is an impressive 160 feet. $79.99; maisto.com
---
HIGH-SEAS ACTION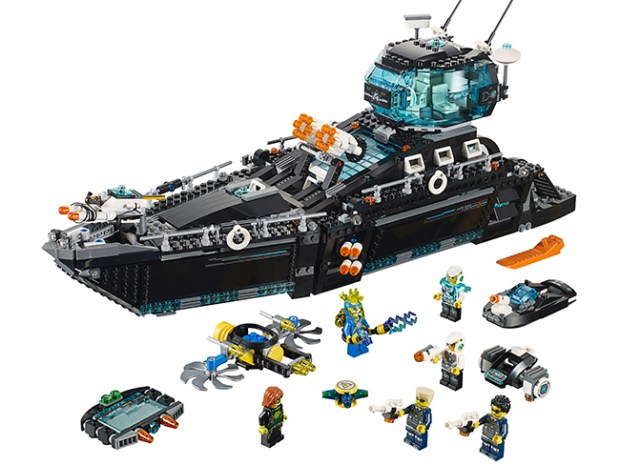 The LEGO Ultra Agents Ocean HQ is armed with rapid-fire shooters, a harpoon, jetpack and more, all in defense against the baddie Electrolyzer. Build the included AppBrick Gadget and download the free Ultra Agents 2 app, and you can also undertake cool missions on your tablet. $99.99; shop.lego.com
---
GIANT FUN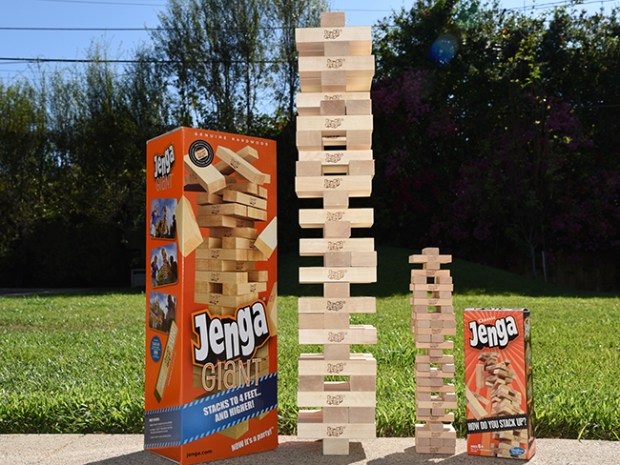 What's better than Jenga? More Jenga! With Jenga Giant, the hardwood planks stack to more than 4 feet high, and each block is eight times bigger than those in the original game. It's sure to be a party pleaser. $119.95; jengagiant.com (Use coupon code BOYSLIFEJENGA at checkout for a discount.)
---
UP FOR A CHALLENGE?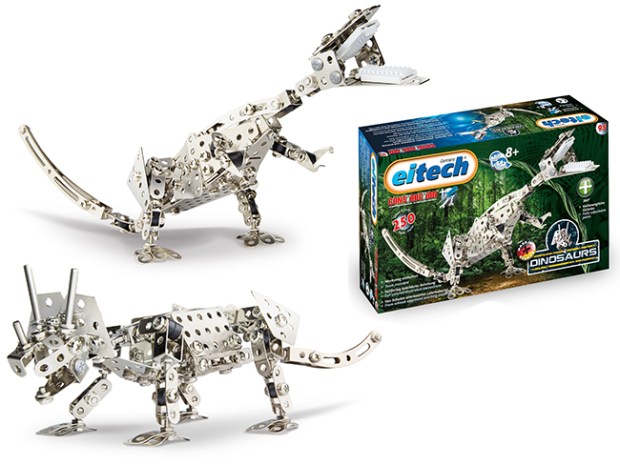 Equipped with real tools and step-by-step illustrated instructions, you're in for a fun task with the Eitech Dinosaurs metal construction line. Our 11-year-old tester has a knack for building, and he felt sufficiently challenged (and stoked when finished). T. rex, Brachiosaurus or Triceratops set: $39.99 each; eitechamerica.com
---
UP FOR A SUPER CHALLENGE?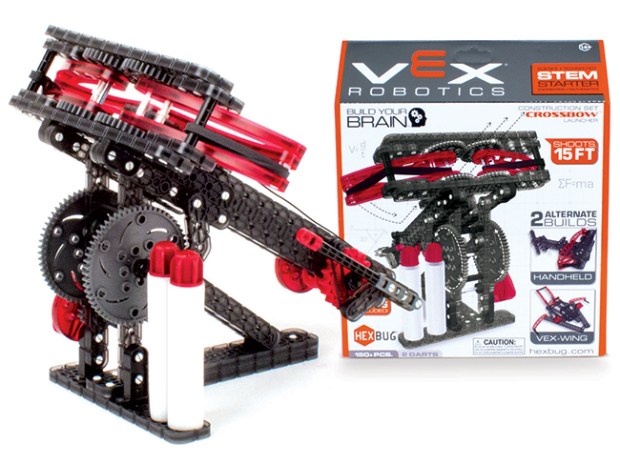 Here it is: the VEX Robotics Crossbow Launcher construction kit. Yes, it's geared toward advanced builders, and it's a true challenge. But, as our 13-year-old tester reports, "It's really cool and worth it!" The best part: When it's built, you can shoot the foam darts. $19.99; hexbugvex.com
---
SOUNDS TERRIFIC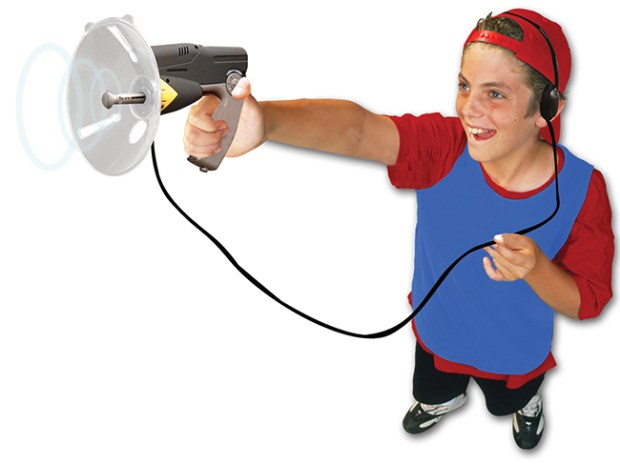 Playing spies with your friends has never sounded so good. The Bionic Ear lets you hear sounds up to 300 feet away. The noise-reducing headphones help cut down on background interference. $39.99; poof-slinky.com
---
All prices listed are MSRP — manufacturer's suggested retail price. You can often find better prices at stores or online.