A Q&A with Pedro the Mailburro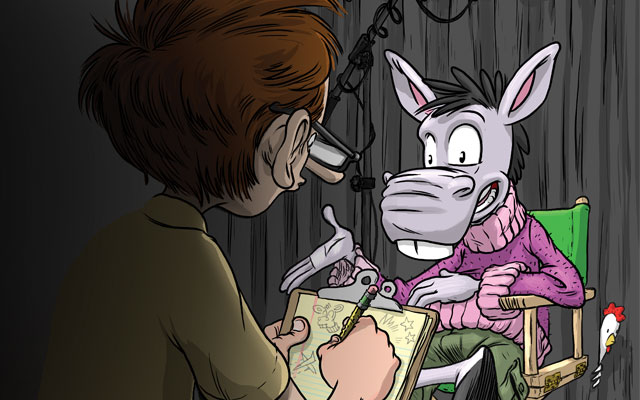 EDITOR'S NOTE: Our loveable mailburro, Pedro, takes on a new look this month, as we say goodbye to longtime Boys' Life contributor Tom Eaton. Mr. Eaton, who is retiring (but never shy), put up with the flop-eared four-legger for more than 30 years, and it couldn't have been easy. To find out how daringly difficult it is to deal with the alfalfa aficionado, The Boss has assigned a flunky to get the scoop from the happy hairball himself on what life is like in his cozy corral.
FLUNKY: So, Pedro, what would you say ya do here?
PEDRO: I deal with the mail so the editors don't have to. I have mail skills! I've been delivering mail for Boys' Life for decades. I also star in my very own comic strip in the back of this magazine each month.
FLUNKY: OK, you're a mailburro. Got it. I see you have a new pair of pants. Actually, I see that you HAVE a pair of pants. What's up with that?
PEDRO: I have a new wrangler. His name is Stephen Gilpin. He keeps me stocked with purple sweaters and now Scout pants. And check out my new hairdo. My previous wrangler, Tom Eaton, has retired after a lot of years of putting up with me. The new guy decided it was time I updated my style.
FLUNKY: So who's this wrangler? I thought The Boss was the boss who kept you in line — or tried to, anyway.
PEDRO: Well, The Boss IS the boss — at least, we keep telling him that. But when I'm out of the office on my many adventures, the wrangler is the one I tell my stories to, and then he tells my stories to you guys.
FLUNKY: Wait a minute — isn't being a boss and being a wrangler the same thing?
PEDRO: Oh, no, The Boss would never get his precious plaid green jacket dirty from wrangling. The wrangler is no chicken —
FLUNKY: Are you saying The Boss is a chicken?
PEDRO: Well, not exactly. After all, chickens are funny.
FLUNKY: So what was it like having Tom Eaton as your brave, down-to-earth and funny wrangler?
PEDRO: When I moved to the big city from Philmont, I went on a whole lot of wacky adventures, and Mr. Eaton recorded them all. He was the first one to meet my evil twin, Ordep. He was the first one to taste my awesome alfalfa ice cream. And he sent me back in time, forward in time, off into space, to the Ruby Moon of Doom …
FLUNKY: But you're a mailburro — how do you find the time to go on all these wacky adventures, anyway?
PEDRO: Sometimes when I'm not napping or snacking or hiding from The Boss, I tell my stories to my buddy — Mr. Eaton, and now Mr. Gilpin. I tell him all about The Boss and what goes on at the office, as well as my latest adventures.
FLUNKY: So what made you choose Mr. Eaton as your wrangler?
PEDRO: He was the best at bringing my wacky adventures to life. Mr. Eaton gave me my vivacious vocabulary and my bodacious burro-ness.
FLUNKY: And the new wrangler?
PEDRO: The new wrangler is a hoot — just check out what he's done with my adventures on page 41. I mean, there are chickens involved — and chickens are always funny!
Click here for the brand-new Wacky Adventures of Pedro comic.