Video of Team USA's Top 10 Olympic Moments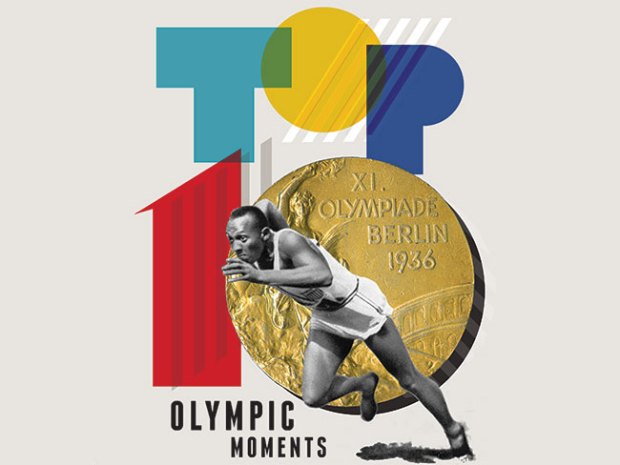 For the first modern Olympic Games in 1896, only 14 countries sent teams, with 14 athletes representing the United States. When this summer's Games open Aug. 5 in Rio de Janeiro, Brazil, 206 countries and more than 10,500 athletes will take part.
Every Olympics creates inspiring stories. Here are 10 memorable moments in U.S. Summer Olympic history.
JESSE OWENS, TRACK AND FIELD
Jesse Owens competed in the 1936 Games in Berlin, Germany, during the height of the Nazi regime, just before the start of World War II. Adolf Hitler claimed the Aryan (white) race was better than all others. Owens proved him wrong.
In an amazing feat, he won four gold medals: 100-meter, 200, the long jump and 4×100 relay. Even more remarkable, this grandson of a slave ran four 100-meter races in two days and two 200-meter heats back to back, and won the long jump on the same day as the 200-meter qualifiers.
He also showed the Olympics can rise above politics. Owens' chief rival in the long jump was German Luz Long. The two battled back and forth, each jumping farther than the other. When Owens won, the two embraced in front of Hitler, and Owens and Long lapped the stadium together as the crowd cheered.
CARL LEWIS, TRACK AND FIELD
If Jesse Owens owned the Berlin Games, Los Angeles in 1984 belonged to Carl Lewis. Considered the greatest U.S. track-and-field athlete, Lewis duplicated Owens' quadruple wins in the 100-meter, 200, long jump and 4×100.
When Lewis took the baton as anchor in the 4×100 relay, Team USA had a lead of about 3 meters. By the time he crossed the finish line, his nearest rival was 15 meters behind. His split time was 8.94 seconds, and the team's time of 37.83 was the only track-and-field world record set in Los Angeles.
Lewis also won the long jump in Seoul, South Korea, in 1988 and two gold medals for the 4×100 and long jump in Barcelona, Spain, in 1992. In Atlanta, Georgia, in 1996, Lewis leapt 8.5 meters in the long jump to secure his ninth Olympic gold.
MARK SPITZ, SWIMMING
At the 1972 Games in Munich, Germany, Mark Spitz made history by taking home seven gold medals: the 100-meter and 200 freestyle, the 100 and 200 butterfly, and a share in the 4×100 and 4×200 freestyle relays and the 4×100 medley (swimming the butterfly leg). Even more amazing, Spitz set a world record in every race he won.
After the 4×100 medley victory ceremony for Team USA, the relay team carried Spitz around the pool. "That picture with my teammates holding me high above them I enjoy more than the one with the seven gold medals around my neck," he said.
TEAM USA 1992, BASKETBALL
A 1989 rule change allowed Olympic basketball teams to include professional players. The "Dream Team" for the 1992 Games in Barcelona was the first U.S. team composed of NBA stars. On the roster: Michael Jordan, Magic Johnson, Larry Bird and Charles Barkley; centers David Robinson and Patrick Ewing; power forward Karl Malone; swingmen Scottie Pippen, Chris Mullen and Clyde Drexler; and point guard John Stockton.
The only amateur: Christian Laettner, the top college player of 1991-92 and future NBA All-Star.
It was no surprise they crushed the competition, beating all eight opponents by an average of 44 points. Opponents knew they were toast, but didn't care. Some were so dazzled by the star power, they got their own teammates to snap photos of them during match-ups.
GREG LOUGANIS, DIVING
Thwack! Greg Louganis struck his head on the springboard doing a reverse 2 1⁄2 somersault in the pike position on his ninth dive during the preliminary round at the 1988 Seoul Games. Though able to haul himself out of the water, the 1984 Olympic gold medalist dropped from first to fifth.
Thirty minutes after having a 3-inch gash quickly stitched, Louganis nailed his final dive to qualify for finals. Not only did he repeat the same reverse dive the following day, but he also won springboard gold by a margin of 25 points and then the platform event days later. That made him the first man to win both springboard and platform diving titles in successive Games.
For his courage, Louganis was given the Olympic Spirit Award.
AL OERTER, TRACK AND FIELD
Al Oerter was already a two-time Olympic gold medalist in discus when he headed to Tokyo, Japan, in 1964. Six days before the final while practicing, Oerter tore a rib muscle and pinched a nerve in his neck. Medics told him it was the end of his career.
But this was the Olympics. Blocking out the pain during the finals, he removed his neck brace for the final throw and set an Olympic record.
In 1968, Oerter was told he was too old to compete, but he made it to the Games in Mexico City. His third and final throw reached 212 feet 6 inches, an Olympic record and 5 feet farther than Oerter had ever thrown before. No other athlete has won four successive gold medals in discus.
KERRI STRUG, GYMNASTICS
Except for their boycott in 1984, women gymnasts from the Soviet Union had won team gold at every Games since 1948. Then came Team USA in Atlanta in 1996. They were in first place after three events. One to go: the vault.
Kerri Strug was the final American. Her teammate, Dominique Moceanu, had landed on her rear in both of her vaults. Strug dashed down the runway, handspringing and twisting through the air. She landed and felt her left ankle crack. She had torn two ligaments.
There was no time to know if her 9.162 score was enough to hang on to gold. Competitors get two tries at vault, and the better one counts. Coach Bela Karolyi asked Strug if she could vault again. "I will do it, I will, I will," she replied.
She sprinted, flipped and landed on both feet. She hopped on one leg just long enough to salute the judges. Her score: a gold-medal-winning 9.712. At the awards ceremony, Karolyi triumphantly carried Strug to the podium. The vault would be her last as a competitive gymnast.
RULON GARDNER, WRESTLING
Rulon Gardner didn't stand a chance. In Sydney, Australia, in 2000, the farm boy from Wyoming faced Russian wrestler Aleksandr Karelin in the Greco-Roman super heavyweight gold medal match.
Karelin had three Olympic gold medals and nine world titles, and hadn't lost a match in 15 years. But no matter what Karelin tried — yanking, head slaps or clinching Gardner's 54-inch
chest — Gardner resisted.
As overtime began, Gardner kept Karelin from launching his trademark reverse lift and withstood the Russian clawing at his face. With five seconds left, the "unbeatable" Karelin conceded. It was the biggest upset in Olympic wrestling history.
MICHAEL PHELPS, SWIMMING
In the 100-meter butterfly finals at the 2008 Games in Beijing, China, Michael Phelps trailed Serbian Milorad Cavic for 99.9 meters. As Cavic glided toward the wall, Phelps came crashing past in the next lane. Both looked up at the scoreboard. It flashed Phelps in first. He had touched 0.01 second ahead!
If judged by medals won, Phelps might be the greatest Olympian of all time. He has 22: 18 gold, two silver and two bronze collected in 2004, 2008 and 2012. In 2008, he won eight golds in eight days, breaking Spitz's record.
One of the biggest challenges came when his goggles filled with water in the 200-meter butterfly. Unable to see, Phelps had to count out each stroke so he knew when he was going to hit the wall. He still managed to break a world record.
BILLY MILLS, TRACK AND FIELD
The only person who thought Billy Mills would win the 10,000-meter race in Tokyo in 1964 was Billy Mills. No American had even come close to winning the race since it became an Olympic event in 1912. And no one in the racing world had heard of Mills.
The Marine Corps officer of Native American heritage lined up with 38 other runners. The starter pistol fired. They were off. By the last lap, Mills and Mohammed Gammoudi of Tunisia were at the shoulder of Australian Ron Clarke, the world record holder. Clarke found himself boxed in and shoved Mills, who nearly stumbled. Gammoudi grabbed the lead. Then Mills kicked it into high gear and pounded past the leaders.
This "unknown" ran 45 seconds faster than ever before in his life, setting an Olympic record and taking home the first and only gold medal for the U.S. in the event.
YOUR FAVORITE SUMMER OLYMPIC MOMENT?
Did we miss your favorite top Team USA Summer Olympic moment? Tell us about it in the comments below.
Inspire Leadership, Foster Values: Donate to Scouting
When you give to Scouting, you are making it possible for young people to have extraordinary opportunities that will allow them to embrace their true potential and become the remarkable individuals they are destined to be.
Donate Today