Let's Go Camping Again at One of These Awesome Scout Camps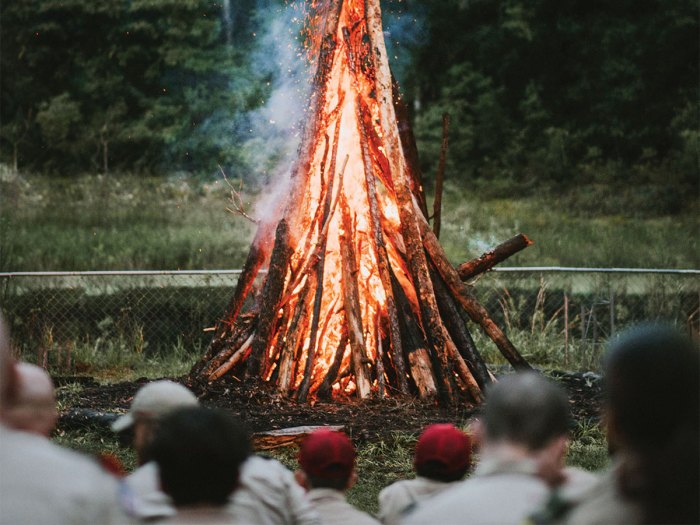 We know you're ready to return to summer camp. When you can, consider one of these six amazing Scout camps.
Click here to see more Scout Camps featured in previous years.
---
CAMP SHANDS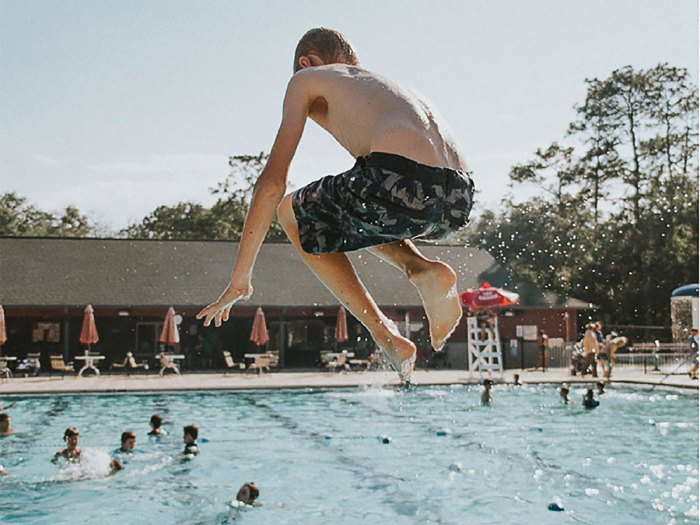 North Florida Council; Hawthorne, Florida; campshands.org
POOL PARTY: Slide down one of two giant waterslides — both more than 100 feet long — into the camp's pool, which can be reserved for troop parties, complete with hot dogs and hamburgers. You can also play at the splash pad or head down to the spring-fed lake for sailing, canoeing or kayaking.
LET'S EAT: Campers eat well at Camp Shands, including Taco Tuesdays and sourdough pizza for lunch on Wednesdays.
COMFY CAMPING: It can get hot in Florida, so each campsite has an enclosed pavilion with a ceiling fan. If you reserve early, you can get a nice night's sleep all week in one of the camp's four treehouses. Each raised cabin has electricity and sleeps up to four Scouts.
---
TESOMAS SCOUT CAMP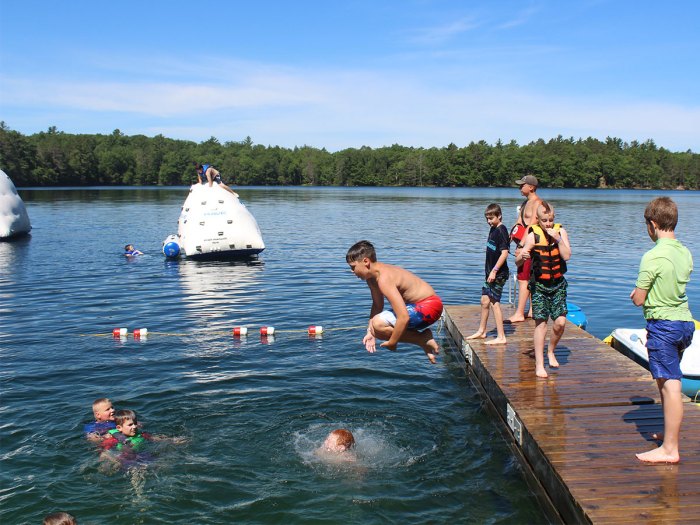 Samoset Council; Rhinelander, Wisconsin; campingisking.com
WHERE CAMPING IS KING: For more than eight decades, Scouts have visited Tesomas, a nearly 1,200-acre wooded retreat rich with history. When you enter camp, you pass a sign with Smiley, the camp's logo designed by The Walt Disney Company in 1952. Staff members act out skits and sing songs in the dining hall, which was built more than 85 years ago.
GO ON A MICROTREK: If you want to go on an adventure but still want some variety for the full week, check out one of the camp's "MicroTreks." These half- and full-day programs allow you to go zip lining, horseback riding, mountain biking and go-kart racing. You can throw tomahawks one day, drive an ATV another and end the week by hiking to several waterfalls.
WHAT'S THE THEME?: From arcade games to movies, science fiction, the Wild West and more, each year provides a different theme to the same great camping experience. From scenic lakeside camping to its massive water trampoline, Tesomas does not disappoint.
---
CAMP ALPINE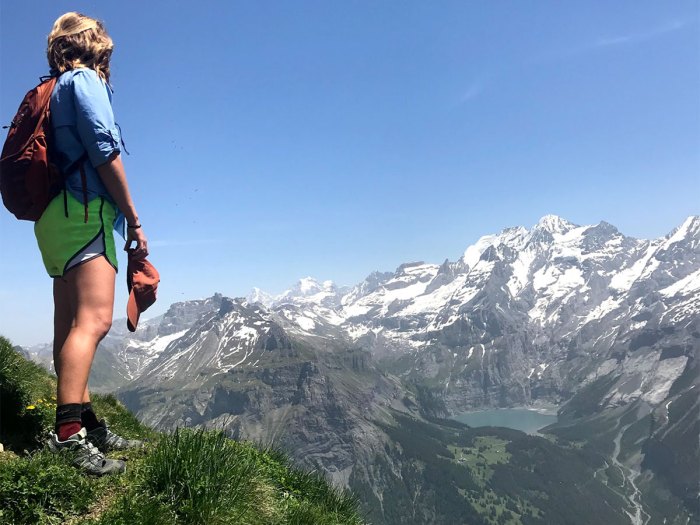 Transatlantic Council; Kandersteg, Switzerland; tac-bsa.org
PERMANENT JAMBOREE: You don't have to wait years for the next World Jamboree. Camp Alpine is hosted by the BSA Transatlantic Council at the Kandersteg International Scout Centre, which annually welcomes thousands of Scouts from around the world. At barbecues and campfires, they share patches, songs and food from their countries, and teach each other a dance move or two. It's an awesome and enriching experience.
WORKING TOGETHER: Merit badge classes can be an exercise in teamwork. Scouts taking Wilderness Survival venture out to camp in shelters. Then they are "rescued" by Scouts working on the Search and Rescue merit badge, and "treated" by those taking Emergency Preparedness and First Aid. If that's not your cup of tea, rest assured there's something for everyone at Camp Alpine.
REACH THE SUMMIT: Older Scouts have the opportunity to scale mountains as part of the camp's Summit program. Spend the day hiking through the Swiss Alps or canyoneering through canyons carved by snow-fed rivers. Plans are underway to expand the program to five days, conquering four mountain peaks along the way.
---
CAMP GORSUCH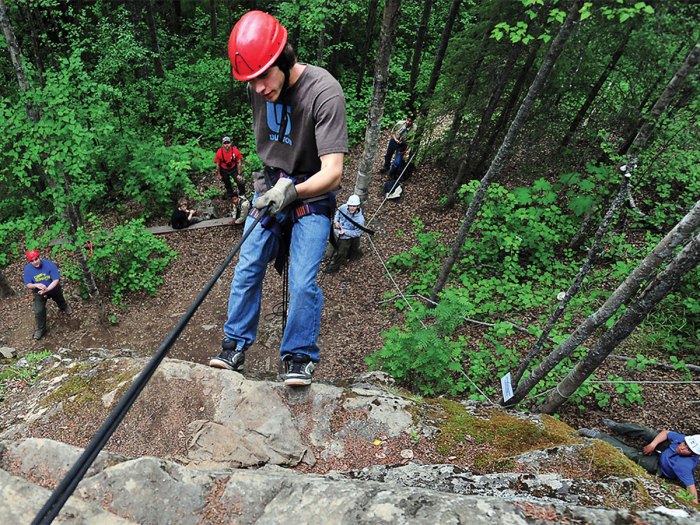 Great Alaska Council; Chugiak, Alaska; scoutingalaska.org
LAST FRONTIER: Camping at the base of Bear Mountain, you'll feel like you're in the "Last Frontier." You can examine Alaskan gold and jade for the Mining in Society merit badge, try fly-fishing for rainbow trout or watch float planes land nearby while swimming in Mirror Lake.
BEYOND THE BASICS: First-year campers can participate in "Cheechacko Trail" and work on skills for the Tenderfoot, Second Class and First Class ranks, while older Scouts have the option to be a "Silver Sourdough." They can head out for one night of wilderness survival and focus the whole week on COPE, aquatics and other activities.
SPOOKY STORIES: The camp provides procedures for what to do if a bear enters camp, but what if Erbie Walker does? The seaweed monster might emerge from the water to terrorize campers — or, at least, that's the story. It's a fun campfire story that you can hear at Camp Gorsuch.
---
MITIGWA SCOUT RESERVATION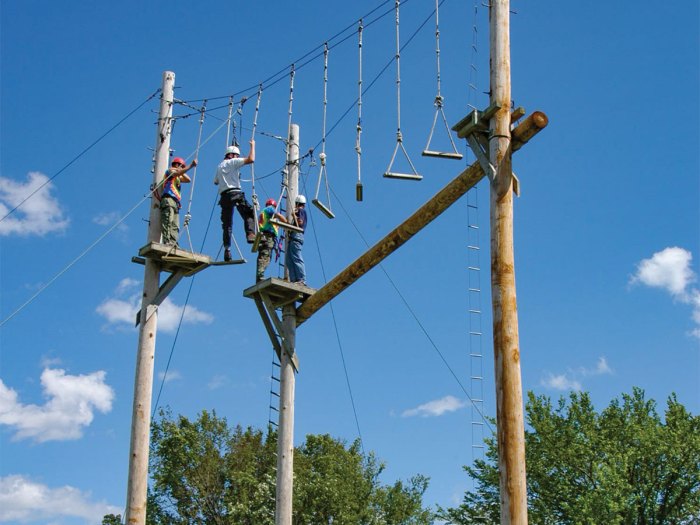 Mid-Iowa Council; Woodward, Iowa; campiowa.org
EXTRA EXCURSIONS: You can choose from among the 40-plus merit badges that Mitigwa offers, including Entrepreneurship, Farm Mechanics and Water Sports. On Friday, pick another adventure for the day, like scuba diving, visiting a nearby arboretum, cycling 20 miles to a nearby town or touring an interactive living history museum.
RIDGE RACING: Zip across a lake on the camp's dual zip lines — at 680 feet long, it's one of the largest of its kind in the Midwest. Mitigwa sits on three ridges that overlook the Des Moines River Valley, and the zip lines take Scouts across two of those scenic ridges.
CARDBOARD REGATTA: Canoeing is fun, but canoeing in a boat made of nothing but cardboard and duct tape? Well, that's a blast — if you build it right! Troops and patrols race boats they make and decorate. Prizes go to the fastest teams, with special awards for the best-looking boat and the boat that sinks most spectacularly.
---
BLUE RIDGE SCOUT RESERVATION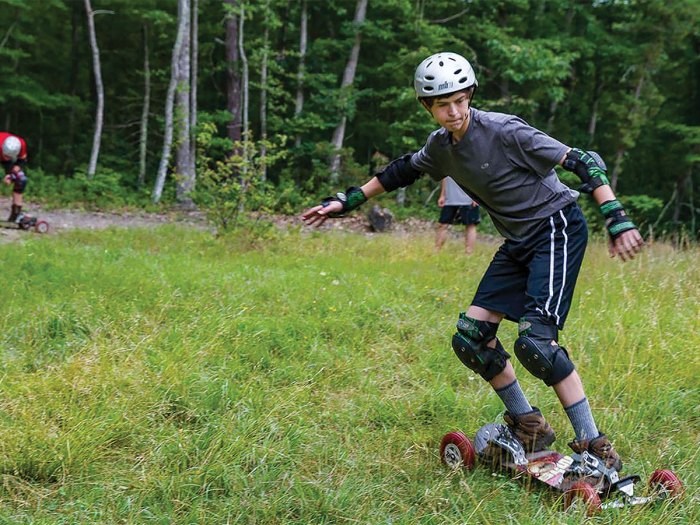 Blue Ridge Mountains Council; Hiwassee, Virginia; bsa-brmc.org
CHOOSE YOUR CAMP: Blue Ridge Scout Reservation is made up of three camps: Powhatan, Ottari and the Claytor Lake Aquatics Base. Each provides something a little different for older Scouts. Powhatan's high adventure focuses on canoeing and whitewater rafting, while Ottari stays primarily on land with mountainboarding, paintball at targets and rock climbing. Scouts can scuba dive and wakeboard on Claytor Lake.
SCOUTING FOUNDATION: Young Scouts get a taste of early Scouting as they put on campaign hats and take the Brownsea Island program. You learn the patrol method and develop leadership skills while working on rank requirements. Part of the program includes an overnighter and a 5-mile hike.
FUN AND GAMES: Evenings are devoted to fun at each camp. At Powhatan, Scouts challenge the camp staff to Ultimate matches. You can also play in a chess tournament or play soccer. At Ottari, the staff hosts a luau cookout with games and a water carnival. You can also ride an 800-foot zip line.
---
CAMPING DURING COVID-19
The COVID-19 pandemic forced many summer camps to shut down last summer. Some continued while enforcing strict guidelines to ensure everyone stayed safe and healthy. Others hosted virtual camps instead.
Hopefully, more camps will be open this year so you can experience all the fun that summer camps offer. Check with the camp and council often to stay updated on any guidelines for this summer. If the camp will be closed, continue checking back since there might be other cool opportunities available.
Inspire Leadership, Foster Values: Donate to Scouting
When you give to Scouting, you are making it possible for young people to have extraordinary opportunities that will allow them to embrace their true potential and become the remarkable individuals they are destined to be.
Donate Today