Savor These 4 Scout-Approved Sweet Treats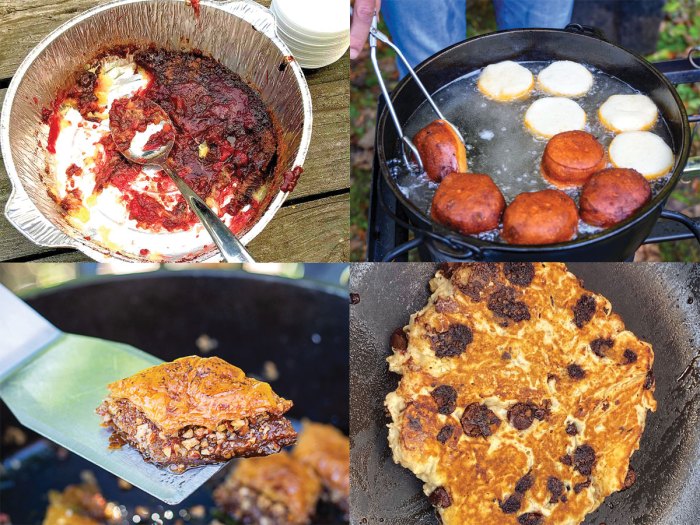 It's important to eat balanced meals, but sometimes it's nice to satisfy your sweet tooth. Here are four tasty recipes to try.
Have a favorite dessert recipe? Send it to us!
OWASIPPE SOUP

Last summer at Owasippe Scout Reservation in Michigan, Matthew Hanson with Troop 41 of Glen Ellyn, Illinois, won a cooking contest with this recipe.
Ingredients
One 20-ounce can crushed pineapple in juice
One 21-oz. can cherry pie filling
1 box chocolate cake mix
¾ cup butter, melted
Directions
Spread the crushed pineapple and its juice into a 12-inch Dutch oven. Spread the cherry pie filling on top of the crushed pineapple. Evenly spread cake mix over both layers, and then pour melted butter on top. Cook in Dutch oven 40-45 minutes with about 15 coals on top and 10 on the bottom. Serve.
CAVE DOUGHNUTS

After exploring the Sullivan Cave in Indiana, Scouts with Troop 797 of Utica, Illinois, made this tasty treat.
Ingredients
1 gallon vegetable oil
Pre-made biscuits
Powdered sugar
Cupcake icing in a can
Directions
Fill a pot two-thirds full with oil. Heat it until dough turns lightly brown when it's placed in; this might take a couple of tests. Place balls of biscuit dough in the oil and let them cook for about 2 minutes, flipping after about 1 minute. Then remove the cooked dough with tongs and roll them in the powdered sugar. Inject the doughnuts with the icing. Serve
DUTCH OVEN BAKLAVA

Scouts with Troop 1911 of Missoula, Montana, cook this treat annually at summer camp.
Ingredients
24 sheets phyllo dough (a special thin dough, also in stores as filo and fillo)
1 cup butter, melted
1½ cups finely chopped pecans
2 tablespoons sugar
1 teaspoon cinnamon
Lemon honey syrup:
1½ cups sugar
¾ cup water
½ teaspoon lemon juice
1 tablespoon honey
Directions
Prepare honey syrup by combining all ingredients and bringing to a boil for 1 minute. Set aside to cool.
Melt the butter. Mix pecans, sugar and cinnamon; set aside. Generously butter the bottom of a 12-inch Dutch oven. Lay 1 sheet of phyllo dough in the bottom of the Dutch oven. Butter the top, beginning at the edges and working toward the center. Repeat this step until you have placed eight sheets of phyllo dough, buttering each layer.
Sprinkle half of the nut mixture evenly over the phyllo dough.
Place eight more sheets of phyllo dough on top of nut mixture, buttering between each layer. Sprinkle the remaining nut mixture on top.
Repeat with eight more sheets of phyllo dough, buttering each layer. Drizzle any remaining butter on the top.
Cut into diamond-shaped pieces without cutting through the bottom layer of phyllo dough. Place the lid on the Dutch oven and bake at 350 degrees (eight coals on bottom, 16 on top) for 35-40 minutes or until lightly golden. Remove from heat and pour the honey syrup over the baklava. Serve.
S'MORES PANCAKES

The Scouts of Troop 129 of Anchorage, Alaska, make this breakfast meal the first morning of summer camp every year.
Ingredients (feeds 4)
2 cups pancake mix
About 1½ cups water
1 sleeve of graham crackers, crushed
2 cups chocolate chips
1 container marshmallow fluff
Directions
Preheat a pan on medium-high heat and grease with butter. Combine the pancake mix with water, and then stir in the crushed graham crackers and chocolate chips. Place mixture on the pan in desired size and shape. Cook until golden brown on both sides.
Remove from the pan and top with marshmallow fluff and any additional toppings of your choosing. Serve.
---
Important Note: Please only upload photos of your dessert. Because of privacy rules, we can't post any photos that show people's faces. Always ask for your parent's permission before uploading anything to a website.
---