How to Craft a Winter Wreath
SAFETY FIRST: Ask an adult to help with tools you haven't used before.
Brighten up your home this winter by making your own wreath. Here's how.
WHAT YOU NEED TO MAKE A WREATH
20-inch metal wreath frame
1 pack of pipe cleaners
3 rolls of 5 ½" poly mesh (also called deco mesh)
Ruler or tape measure
Scissors
Hot-glue gun
Decorations
WHAT YOU'LL DO TO MAKE A WREATH
Step 1: Cut the pipe cleaners in half.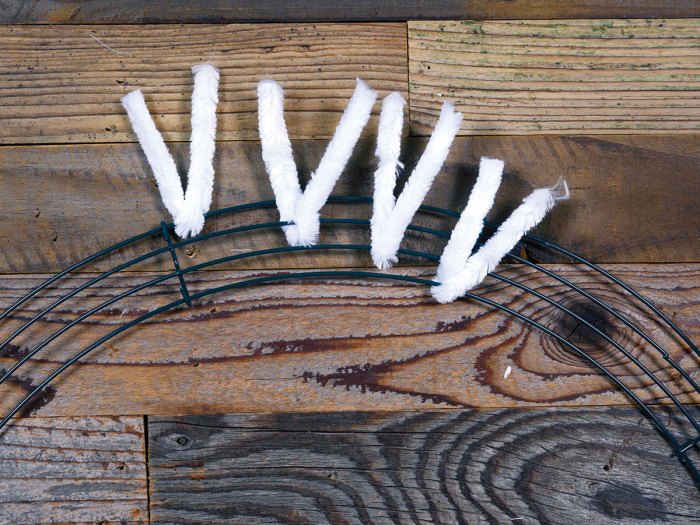 Step 2: The metal wreath frame has 10 sections with four rows in each section. Starting at the top of the frame, thread and twist one pipe cleaner once into each row. Continue this method until there's a pipe cleaner on every row in all 10 sections. Stagger the pipe cleaners around the frame.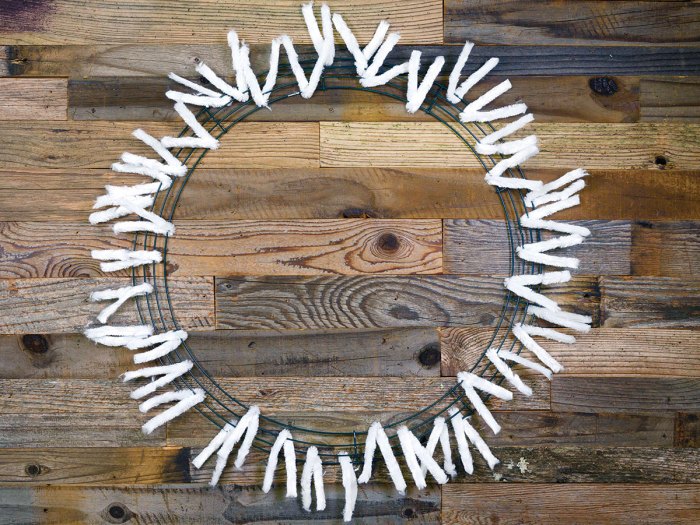 Step 3: Take the mesh roll and cut 80 strips, each 10 inches long. Cut more if needed.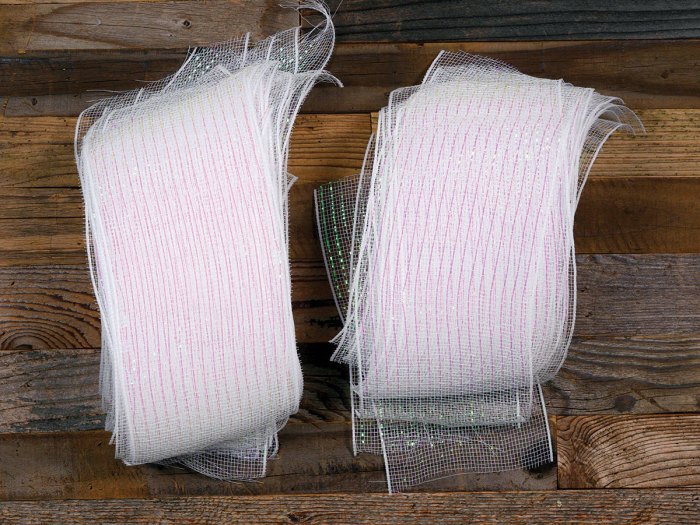 Step 4: Roll two strips and place them on top of each other forming an X. Make sure the open part is face down so it doesn't unravel. (You can use the hot-glue gun to glue the strips shut.) This will create a neater look.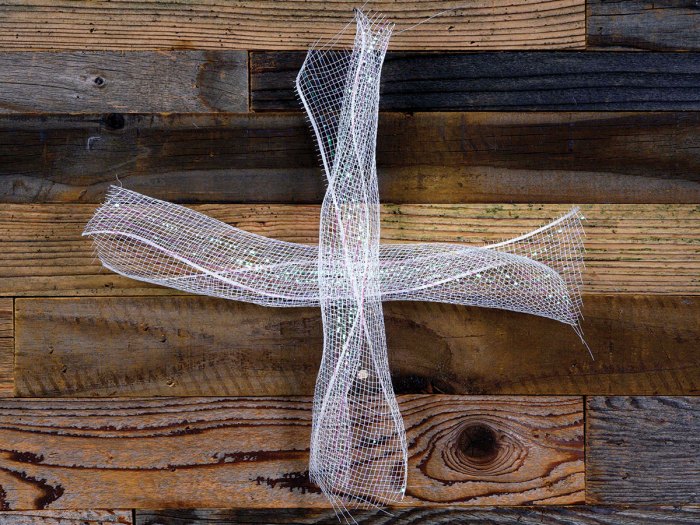 Step 5: Take the crisscross mesh bundle and attach it to the pipe cleaner on the frame by twisting the pipe cleaner around the middle of the mesh bundle tightly enough to hold the mesh in place. Cut off any excess pipe cleaner, or fold it behind the mesh bundle so it can't be seen.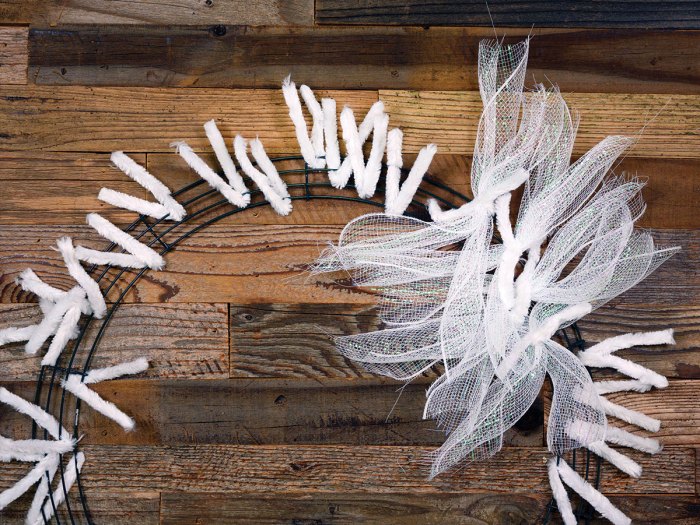 Step 6: Repeat steps 4 and 5 for each section on the wreath frame. Add more pipe cleaners and mesh strips until the frame is full with no space or gaps.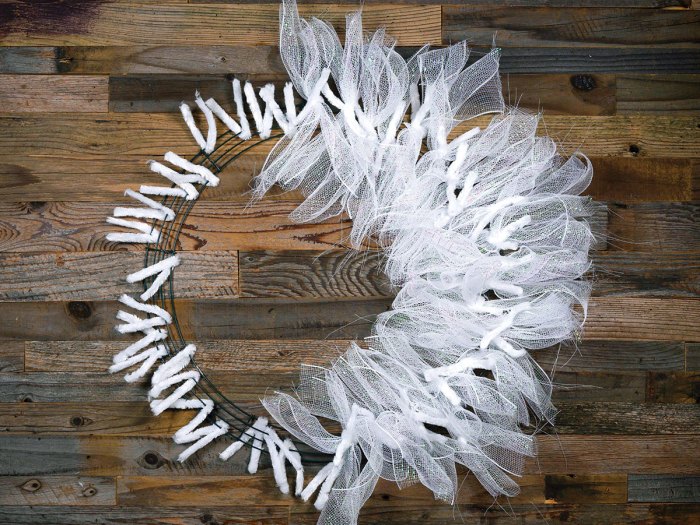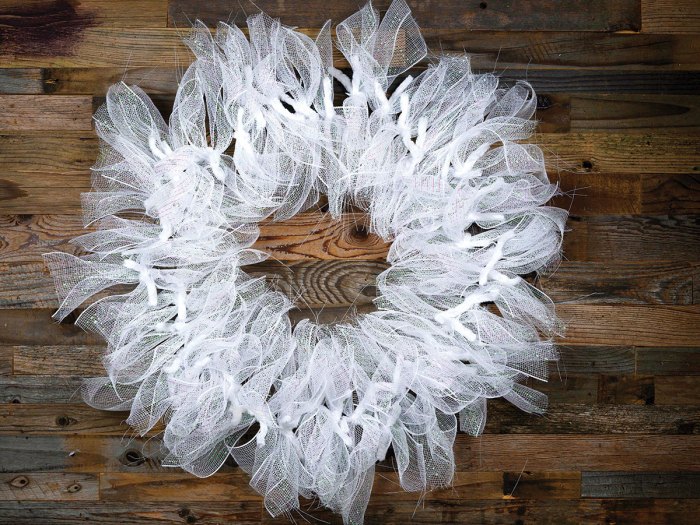 Step 7: Add your own unique touch by using the hot-glue gun to attach words, snowflake and snowman ornaments, tinsel, small signs with quotes and more — whatever you like. Add a little sparkle to the wreath with confetti or glitter.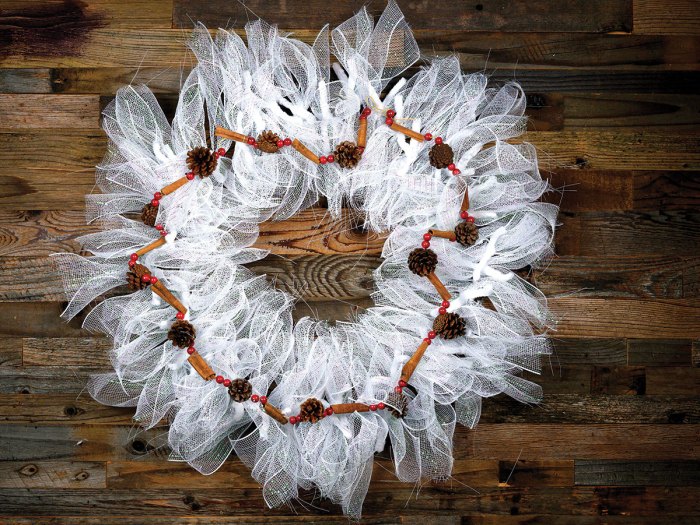 A FEW MORE TIPS FOR MAKING A WREATH
• Make sure the poly mesh and pipe cleaners are the same color so they blend well together.
• Buy the thick and wide poly mesh to give the wreath a fuller look.
• This is an example of a 20" wreath. These steps will also work on a bigger or smaller frame. Depending on the size, you might need to buy more or less material.
---
Important Note: Please only upload photos of your project. Because of privacy rules, we can't post any photos that show people's faces. Always ask for your parent's permission before uploading anything to a website.
---