Inside the April 2015 issue
Here's what you'll find inside the April 2015 issue of Boys' Life magazine. Remember, many articles are exclusive to the printed magazine and are not available online.
To subscribe to Boys' Life magazine, please visit http://scoutlife.org/subscribe.
On the April 2015 cover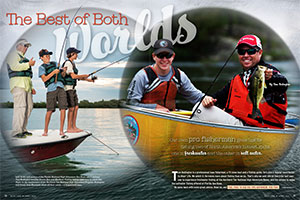 THE BEST OF BOTH WORLDS
BL's own pro fisherman gives tips for fishing two of North America's hottest spots, one in freshwater and the other in salt water.
• Freshwater fishing at Northern Tier
• Saltwater fishing at Florida Sea Base
• More fishing tips, tricks and fun
---
This month's other features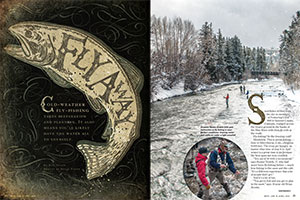 FLY AWAY
Cold-weather fly-fishing takes preparation and planning. It also means you'll likely have the water all to yourself.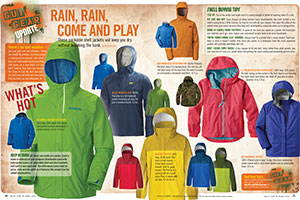 RAIN, RAIN, COME AND PLAY
The Gear Guy has you covered with packable shell jackets that keep you dry without breaking the bank.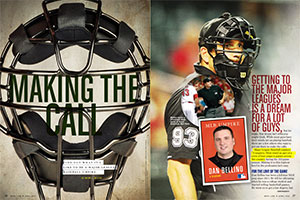 MAKING THE CALL
Find out what it's like to be a Major League Baseball umpire.
• Can you make the call? Test your MLB umpiring skills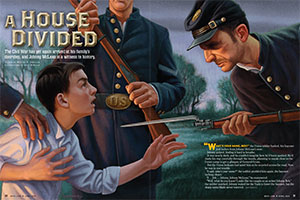 FICTION: A HOUSE DIVIDED
The Civil War has yet again arrived at his family's doorstep, and Johnny McLean is a witness to history.
• Read "A House Divided" by Michael P. Spradlin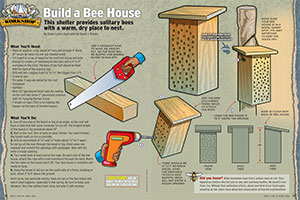 BL WORKSHOP: BUILD A BEE HOUSE
This shelter provides solitary bees with a warm, dry place to nest.
• Step-by-step guide to building a bee house
---
Only in our Boy Scout edition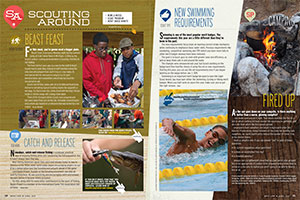 SCOUTING AROUND
As the sun goes down on your campsite, there's nothing better than a warm, glowing campfire. Just make sure you do it right.
• Visit the Scouting Around blog
GET AMPED FOR CAMP
Now's the time to think about Scout summer camp. Here are some awesome ones around the country.
---
Only in our Cub Scout edition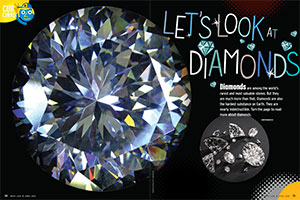 LET'S LOOK AT DIAMONDS
Read it! Color it! Get it all in this special Cub Scout section.
---
Links
Click here to see all the links featured in the April 2015 issue of Boys' Life!
---
And more!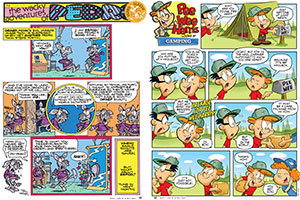 Look for the regular score of comics, jokes, games, Scouts in Action, Tradin' Post and more! Only in the April 2015 issue of Boys' Life!
• The Wacky Adventures of Pedro
• Pee Wee Harris
• Scouts in Action
• More S.I.A.
Inspire Leadership, Foster Values: Donate to Scouting
When you give to Scouting, you are making it possible for young people to have extraordinary opportunities that will allow them to embrace their true potential and become the remarkable individuals they are destined to be.
Donate Today