Inside the January 2016 issue
Here's what you'll find inside the January 2016 issue of Boys' Life magazine. Remember, many articles are exclusive to the printed magazine and are not available online.
To subscribe to Boys' Life magazine, please visit http://scoutlife.org/subscribe.
ON THE JANUARY 2016 COVER
The Young Men and the Mountain
Connecticut Scouts must make a crucial choice as they attempt to summit one of the most unpredictable peaks in the nation.
---
THIS MONTH'S OTHER FEATURES
Bear Necessities
Take some art lessons from an Oscar-nominated animator who worked on The Lion King, Aladdin, Brother Bear and more.
A Q&A with Pedro
A flunky gets the scoop from the happy hairball himself.
BL Workshop: Little Free Library
Make a library where people can borrow books, return them and even leave new books..
---
ONLY IN OUR BOY SCOUT EDITION
Scouting Around
Be Prepared to Help: The most urgent first-aid cases occur when a person stops breathing and the heart stops beating.
• Visit the Scouting Around blog
Doc Hawk: Raptor Roundup
Doc Hawk solves the mystery of the winter hawk.
A Nation of Wonders
Check out these 10 special sites across the United States.
---
ONLY IN OUR CUB SCOUT EDITION
Let's Look at Pedro
Read it! Color it! Get it all in this special Cub Scout section.
Big Apple Derbies
Cub Scouts show off their pinewood derby creations in the heart of New York City.
The Ultimate Finish
Here's one way to make your pinewood derby car look as smooth as steel.
• How to paint your pinewood derby car
---
AND MORE!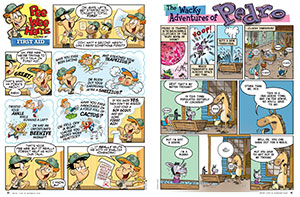 Look for the regular score of comics, jokes, games, Scouts in Action, Tradin' Post and more! Only in the January 2016 issue of Boys' Life!
• The Wacky Adventures of Pedro
• Pee Wee Harris
• Scouts in Action
• More S.I.A.
---
Inspire Leadership, Foster Values: Donate to Scouting
When you give to Scouting, you are making it possible for young people to have extraordinary opportunities that will allow them to embrace their true potential and become the remarkable individuals they are destined to be.
Donate Today