Inside the May 2016 issue
Here's what you'll find inside the May 2016 issue of Boys' Life magazine. Remember, many articles are only available to subscribers and are not available online.
To subscribe to the print or digital editions of Boys' Life magazine, please visit http://scoutlife.org/subscribe.
ON THE MAY 2016 COVER
Westward Bound
They journeyed by train for thousands of miles to two national parks … and a whole new world.
• Photos from Troop 16's amazing trip
---
THIS MONTH'S OTHER FEATURES
Boot Up
The Gear Guy brings you buying advice, plus a handful of cool boots and hiking shoes.
Go Batty!
Here are some of the best places around the U.S. to see bats.
Awesomeness: Always Open
Check out these year-round cool activities at Colorado Adventure Point.
Fiction: Kori and the Troll
Sometimes a stout heart is better than a sharp sword.
BL Workshop: Build a Bat House
This simple one-chamber roost will give those beneficial bug-eaters a much-needed boost.
---
ONLY IN OUR BOY SCOUT EDITION
Scouting Around
Underwater Adventure: Scuba divers can dive almost anywhere — oceans, lakes and quarries — but it all starts with that first breath.
• Visit the Scouting Around blog
Prepared For Life: Get a Job
Working a summer job will get you more than just a few extra bucks.
DIY Mother's Day Gifts
Mother's Day is May 8. Show Mom she's the best with a handmade gift.
---
ONLY IN OUR CUB SCOUT EDITION
Make Mother's Day Gifts
Mother's Day is May 8. Show Mom you care with these handmade gifts.
Let's Look at Dinosaurs
Read it! Color it! Get it all in this special Cub Scout section.
---
AND MORE!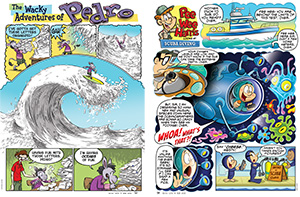 Look for the regular score of comics, jokes, games, Scouts in Action, Tradin' Post and more! Only in the May 2016 issue of Boys' Life!
• The Wacky Adventures of Pedro
• Pee Wee Harris
• Scouts in Action
• More S.I.A.
---
Inspire Leadership, Foster Values: Donate to Scouting
When you give to Scouting, you are making it possible for young people to have extraordinary opportunities that will allow them to embrace their true potential and become the remarkable individuals they are destined to be.
Donate Today