Inside the July 2016 issue
Here's what you'll find inside the July 2016 issue of Boys' Life magazine. Remember, many articles are only available to subscribers and are not available online.
To subscribe to the print or digital editions of Boys' Life magazine, please visit http://scoutlife.org/subscribe.
ON THE JULY 2016 COVER
All Hands on Deck
It takes teamwork to complete a three-week Sea Scout cruise.
• Watch video of the Propeller Sea Scouts in action
---
THIS MONTH'S OTHER FEATURES
Don't Bug Me!
How to identify and deal with biters and stingers.
• Can you identify the dangerous bugs in our insect ID quiz?
Chow Down
Here's a taste of some eating competitions around the U.S.
• Watch Pedro try competitive eating
BL Workshop: PVC Sprinkler
Cool off with this backyard summertime sprinkler system.
• How to build a backyard PVC sprinkler system
---
ONLY IN OUR BOY SCOUT EDITION
Scouting Around
Caving: Explore show caves and wild caves. They all have something to offer.
• Visit the Scouting Around blog
Doc Hawk: Gentle Giants
Coming eye to eye with a goliath of the sea.
Cool Jobs: Harbor Pilot
Harbor pilots risk life and limb ensuring the safety of others.
• Watch videos of harbor pilots in action
---
ONLY IN OUR CUB SCOUT EDITION
Let's Look at Bald Eagles
Read it! Color it! Get it all in this special Cub Scout section.
---
AND MORE!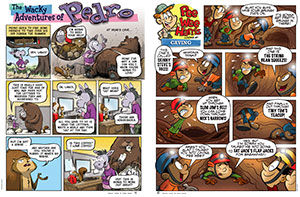 Look for the regular score of comics, jokes, games, Scouts in Action, Tradin' Post and more! Only in the July 2016 issue of Boys' Life!
• The Wacky Adventures of Pedro
• Pee Wee Harris
• Scouts in Action
• More S.I.A.
---
Inspire Leadership, Foster Values: Donate to Scouting
When you give to Scouting, you are making it possible for young people to have extraordinary opportunities that will allow them to embrace their true potential and become the remarkable individuals they are destined to be.
Donate Today