Inside the October 2016 issue
Here's what you'll find inside the October 2016 issue of Boys' Life magazine. Remember, many articles are only available to subscribers and are not available online.
To subscribe to the print or digital editions of Boys' Life magazine, please visit http://scoutlife.org/subscribe.
ON THE OCTOBER 2016 COVER
Mission to Mars
Trekking through a desert is a whole different kind of backpacking trip.
---
THIS MONTH'S OTHER FEATURES
Rad Retreats
Gear Guy brings you seven shelters to choose from when searching for your next tent.
Green Machines
Take a look at a few of the best eco-friendly cars on the road.
• Check out photos of cool cars
• Take the super zoomed-in car photo quiz
Sporty Spots
Serious fans might want to add these sports halls of fame to their must-see lists.
Fiction: My First Space Flight Into Madness
Merk will do anything to pass his Advanced Interplanetary Agriculture class.
BL Workshop: Step Stool
If there is something too high to reach, this stool can help.
---
ONLY IN OUR BOY SCOUT EDITION
Scouting Around
Out to the Ballgame: A trip to a sporting event is a great Scout outing.
• Visit the Scouting Around blog
Doc Hawk: A Wolf in Mouse's Clothing
On the hunt for a fierce little critter.
Acts of Service
Here are five impressive Eagle Scout projects — and tips for planning your own.
• 101+ more Eagle Scout project ideas
---
ONLY IN OUR CUB SCOUT EDITION
Let's Look at Spiders
Read it! Color it! Get it all in this special Cub Scout section.
---
AND MORE!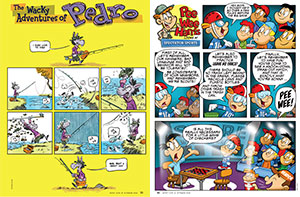 Look for the regular score of comics, jokes, games, Scouts in Action, Tradin' Post and more! Only in the October 2016 issue of Boys' Life!
• The Wacky Adventures of Pedro
• Pee Wee Harris
• Scouts in Action
• More S.I.A.
---
Inspire Leadership, Foster Values: Donate to Scouting
When you give to Scouting, you are making it possible for young people to have extraordinary opportunities that will allow them to embrace their true potential and become the remarkable individuals they are destined to be.
Donate Today