Inside the December 2016 issue
Here's what you'll find inside the December 2016 issue of Boys' Life magazine. Remember, many articles are only available to subscribers and are not available online.
Please visit Boyslife.org/subscribe to subscribe to the print or digital editions of Boys' Life magazine.
ON THE DECEMBER 2016 COVER
Ice Time!
Test your limits by climbing straight up a wall of ice.
• Watch video of the ice-climbing Scouts
---
THIS MONTH'S OTHER FEATURES
Gear Guy: Bright Ideas
Gear Guy brings you his favorite headlamps, flashlight and lantern built tough enough to illuminate your outdoor adventures.
• Flashlight and headlamp buying guide
Winter Essentials
Building the right shelter and starting a fire can save your life in cold weather.
Fiction: True Friends
What does it mean to be a true friend? Charlie is about to find out.
BL Workshop: Twig Table
With a few tools and some twigs and branches, you can build this durable rustic table.
Summer at Sea
Young ocean explorers use cutting-edge equipment to view a whole new world of underwater marvels.
• Video of the best moments from the 2016 expedition
---
ONLY IN OUR BOY SCOUT EDITION
Scouting Around
The Golden Rule: Learn some variations on the familiar do-unto-others rule.
• Visit the Scouting Around blog
Just for Luck!
From lucky socks to lucky beards, many sports stars turn to superstitions for a good game.
Cool Jobs: Animator
Tony Stanley and his team put serious work into videogame play.
---
ONLY IN OUR CUB SCOUT EDITION
Let's Look at Antarctica
Read it! Color it! Get it all in this special Cub Scout section.
Full Speed Ahead
The NASCAR Hall of Fame is the perfect place to hold a Pinewood Derby.
---
AND MORE!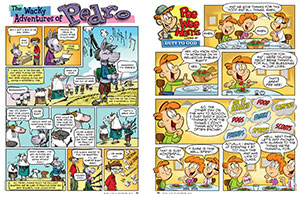 Look for the regular score of comics, jokes, games, Scouts in Action, Tradin' Post and more! Only in the December 2016 issue of Boys' Life!
• The Wacky Adventures of Pedro
• Pee Wee Harris
• Scouts in Action
• More S.I.A.
---
Inspire Leadership, Foster Values: Donate to Scouting
When you give to Scouting, you are making it possible for young people to have extraordinary opportunities that will allow them to embrace their true potential and become the remarkable individuals they are destined to be.
Donate Today