Inside the February 2017 issue
Here's what you'll find inside the February 2017 issue of Boys' Life magazine. Remember, many articles are only available to subscribers and are not available online.
Please visit Boyslife.org/subscribe to subscribe to the print or digital editions of Boys' Life magazine.
ON THE FEBRUARY 2017 COVER
Life Below Zero
At minus 25 degrees, staying warm becomes its own Northern Tier adventure.
• First-person dog-sledding video
• How to build a quinzee snow shelter
---
THIS MONTH'S OTHER FEATURES
Gear Guy: Cutting-Edge Tools
The Gear Guy selects 7 knives to keep you sharp in your Scouting endeavors.
• Knife and multitool buying guide
Fiction: Wolfdreams
An original story by Gary Paulsen exclusive to Boys' Life.
• Read some of our best short stories
BL Workshop: Build a Giant Wood Block Game
Challenge your friends and family with this giant version of a classic game.
• How to Build a Giant Wood Block Game
---
ONLY IN OUR BOY SCOUT EDITION
Scouting Around
Leading the Way: A mentor is a wise, loyal advisor. Your mentors could be your parents, Scout leaders, teachers or coaches.
• Visit the Scouting Around blog
Survival of the Fittest
Wilderness survival training should start far in advance of an actual emergency.
• Photos and video of Troop 2012's wilderness survival shelters
Prepared For Life: Buying Your First Car
Here's expert advice on driving away with a great deal.
---
ONLY IN OUR CUB SCOUT EDITION
Let's Look at the Super Bowl
Read it! Color it! Get it all in this special Cub Scout section.
---
AND MORE!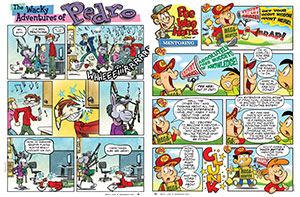 Look for the regular score of comics, jokes, games, Scouts in Action, Tradin' Post and more! Only in the February 2017 issue of Boys' Life!
• The Wacky Adventures of Pedro
• Pee Wee Harris
• Scouts in Action
• More S.I.A.
---
Inspire Leadership, Foster Values: Donate to Scouting
When you give to Scouting, you are making it possible for young people to have extraordinary opportunities that will allow them to embrace their true potential and become the remarkable individuals they are destined to be.
Donate Today