Inside the March 2017 issue
Here's what you'll find inside the March 2017 issue of Boys' Life magazine. Remember, many articles are only available to subscribers and are not available online.
Please visit Boyslife.org/subscribe to subscribe to the print or digital editions of Boys' Life magazine.
ON THE MARCH 2017 COVER
10,000 Feet and Rising
High-altitude backpacking offers a unique set of challenges.
---
THIS MONTH'S OTHER FEATURES
A Long Walk
They walk through neighborhoods instead of wilderness, but the spirit is the same: Just get out and go.
City Invaders
Wild animals are wandering into some of America's cities.
Make Your Move
Improve your chess skills with these expert tips.
BL Workshop: Chess Set
Make this nuts and bolts chess set.
---
ONLY IN OUR BOY SCOUT EDITION
Scouting Around
Putting Your Back Into It: At first glance, backpacking might look like nothing but a ton of hard work. Anybody who has been on a backpacking trip will tell you it's so much more.
• Visit the Scouting Around blog
It's Almost Camp Season!
Summer is glorious. Summer at one of these eight awesome Scout camps? Even glorious-er.
• 8 amazing Scout camps to try this summer
Cool Jobs: Comic Book Writer
Comic book writers have a powerful job to do.
---
ONLY IN OUR CUB SCOUT EDITION
Let's Look at Chess
Read it! Color it! Get it all in this special Cub Scout section.
Earn Your Stripes
At Tiger Cub Safari, there's lots to do in a little time.
---
AND MORE!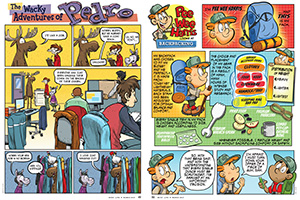 Look for the regular score of comics, jokes, games, Scouts in Action, Tradin' Post and more! Only in the March 2017 issue of Boys' Life!
• The Wacky Adventures of Pedro
• Pee Wee Harris
• Scouts in Action
• More S.I.A.
---
Inspire Leadership, Foster Values: Donate to Scouting
When you give to Scouting, you are making it possible for young people to have extraordinary opportunities that will allow them to embrace their true potential and become the remarkable individuals they are destined to be.
Donate Today